Been there, done that on 31 July 2010.
Having heard about Kura many times, we just had to set a date for the meal! Being students on budget, we always make it a point to go for a really good meal at the end of each month or.. whenever we visit an event together. Maybe we sound a little weird and absurd, but we always try to make it a point to do up a schedule so we fully utilise our time to explore what this city brings us :)
There was an event in the morning at Carriageworks, Eveleigh, my friend had asked me to go with her. It was a clothes-swapping event, where you'll bring clothes which you'll never ever wear again -- of course the clothes has to be in good condition. I had such a hard time thinking of what I was gonna bring, so I brought along this red beret that I rarely wear. I had second thoughts on the way there, since it was my only red beret that I bought in Singapore and I've only worn a couple of times. But, I swapped it away for a pair of felted shorts anyway. It was so dark in Carriageworks that I mistook the colour of the shorts as black when it was army green. My friends then concluded I was colour blind, sigh.
It was my first time at Carriageworks, I was really amazed at the infrastructure. To my surprise, there were heaps of people who were equally excited about the event as my friend, there was actually a line to get into the hall.
People actually came really prepared to swap away their pre-loved clothings and some even came in bags! To think I only brought one beret for the swap and my friend brought 4 pieces. One of the terms&conditions for the swap was that, you can't be emotionally attached to the item you're swapping away. This just tells me that I'm not suitable for such events at all, I'm super emotionally attached to everything I own that I'll get really upset over it missing/gone. It actually happened to one of my favourite rings! But not so much for this beret though!
After a very hectic and messy morning at Carriageworks, it was time for lunch at Kura! We walked all the way through uni, then Broadway and finally reached Haymarket.
Kura
3/76 Ultimo Rd
Haymarket, NSW 2000
Australia
There were many items to choose from, but the three of us chose dons because we were craving for Jappy rice! Of course a weird habit of mine, prior to visiting a place I'll definitely do my research, read reviews online to see what are the should and should nots. Definitely we need cash for Kura dine in, because they don't take cards or eftpos. It's a pretty small place, really really crowded, not a place for small talks and chill outs.
Forgive me, I honestly can't remember what we ordered but I knew what we had was really good.
Below was what I ordered. It wasn't too pricey, but the greens were a little too dry for my liking. I'm not an avid fan of salad, so anything that's raw and dry wouldn't be pleasant for me. Nevertheless, the meat (I think it was pork) for my don was really juicy and the sauce was good!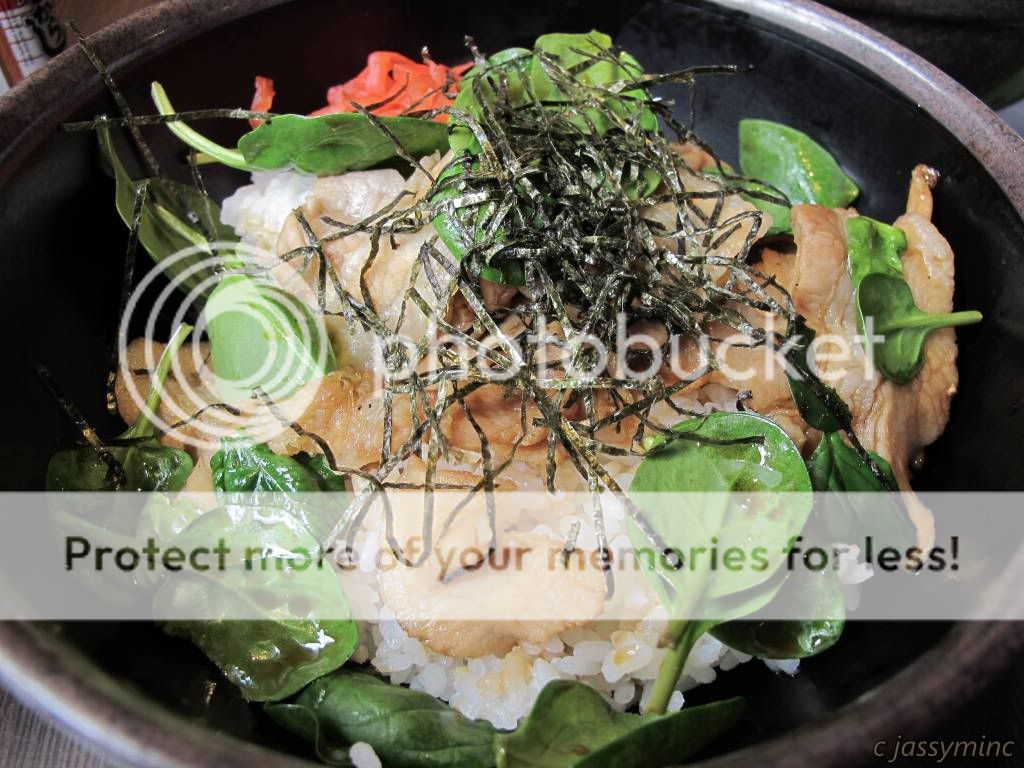 Obviously, my friend ordered something with tamago. I vaguely remember that she'll always order katsu don whenever she visits a Jap restaurant, so I guess that must be what she had. It wasn't like a huge portion, but it came with a bowl of miso soup.
After our lunch, we made our way to the State Library for an exhibition only to realise that we made a mistake in the venue. The girls wanted to visit some abstract exhibition, but we found out that it was at somewhere else instead and we actually wasted a trip to the state library! We could only blame it on us having no internet at home (because of some major screw up with our bills, our landline got disconnected and that affected our internet as well, sigh). We loitered around the State Library and applied for membership so we could use the internet, hahaha hey it's typical of students! They had lockers which were a little automated, but you didn't need keys for them. All locked and done by the machine, and it was freeeee!
There were all these alphabets on the wall. Initially I thought it was a little fascinating from afar...
Then I realised, it just spells alphabets using other icons or pictures. Maybe I can't appreciate these, but they looked pretty normal to me :S
Another good experience! I wish I had more time for such leisure around this beautiful and exciting city :) Lunch was definitely good for a quick meal, but definitely not for ambience and chillax. Will definitely visit Kura again if I need a quick Jappy fix.