Previously, I wrote about my brother B's birthday dinner at Ume Restaurant (
link
) and what's a birthday without a cake? Being only 17, the inner kid in him can't seem to get away from ice cream cakes. We had a couple of options to pick from, the ones from Baskin' Robins, Ben & Jerry's.. But we decided on
Gelato Messina
instead just because their gelato cakes are not decorated with cream. There's just something about the cream on cakes that really annoys me to death. Anyway, so we took a long slow walk to their Darlinghurst store to pick up a cake after looking it up their website (
link
).
Because B's birthday was ages ago in May, it was still autumn then and I managed to snap some photos of trees that are about to shed. Just gotta love autumn for the postcard-like photos #seriously.
We walked past this cafe on Palmer Street which caught my eye, loving the ceiling to floor glass panel doors #anotherseriouslymoment.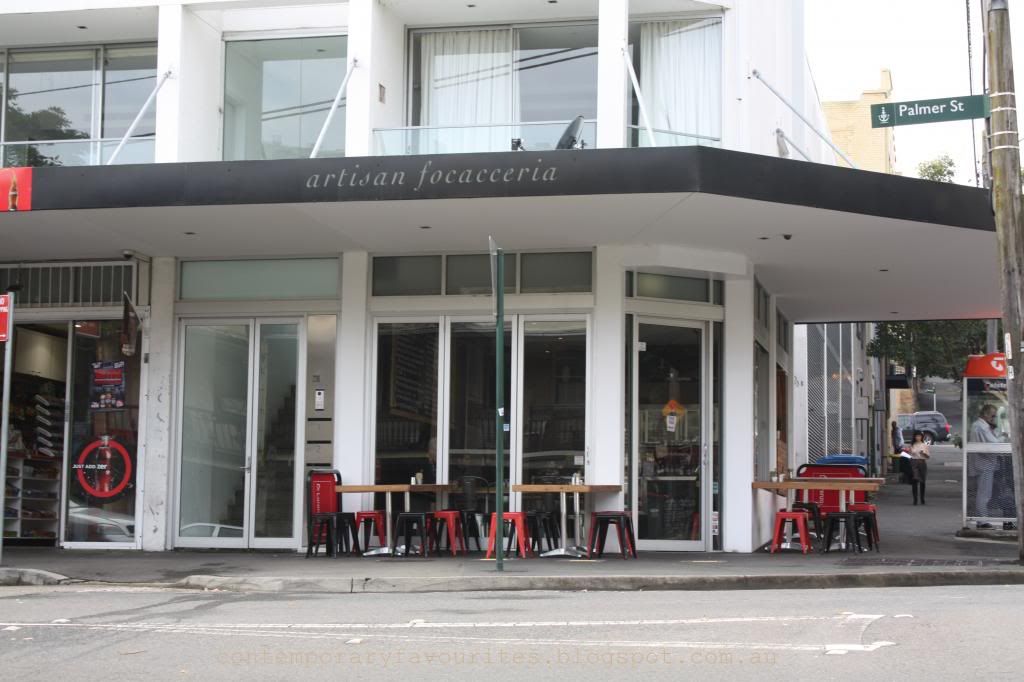 We arrived at
Gelato Messina
and met with their doors shut on us #boohoo, it was only after I googled their opening hours that we realized that they start at 12pm. So we got to walk around for a bit and decided on Forte' Cafe for some food, which I did a photolog on (
link
).
Slightly before noon, we made our way back to Gelato Messina and hooray, they were opened! Pardon the nasty shots, I was in a hurry because I had to get myself to the airport before noon to meet with a long-time friend #badplanning. We actually looked up their website to see what sorta flavours of gelato cakes they offer and decided that we were to get one of their gelato cakes and one of their monoporzione. Seriously, we were spoilt for choices. The cakes looked so yummy, we wished we could have gotten all of them. But no, in our opinion their gelato cakes were pretty pricey, ranging from $20 to $90, while their monoporziones were slightly cheaper at about $10 each.
The last I checked, they had new monoporzione flavours while the older ones had to go so you may not see the flavours that are featured here. I didn't managed to try all of the older flavours but I guess I'll never get that chance again.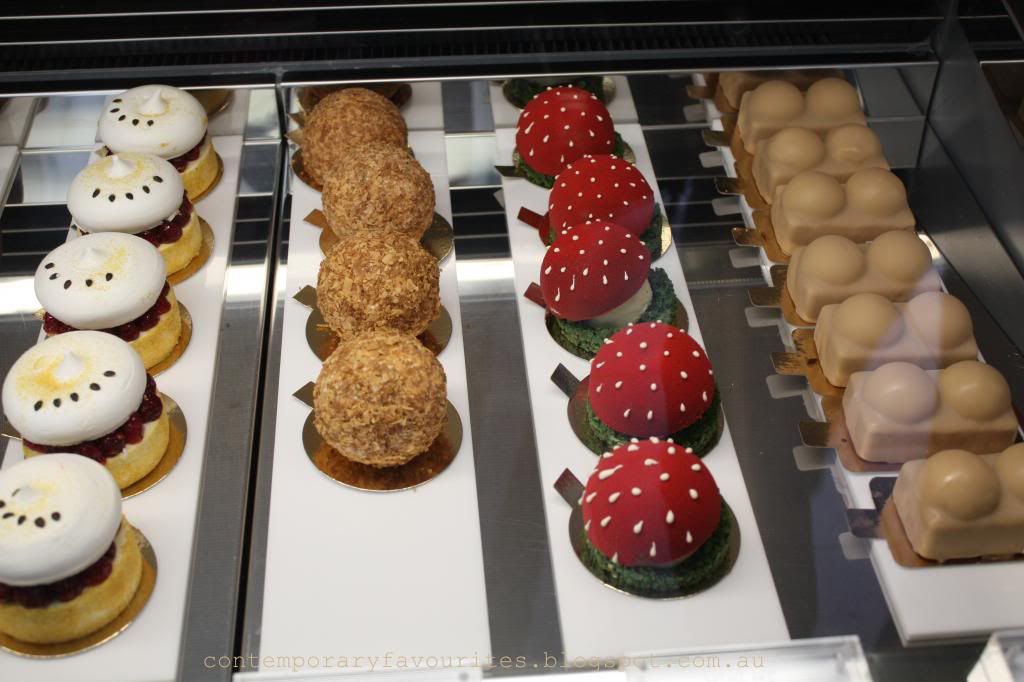 Two of their gelato cakes featured here - Dr Evil's Magic Mushroom (top) (
link
) and Tiramisu 'Smash) (bottom) (
link
). I reckon Dr Evil's Magic Mushroom is really a classic Gelato Messina cake, just look at how cute it is! It will definitely be talk of the town to be able to celebrate a birthday with this cake, but alas it was pretty pricey at $85.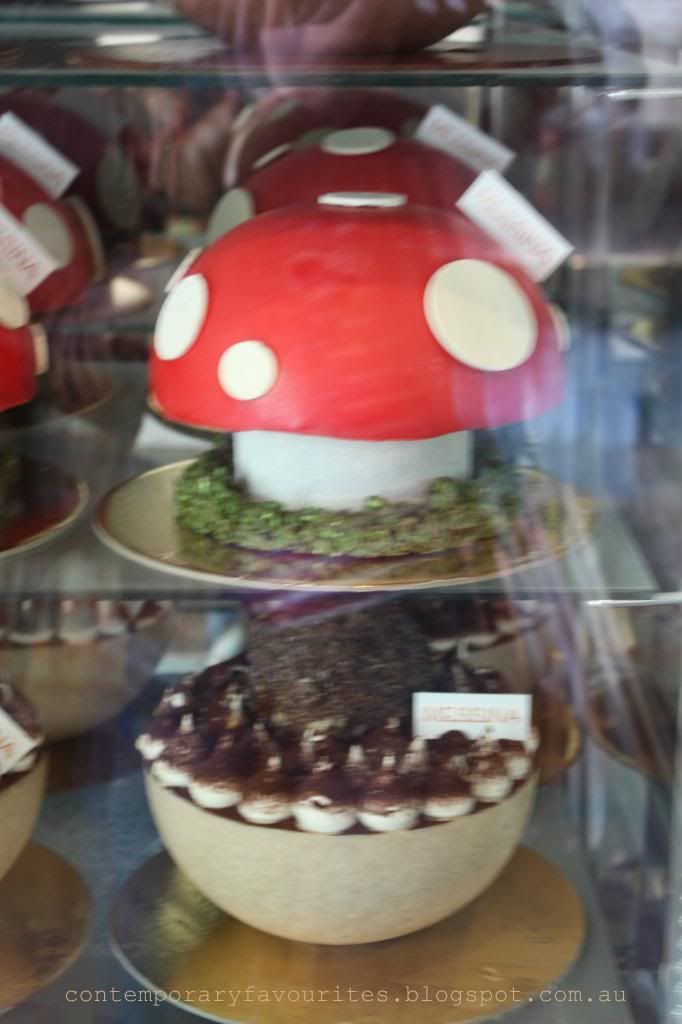 So we picked their
Mini Me
(I believe it was $9.90), which was the miniature version of Dr Evil's Magic Mushroom (unfortunately they don't sell Mini Me anymore) and a bigger
Hazelnut Zucotto
($28) (
link
).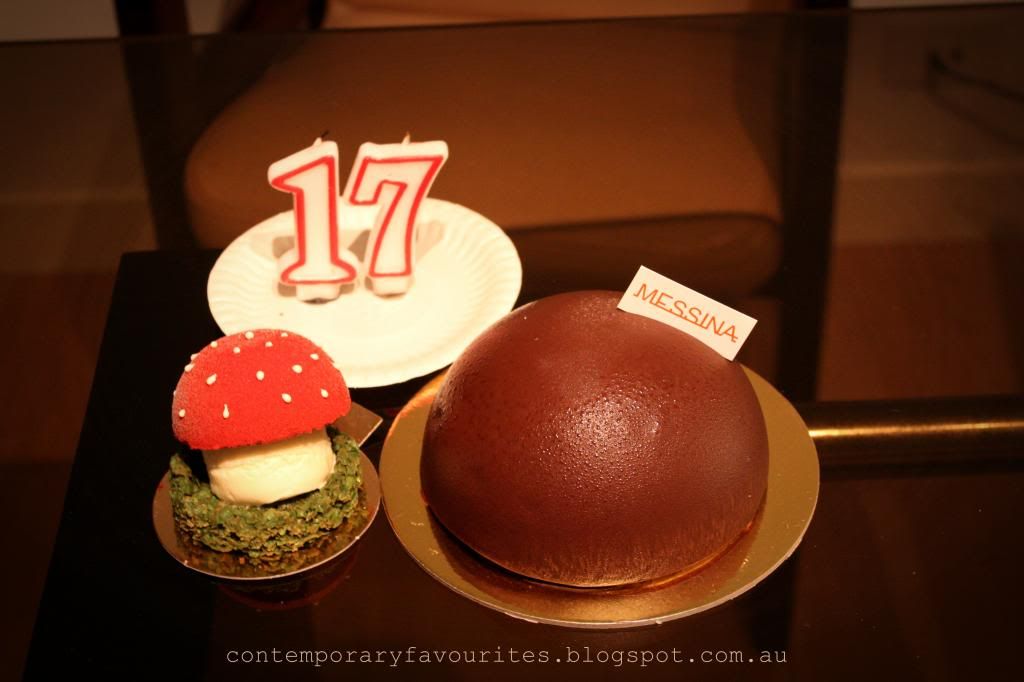 And nope, this isn't optical illusion. Our
Mini Me
came like it was toppling over and we didn't notice it till we decided to take it out for candle lighting. If you refer to the picture above, which displays some of their
Mini Me
, you can tell there are a couple which weren't standing very well. It was a pity really, it doesn't look as cute slouching and I'm not sure if that affected the taste of it. We didn't enjoy the
Mini Me
as much. The entire "cake" was made up of Dr Evil's gelato, with caramel and peanut butter cookie, also with a layer of flourless chocolate sponge cake to surround the gelato (refer to this
link
for a pictorial description of the cake). I felt the entire "cake" was a tad too bitter. There was nothing
sweet
about this cake, other than the popping candy crushed with biscuits. Despite it being a single serve, it was enough to share among the three of us just because we didn't quite like the overall taste of it. Nonetheless, it was interesting to have this
Mini Me
for phototaking.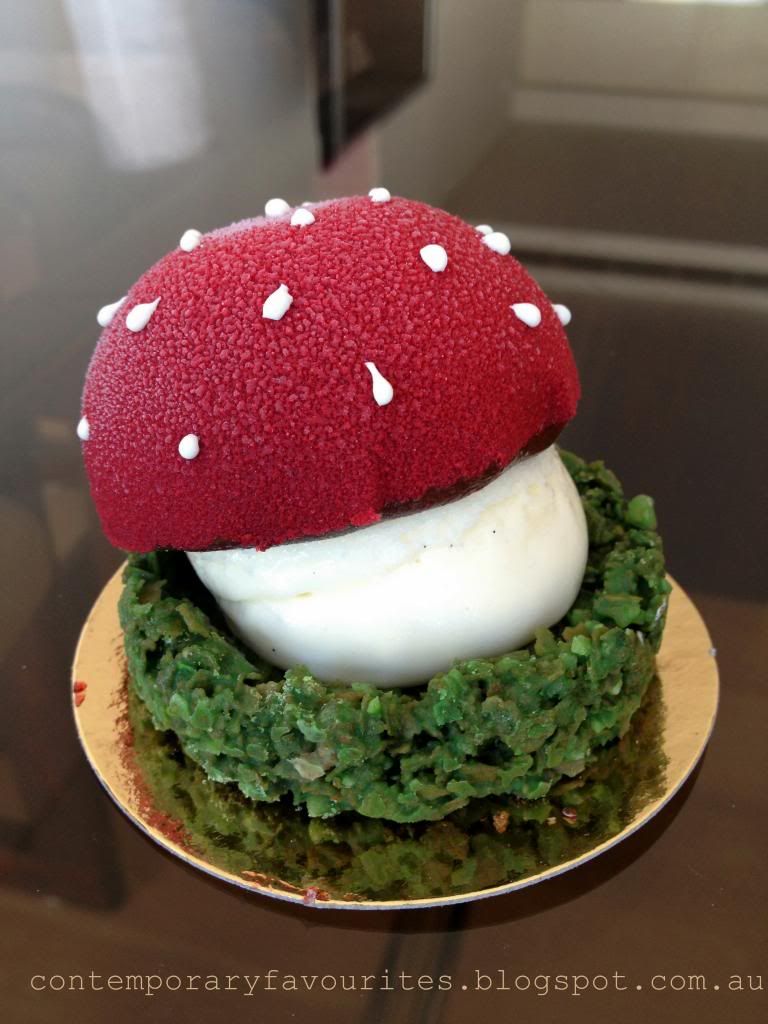 We decided to have a bigger gelato cake as well because one
Mini Me
wasn't enough to justify as a birthday cake. We chose
Hazelnut Zucotto
($28 for a small serve) which had a mixture of chocolate and hazelnut gelato (refer to this
link
for the pictorial description of the cake). This was amaaaazing! Despite it not being as fancy as the mushroom cake, this was indeed a better choice because of the combination of flavours and us wanting more. There are hazelnut gelato and gianduia gelato, which was a perfect match. It's like having chocolate with hazelnuts in it, who doesn't like that combination? The gelato was light enough that we didn't feel that guilty for already having so much food and of course, it left us wanting more. I highly recommend this, even though it doesn't have an outstanding appearance.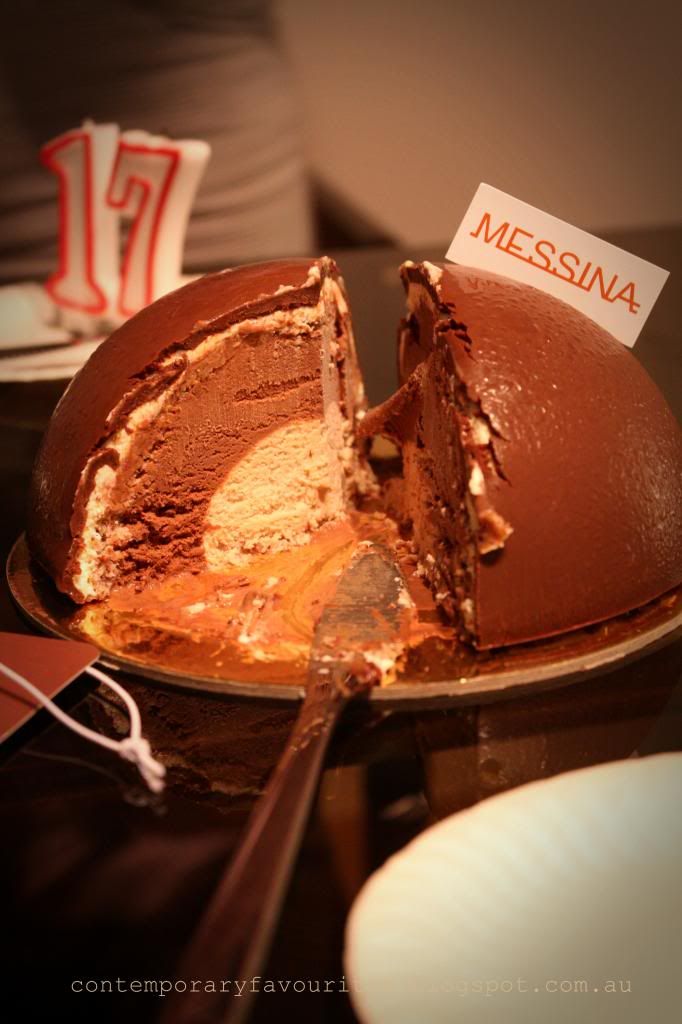 We had another birthday celebration last month for K. Him being a big kid himself, he wanted to have ice cream cakes too and where else to get some but Gelato Messina!? We didn't wanna have too big a cake this time (also because we didn't have space in our freezer), so we picked two of their monos. It was also this time that we discovered they changed out their mono menu, so we were left to pick their newer flavours as much as we really wanted to try their older flavours, like Bitty Bitty.
One of the mono that K picked was their
Gula Melaka
($12), which had gula melaka (aka palm sugar) gelato, rosewater praline fudge, hazelnut feuilletine and raspberry gele (
link
). I was particularly attracted to the flavours of gula melaka and the hazelnut feuilletine. I imagined the sweetness within the gelato and the texture of the feuilletine, which sounds like perfect. But nay, it was far from it. The raspberry gele was way too sour that it doesn't balance with the sweetness of the palm sugar gelato - pity. We didn't enjoy this at all, despite it being a rather refreshing taste. And $12 for this tiny piece? Money is better spent elsewhere.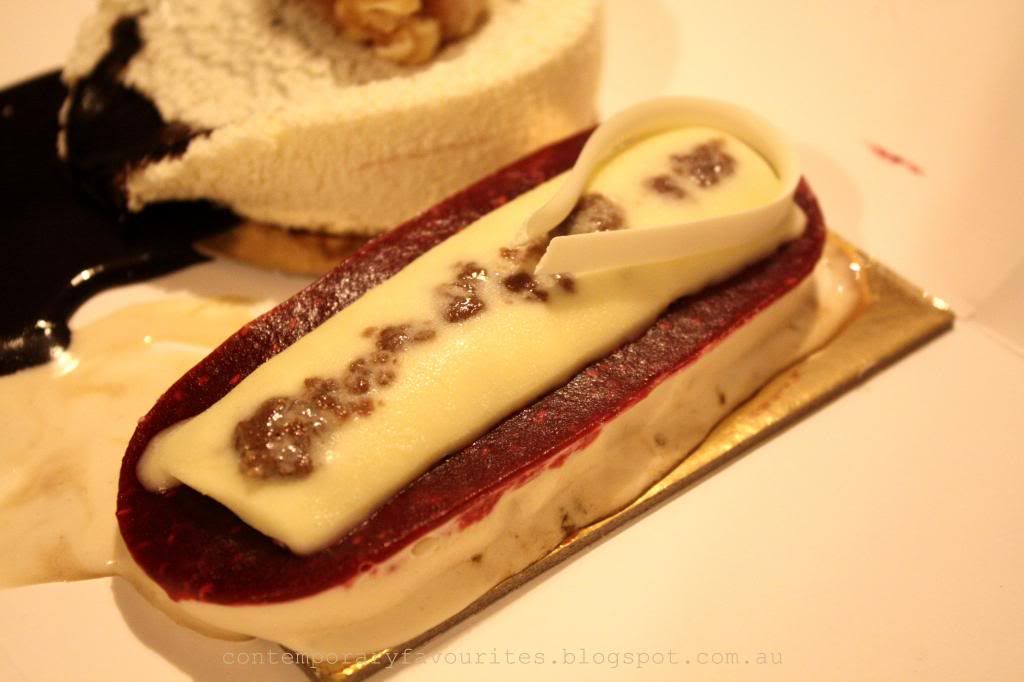 Another interesting flavour we decided on was
Pop Porn
($10) - wildflower honey gelato, gianduia gelato, dark chocolate fudge and caramelized popcorn. This one looked fancy on their website (
link
), but somehow it looked really different from what we had even though ours gave way a little. The spilling chocolate fudge wasn't meant to happen but it did, which made it look ugly as a cake. Oh well.
\
I like the soft texture of this cake, which resembles slightly like a fondant. You pierce a spoon or fork into it and the chocolate innard just spills out like no one's business. There are caramelized popcorns at the base of the mono as well, which makes it difficult to cut through. Unfortunately, the honey in the wildflower honey gelato was so faint that I couldn't even detect any honey in it. Everything about Pop Porn was sorta ruined by the chocolate fudge because of its bitterness.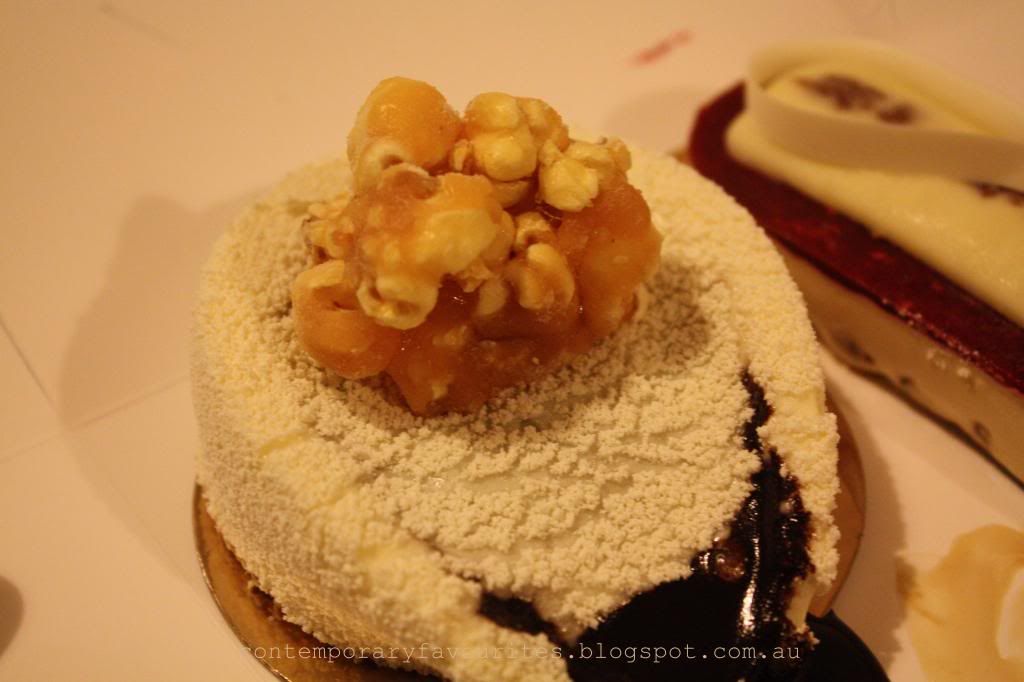 If there is one thing I am allowed to pick on, I would definitely say the packaging. No dry ice was given to ensure that the cake doesn't wither. You'd have to bring your own cooler bag if you're walking, or.. just bring a cooler bag no matter what or you'll end up in a sorry state like we did. It's also a pity that the monos are becoming increasingly pricey for their size. I may end up buying the gelato cakes rather than the monos the next time, but I don't think I can resist the idea of trying more flavours rather than having more quantity of something.
Shop 1/241 Victoria Street
Opening times - Sun-Thu: 12pm to 11pm / Fri-Sat: 12pm to 11.30pm