Happy August, everyone! August is a month of celebration for me because my birthday falls in this month (yay to good food!) and so are the birthdays of my sister A and my brother E (psst, we share the same birthday). I'm hoping this month will be filled with more happiness and less worries and gloominess.
Anyway, back to the review!
When renovations were going on last year, we got excited when they spotted the Home Thai logo on the outer wall! You know, the one with yellow diamond and the word "home" in it. We got excited because 1) it was something familiar, 2) it should most likely be a place with heaps of good food and 3) could it be something different from the usual Home Thai restaurants?
So finally, we managed to bring ourselves to Home Cafe after feeling really hungry and not knowing what to eat. It was no doubt that they were managed by the same group/owners, given the menu, the food and of course, the name. Home Cafe is a two-level restaurant, with an interesting concept to it. They have the rustic sort of furnishing which I love, so it felt really cosy and chill. We were then given the menu, which were essentially the same stuff offered by Home Thai restaurants - we were kinda disappointed.
We had lunch at around slightly after 3, so it wasn't crowded at all. Though we were disapopinted with the menu, we went ahead with our order because we were just so hungry and it didn't take too long for our
thai milk tea
and
thai iced coffee
to be served.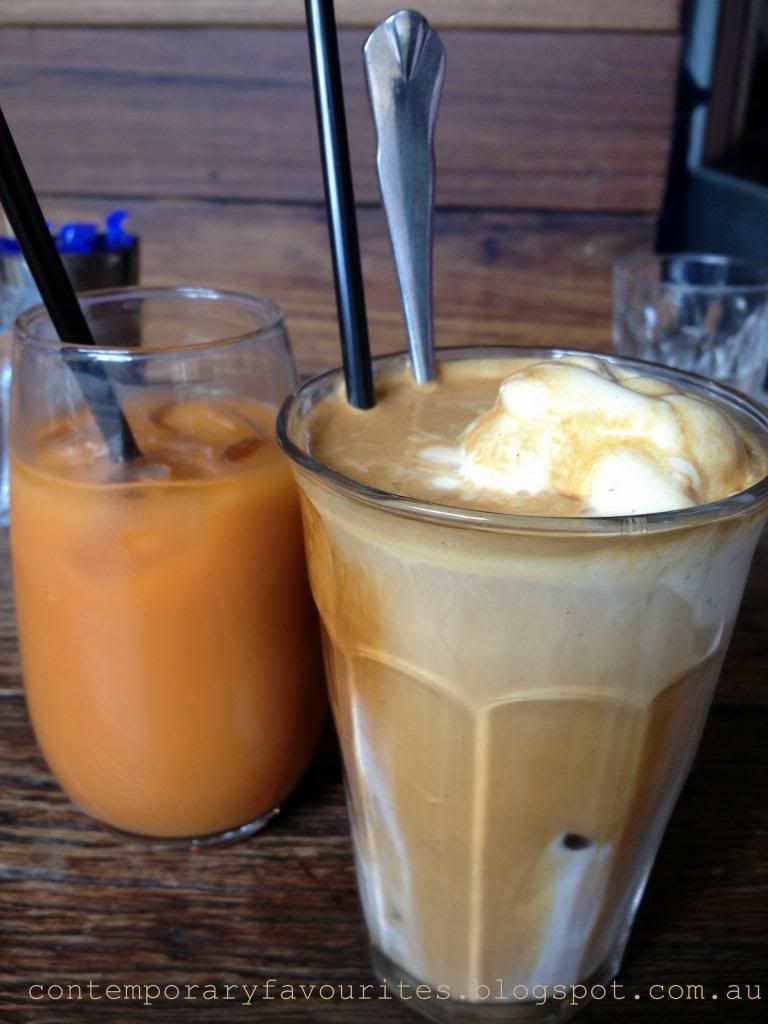 We ordered two mains and one entree to share! Sorry this photo is a little warped, I reckon I was trying out the panorama function on my phone :/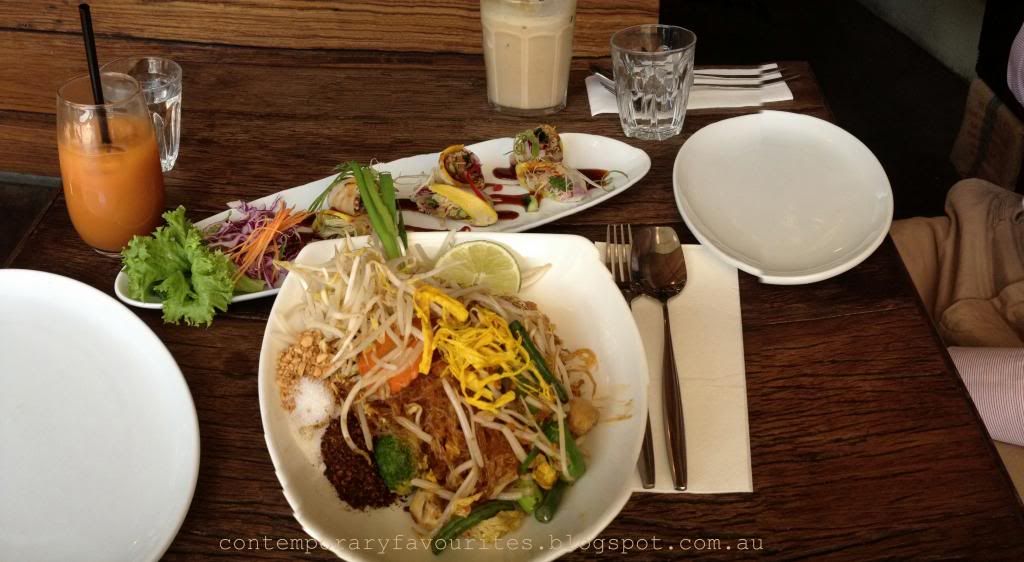 For entree, we ordered the duck spring roll ($9.90 for 6 pieces), which was roast duck wrapped with pickled cucumber, pickled carrots, cabbage, coriander, sweet basil and mint and they were served with black bean sauce.
I remember seeing this on the menu at Home Thai Sussex St, but never got the chance to order it because everything else looked better. The duck rolls were refreshing with the inclusion of mint, but otherwise this was slightly disappointing. It was a tad dry and it would score so much better if they added the black bean sauce in the roll instead, rather than smearing it across the plate.
One of the mains we had was pad thai woon sen ($9.90) - wok tossed vermicelli with soft tofu, egg, pickled radish, garlic chives, bean sprouts, chilli powder, tamarind sauce, palm sugar and fish sauce. I chose the option to have vegetables since we ordered a duck roll and beef curry. I eat very little spice and this killed way too much taste buds than I ever liked. I didn't think it was this spicy when I ordered it, but I can't fault them either. I should have placed a special order for one without chilli powder, my bad. But otherwise, it wasn't too bad a dish if not for the spiciness. Even K who take spicy food pretty well couldn't take it either. So, the both of us can't really say much about this noodles at all.

The other main we shared was Masamun beef curry with rice ($13.90) - slow cooked beef with Masamun curry paste, coconut milk, tomato, onions, peanuts, topped with fried onions. We had this a couple of times at the main Home Thai branch, so you can say it is a safe choice. The curry is sweet with a tingling spiciness in it, which isn't too overwhelming for me. Despite the small portion, we had difficulty finishing it since we ordered too much food again, but this curry was the best decision in our meal.
I honestly didn't think the menu will be same for this cafe-style Home Thai. I've read a little about it on
Urbanspoon
and it seems like they do coffees pretty well. Apparently, they have a wine bar concept coming up, so I'll be sure to wait for that to happen before I visit Home Thai again.
Corner Liverpool Street and Dixon Lane
Sydney NSW 2000