People always splurge on special occasions, be it Valentine's Day, Christmas Day or any other day you feel like it. For me, I splurge on my family (even if it means not using my own money hehehe) on their birthdays. I will always pick out a restaurant that could cater to all of us because we're always such a big group and we usually spend hours just eating and chatting. I haven't been able to celebrate most birthdays with my family in a couple of years now, so I'm really glad to have my brother B with me in Sydney at least for this year.
We finally decided on
Ume Restaurant
, hence the title of this post. This is my first time to a
one hat
restaurant and I was really excited how it will turn out :) We visited them at the end of May (oops, what a belated post) so they might not be serving the same menu anymore, but do check out their website (
link
) for more information! Also, if you're into photography like me (I'm still a noob at my newly received hand-me-down Canon EOS) or instagram like B then be sure to have more patience for the shutter because we ended up with so many blur photos that I need to apologize for them, sorry!
What's Japanese food without
sake
? Haha well, the paradox is we don't always order sake when we have Japanese food, especially sushi. I prefer green tea anytime because of its health benefits, but a special occasion calls for sake. Do you prefer a warm or cold sake?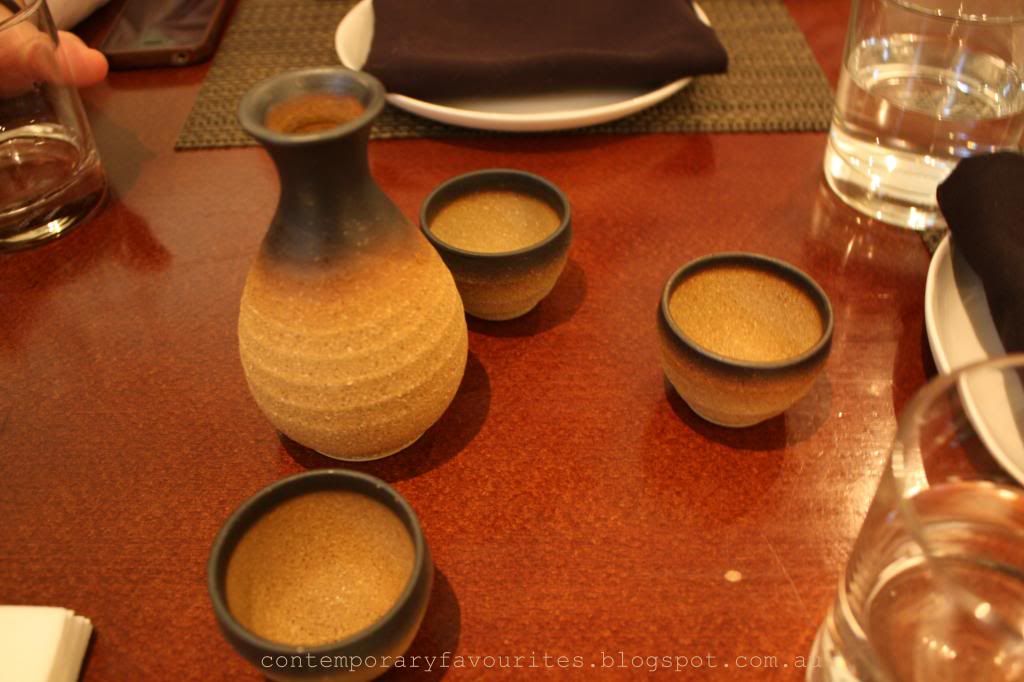 We ordered two miso soups to share, the first one was scampi miso soup ($9), which was a sweet miso with shiso, shallots and of course, scampi! I'm not one who loves miso soups, I seriously dislike them for their extreme level of salt content as much as I love Japanese cuisine. To be real honest, I've never had sweet miso before and this sweet miso is the bomb! This was a favourite among all three of us, that one bowl just wasn't enough. Alas, we didn't order one more of it because we had to save our tummies for the extravagant amount of food afterwards.
The other miso soup we ordered was their miso shiru ($7), which was koji miso with tofu and wakame. On the contrary, this miso tasted like regular miso you can get in other Japanese sushi places or restaurants. There was nothing special about it, it was just as salty as other miso soups and regrettably, it was a bad decision.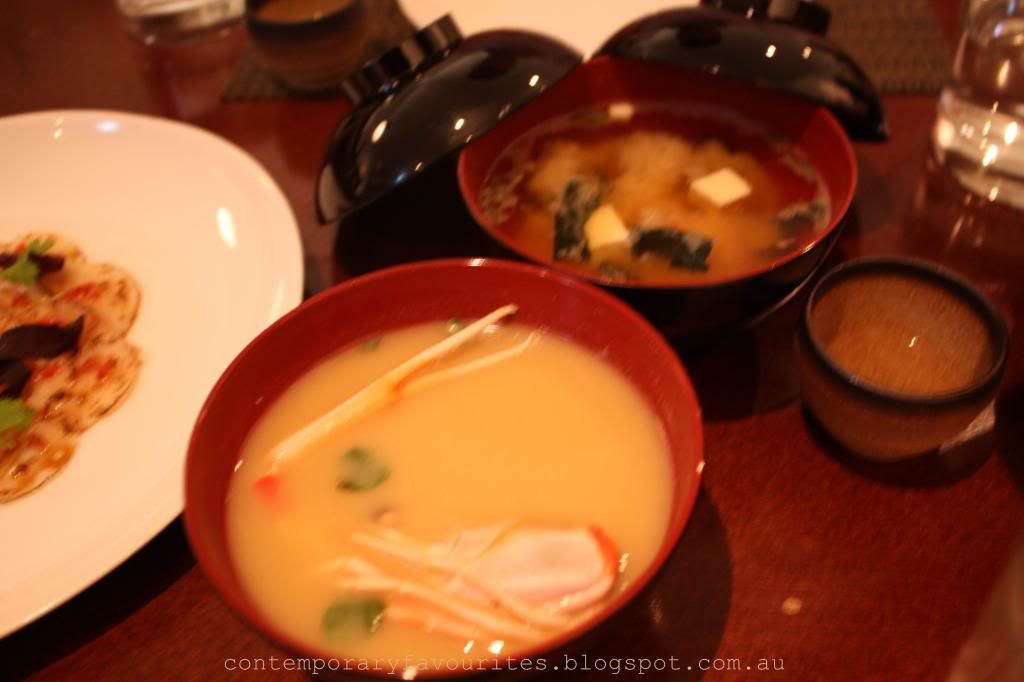 Sorry this photo is a bad one!
Being Asians and being really greedy Asians, we could not go without rice ($5.50). There is really something nice and sweet about Japanese/sushi rice, it just makes me crave for more. But at $5.50 for a bowl of rice, I could really do without.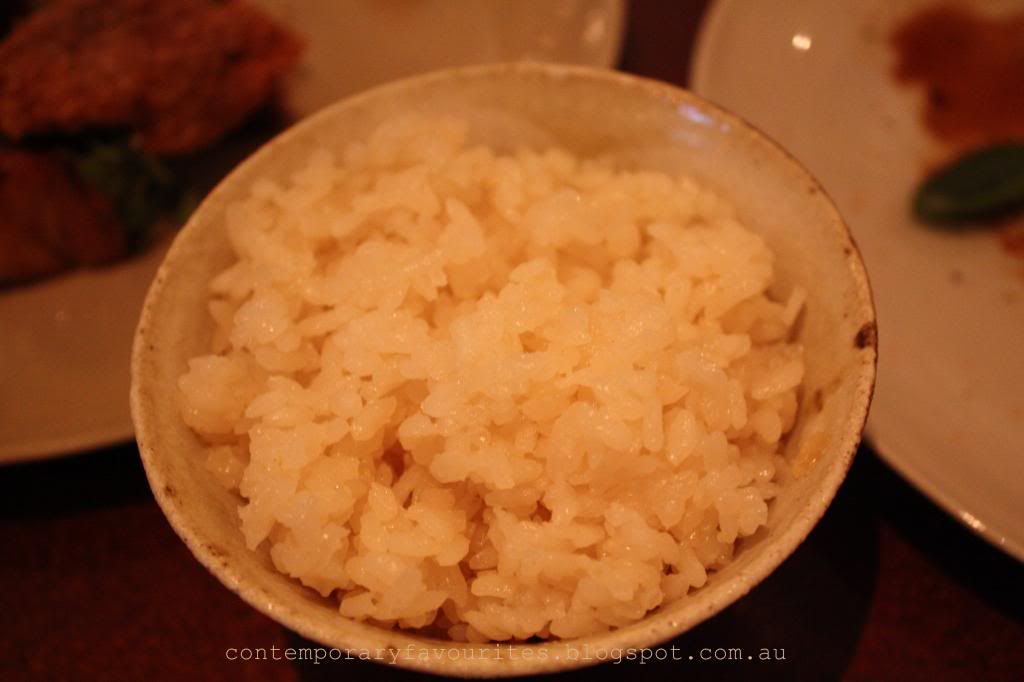 One of the entrees we had was their
carpaccio - seared scallop
($21), which was highly raved on Urbanspoon (
link
). It had
soy brown butter, finger limes, young sorrel and dulse
, and of course scallops! I was quite excited about their scallops after reading so much about it, but maybe the anticipation got me way too excited that I thought they were a slight disappointment. Each scallop was sliced so thinly that it melts in your mouth, but they didn't have much of the flavours that were stated on the menu (the flavours in
italics
mentioned above). It was nothing less than fresh, but not quite a must-have in my honest opinion.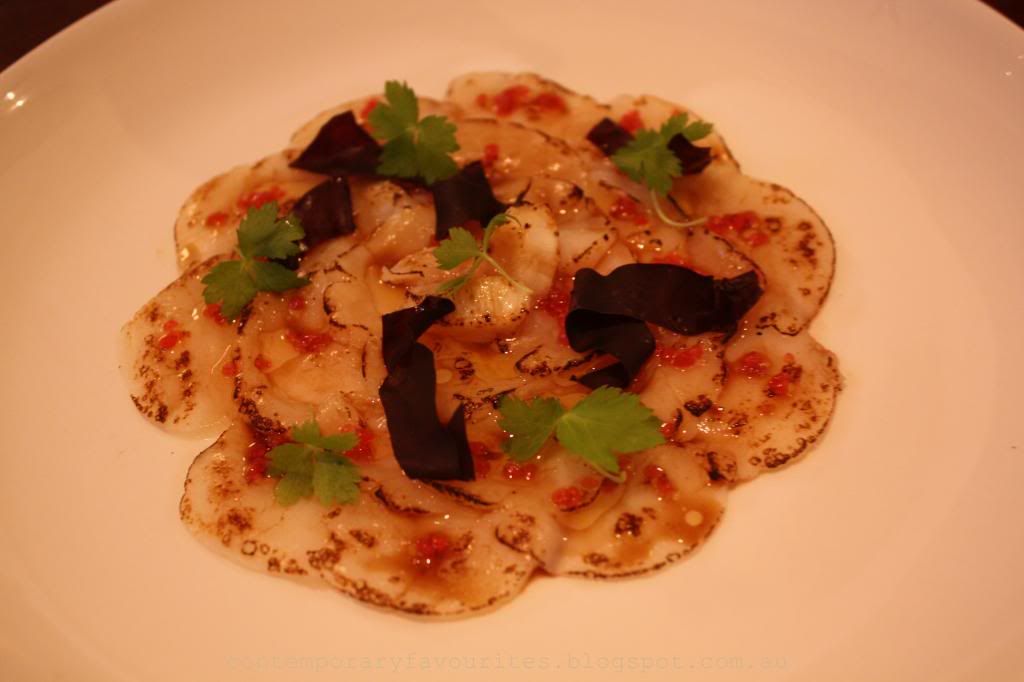 Another entree we ordered was on their specials board outside the restaurant! Pardon me, I don't remember the exact name for it but it was pork dumplings with rice crisps. The description got us anticipating cute dumplings that don't look like the regular, so on first thoughts these dumplings fall short. I like how there was so much meat within the dumplings even though the skin was rather average. They (the skin) weren't like the melt-in-your-mouth kind, which makes this dish rather forgettable.
The next dish we had was their butaniku no kakuni ($22), which was soy braised free range pork belly with fermented chinese cabbage, karashi and crackling. For the portion, $22 was rather expensive. There were only four pieces of pork belly and each piece was so tiny you can finish it off in a mouth. I guess this is the price to pay for a fine dining experience.
I thought this was gonna be my favourite dish of the night, but unfortunately it's not. I'm not someone who is conscious about fats and meats, I eat almost anything unless I choose not to. Some people might dislike pork belly because of the amount of fat in it, but I absolutely love it. This pork belly wasn't to the extent that it melts in your mouth, however there was so much flavour in it that I enjoyed it very much. The charred sides of the pork was well done as much as the meat was a little too tough. Now you know why this isn't the favourite one..
The other main we had was the
charcoal roasted wagyu
($42), which was David Blackmore wagyu 9+ with house made yuzukosho, zucchini, shiso ponzu and rice crisps. Again, for the price the portion was a little tiny. Nonetheless, it was recommended on Urbanspoon (
link
) that we had to try it for ourselves and it definitely didn't disappoint.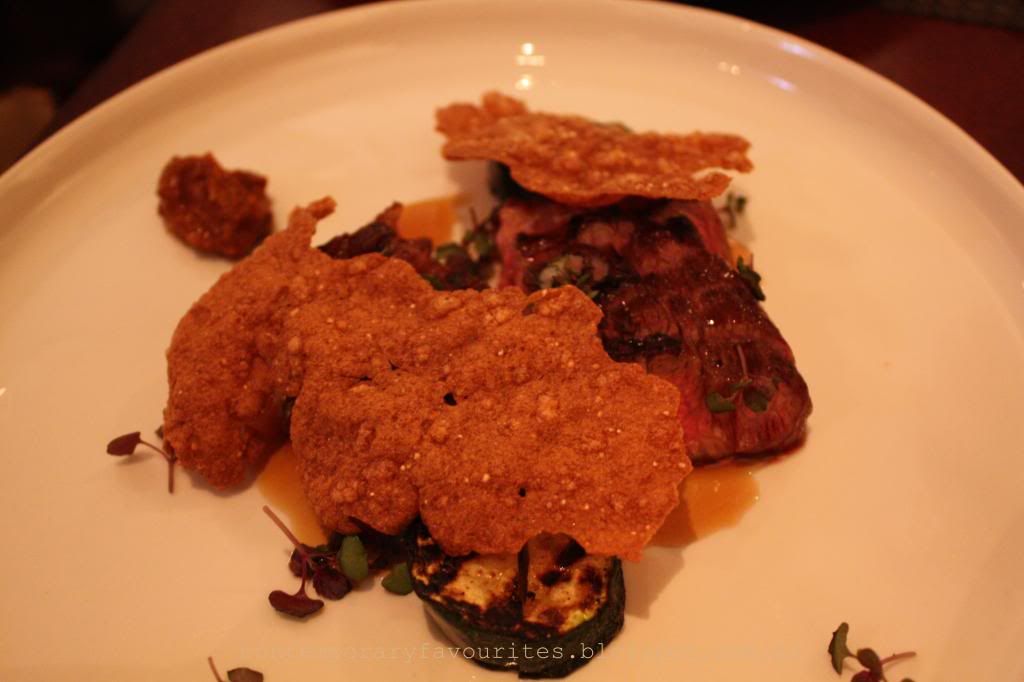 I love the rice crisps! It isn't something you can buy from Asian supermarkets or find elsewhere. Ume does their crisps really well (you'll see one more below) and they're just so good. I know, I know, they are just rice crisps. But if they can do simple stuff well, I think it earns a brownie point from me :) According to K, the yuzukosho went really well with the beef, which he suspect was slow-cooked. I'm not a big fan of beef, so I wouldn't be able to differentiate the grades of beef in the market. But to me, a good dish of beef is good beef. Does it make sense? The wagyu is definitely really tasty and can be awarded the must-try!


The last main we had was their
Cone Bay barramundi
($34), which had a poached barramundi in shiro dashi butter, with Jerusalem artichokes, crisp wakame, soy and yuzu dressing and sea herbs. This was the hottttttttttttttt favourite of the night, it was that awesome. The fish was fresh and sweet, there's nothing to doubt about that. The shiro dashi butter gave the fish a nice coat, while the soy and yuzu dressing complemented that coating really well. There was really nothing to pick about this barramundi, so it definitely is the must-try!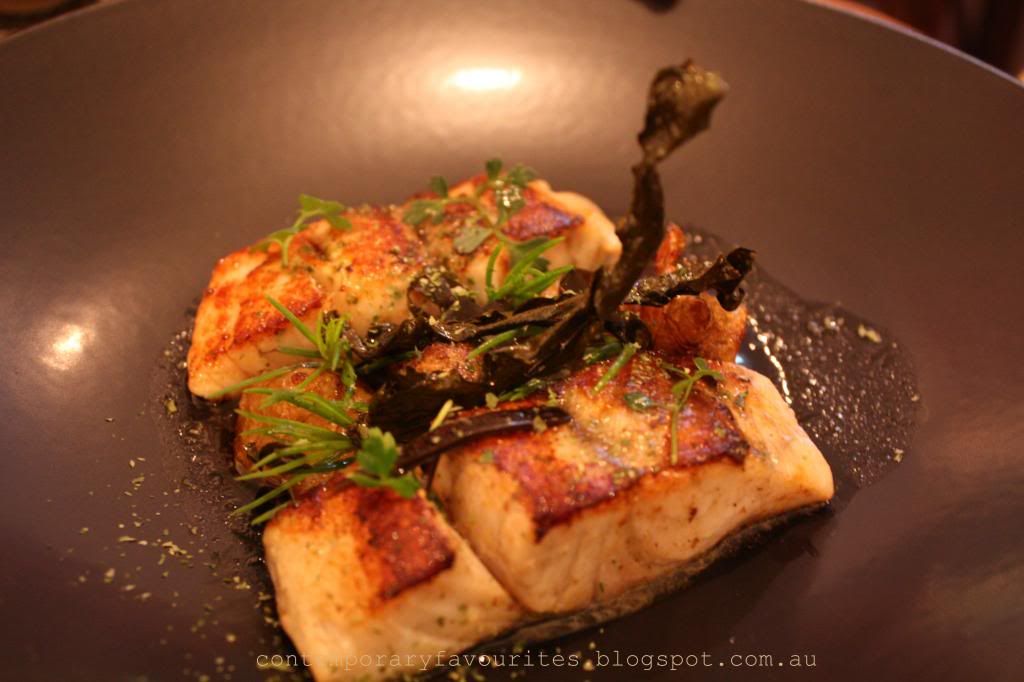 The last item of the night has to be desserts! We were so full after two soups, two entrees and three mains, but we just could not miss having the desserts, either desserts take up space in another stomach or for review sake. We decided on their dark chocolate 'terrine' ($15), which was Michel Cluizel 70% dark chocolate, white chocolate crumble, matcha soy ice cream, quandongs and soy milk crisp. This is the other "crisp" I was talking about earlier! There's just something amazing about the soy milk crisps that three pieces to share among three just weren't enough. I was tempted enough to order another of this just for the soy milk crisps! Otherwise, I think this dark chocolate dessert is rather forgettable. I had no idea what quandong was or the taste of it and I haven't never seen them before, apparently it is a native Australian fruit! #ilearnsomethingneweachday It was sour, which kinda went wrong with the bitter 70% dark chocolate, but something about it we just didn't like. I also reckon that the soy matcha ice cream didn't go well with the dark chocolate at all, they probably added it to give it a Japanese touch? I don't know, but I don't think it agreed with our taste buds.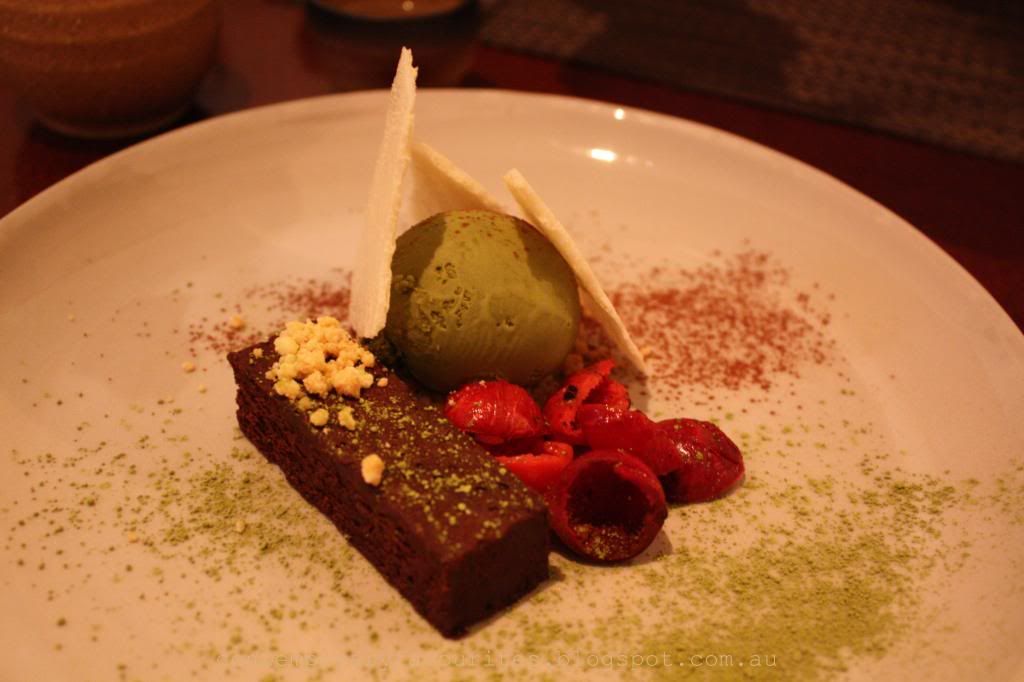 It was a good experience dining at this
one hat
restaurant - the service was attentive and friendly, the food was generally good and we enjoyed our dinner there. I'm currently craving for their sweet miso soup and their rice and soy milk crisps! It's always the little things that makes me wanna go back to
Ume
, I'm just weird as that. It costs us about $70 per pax, if anyone wants to know, and it was worth while.
I took such a long time to complete this post that I'm really glad that I've finished it #phew.
Ume Restaurant (website/urbanspoon)
478 Bourke Street
Surry Hills NSW 2010