I've never thought of going to
Seoul Ria
for Korean food, I honestly wonder why. Maybe because there are heaps of Korean restaurants on Pitt Street (where there are many Thai restaurants too), so it is always easier to pick from there - okay, this doesn't quite make sense. Nevertheless, a group of friends from home visited Sydney and another friend A suggested that we should take them to
Seoul Ria
, though technically I'm not qualified to take them there since I've never been there myself.
On my first visit to
Seoul Ria
, I was equally surprised by the price and the quality of the food. Not that it was surprisingly cheaper than other Korean restaurants, the food was actually pretty yummy. I didn't take any photos that first time because we were all famished and we could only take a group shot before digging in. A group of 10 of us were seated at the back of the restaurant, and it was so difficult to get anyone's attention! I can't remember if there was a buzzer on the side of the table like all other tables, but the wait staff was not that attentive for sure. Also, the staff don't acknowledge that they understood our needs (like asking for a pair of scissors to cut up the meat or for more water..), and sometimes they may end up bringing the extra pair of scissors after we already had two extra pairs. Our total bill worked out to be about $16 per person, which was superb!
Anyway, we visited
Seoul Ria
again because their seafood pancake was that good. Other than that, I don't ever think I'll visit again for any of their ban chan or dishes or hotpots.
Here are the pictures!
As with all other Korean restaurants, their ban chans are free of charge and you can ask for more whenever you're finished with any of them. Like always, the best way to know if you're ever coming back to the restaurant is to have the simplest dishes that they offer - the ban chan is definitely one way. Sadly, we have had better ban chan elsewhere (read about my favourite Korean restaurant Boom Bi Na
here
).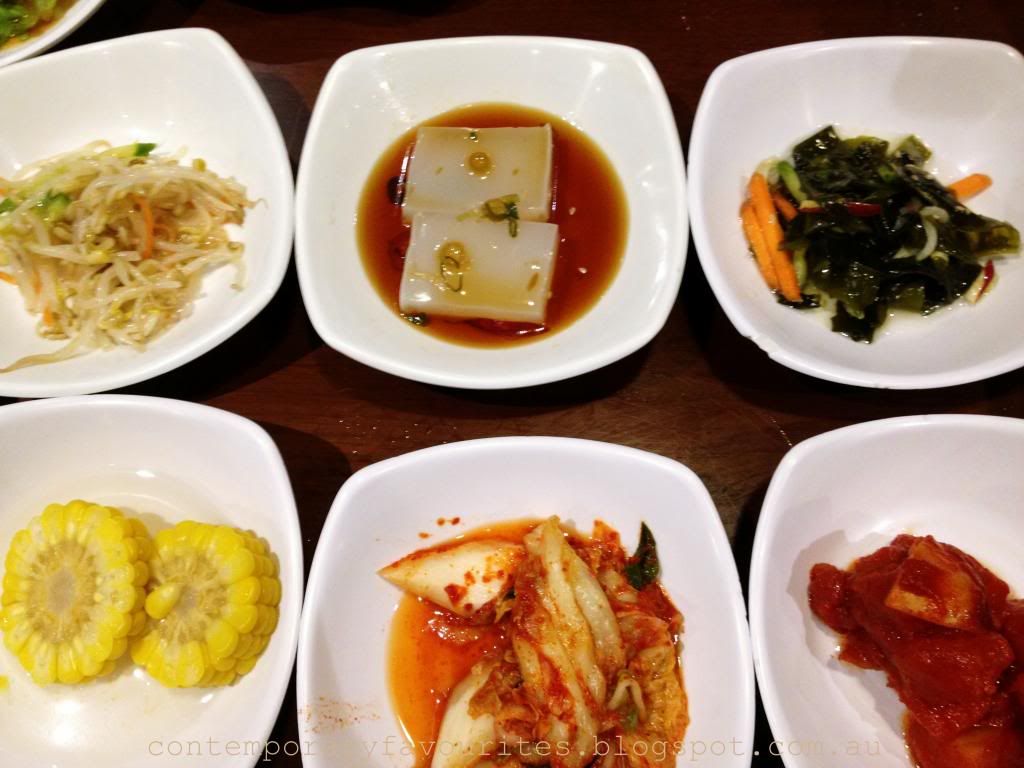 Here comes the bomb - the Korean seafood and shallot pancake ($18). Without a doubt, this has to be the best seafood and shallot pancake I've ever had in Sydney. There is a generous amount of seafood and an equal amount of chives/shallots in it and the pancake was pan-fried to perfection. The centre of the pancake was slightly dough-like and soft but not too much that it's not cooked. The sides were also crisp and the pancake wasn't bland that you need to dip into the accompanying sauce. Other than the fact that it's oily and this really can't be helped at all, there's really nothing to pick on this seafood pancake!
On the page for chef's recommendation, we picked their gganpoong gi ($28) which was spicy and sour fried chicken. Some pieces of chicken were slightly soggy, while others are crisp. The spicy level for this dish was beyond me so I could only have a couple of pieces. Otherwise, this dish didn't leave an impression on me.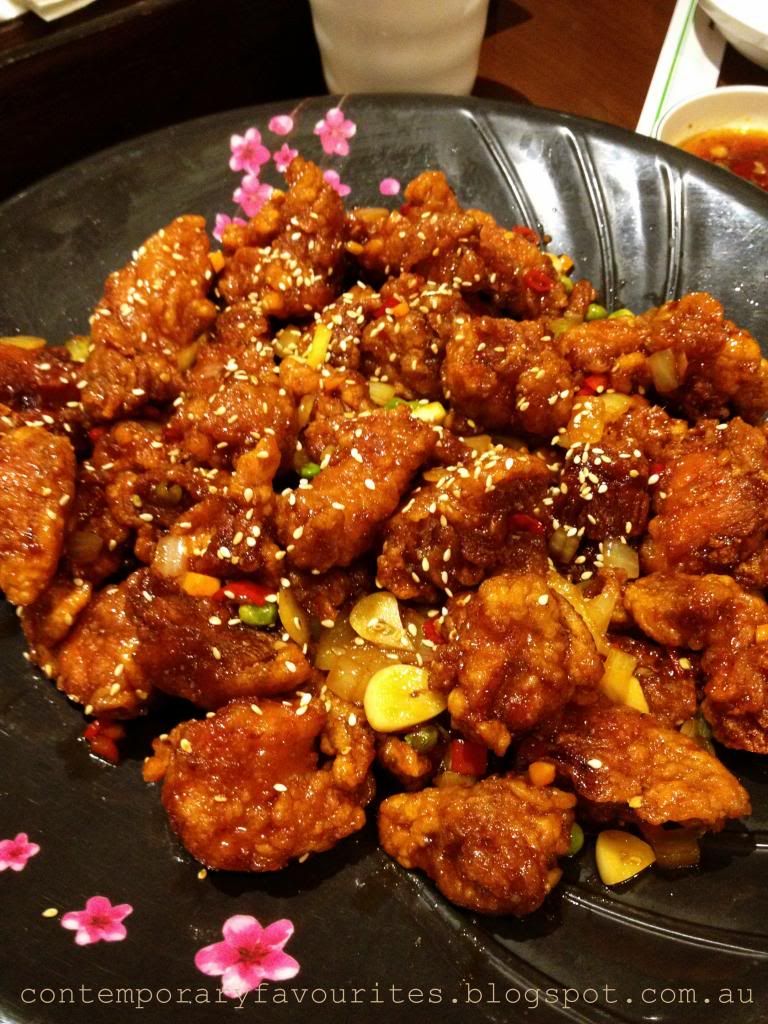 The last we had was hae mul oden jeongol ($45), which was fish cakes and seafood hotpot. There weren't any pictures showing how the dish looked and it was seriously a gamble. The hot pot didn't turn out the way I thought it'd be, especially with all frozen food on skewers. However, the pot was so full that paying $45 was pretty worth. But I doubt I'll have this ever again because 1) it was so difficult to cook the individual skewers and 2) the soup stock was not that great.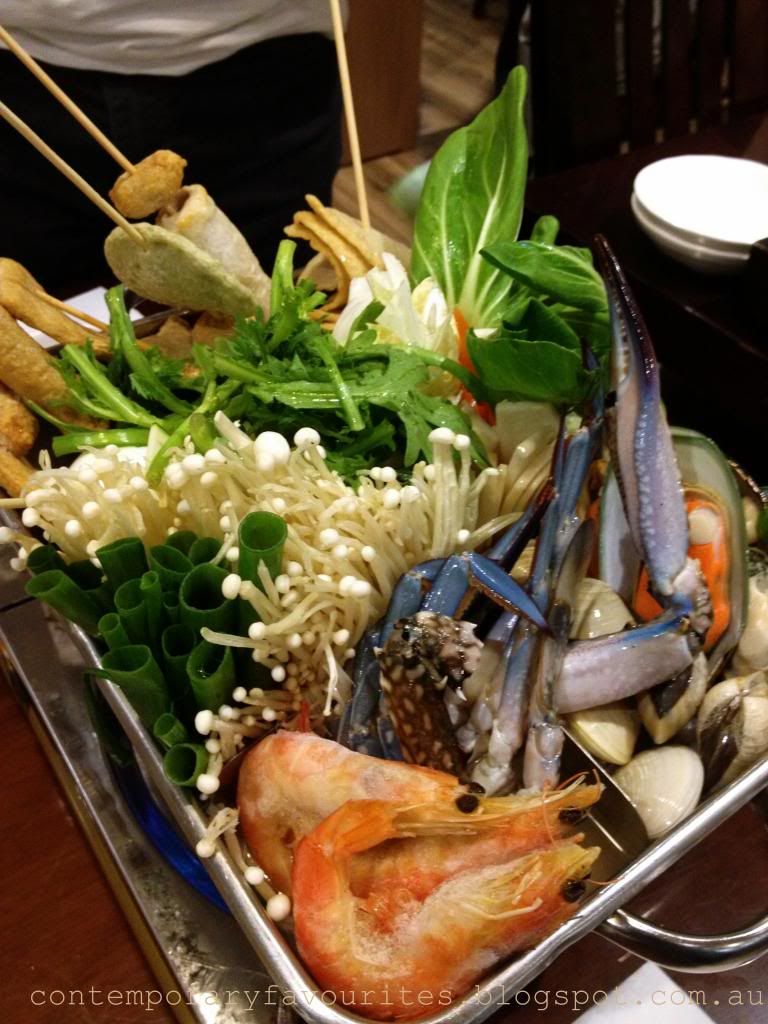 I wouldn't say service was pretty good when we were there. Despite having the buzzer at the same of the table, some wait staff sorta pretended they didn't see us "calling" for help. Also, we were told that the hot pot comes with two bowls of rice. When the rice wasn't served after a long while, we asked another staff about it and he wanted to add that two bowls of rice into our bills which was ridiculous. Not that we couldn't afford paying for two bowls of rice when our bill was almost $90, but the fact that we were told it was complimentary and yet we have to pay for the mistake by the staff who took our order. After going back and forth explaining the situation and how we were told of the complimentary bowls of rice instead of imaging that it was free, they eventually didn't charge us for it so all is good.. for now.
Seoul Ria (urbanspoon)
2/605 George Street
Sydney NSW 2000