The initial plan for this post was meant to just be a photolog (where I just put up a couple of photos with minimal words, for reasons like the lack of memory or information). The reason for that was because I either lost some photos, hence wasn't able to write a detailed entry on my visit to the restaurant, or I was too hungry I actually forgot to snap some photos which will eventually lead to the former excuse. But thankfully, I managed to grab some photos off my dinner partner-in-crime, which explains why some photos are different in colour and filters (I tend to only use filters only when photos come from a phone rather than a proper camera). So, lucky me will actually get to put my memory to good use!
The restaurant in topic today is
Yok Yor Thai Food Factory
in Haymarket. I walked past
Yok Yor
countless of times, but it's always a wrong timing when I do. They are located on Castlereagh Street, which is away from the usual Thai
street
(aka Pitt Street). Whenever I do walk past
Yok Yor
, it's always the after-dinner walk that leads me there, or late in the night when having supper really isn't an option. Also, Thai food is always a challenge for me. I can't take too spicy food that kills all my taste buds because I'll end up with a sore throat and swollen lips. Sexy much?
Yok Yor
has a really interesting concept of a food factory, the people working in there are in overalls and it's very much like a construction site! They reminded me of the minions in the movie Despicable Me, how cute.
We needed some drinks to start with, so we ordered
Thai milk tea
and
Thai black coffee
. Both drinks are at $3 each, which is the cheapest I've ever had. I liked how the milk tea isn't too sweet with too much condensed milk in it, and surprisingly I liked their black coffee too! I'm not an espresso person, so anything black is not my taste. But their coffee, oh my, it's not too bitter and there is this sweetness within its bitterness. Is there a recipe to make this? I totally need to get my hands on them, yum! The drinks also came in handy with an impeding spicy experience, read on!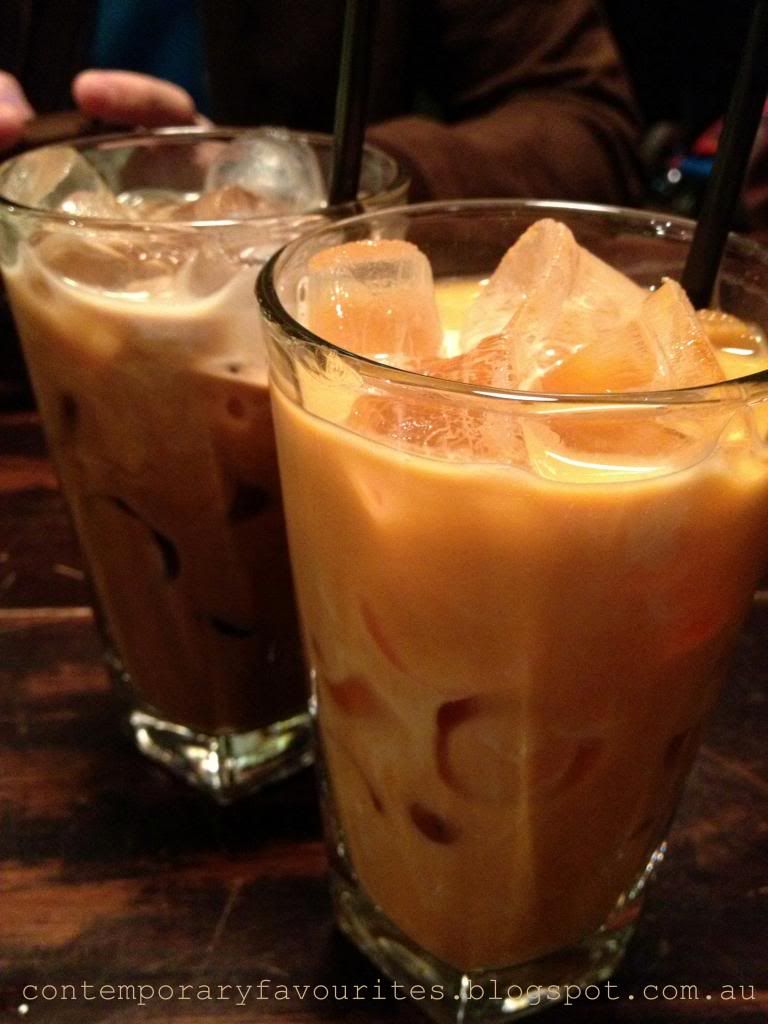 The entree we picked was the gai hor bai teuy ($6.20 for 4 pieces). They are fried marinated chicken wrapped in pandan leaves, which wasn't quite I imagined it to be. Think Cantonese style glutinous rice wrapped in pandan leaves, that is what I thought it'd be. However, this was a good pick. The chicken was so well marinated - no dryness in the meat, juice flowing out with each bite you take.. Hahaha, I reckon calling it juice is very adequate because it's not sauce and it's flowing out of the chicken! You can actually eat the pandan leave if you like. I've tried both - the first try without the leave, the second piece with the leave on. I prefer the chicken without the leave though, just because barbecued leaves are a tad difficult to tear/bite apart.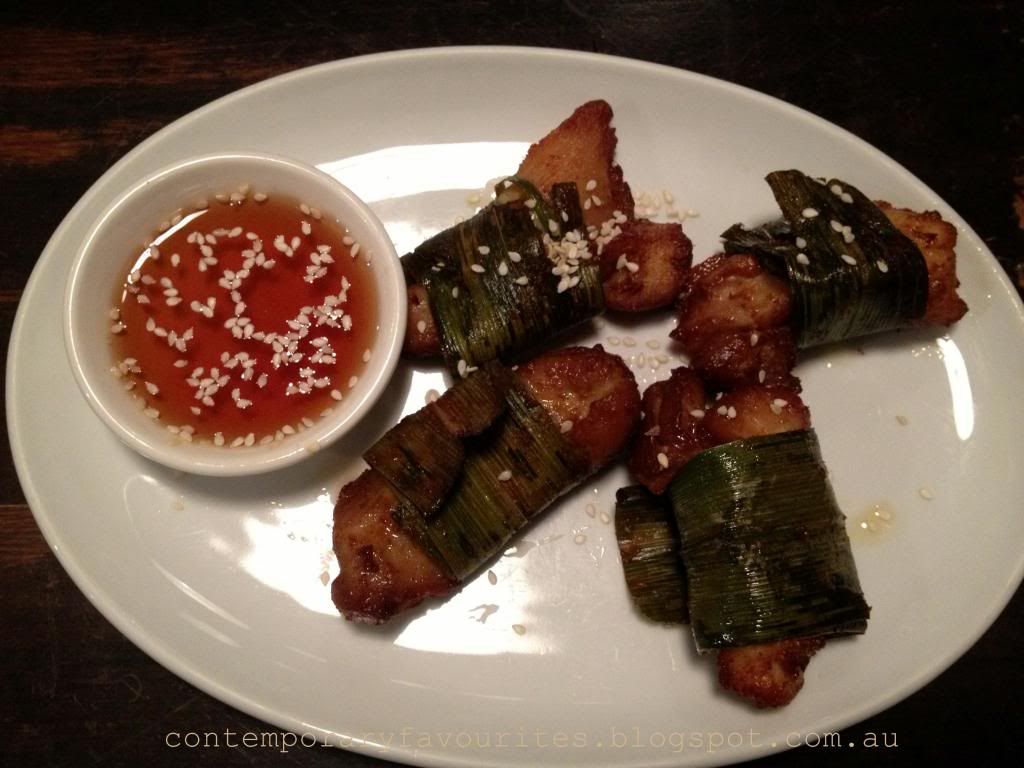 Because of my slight obsession with boat noodles, we had to order the pork kuay teaw rua ($4.90 for small bowl). It is a traditional rice noodle soup in brown both - the broth contains cinnamon, star anise and occasionally pork blood. There are meatballs, vegetables and pork lard in this boat noodle soup, which is awesome. For $4.90, I can't really complain about anything except that it was way too spicy for me. I could sense the flavours in the soup broth, which was really fragrant, but I could hardly taste much of it. That was a major disappointment, but I would recommend it if you could go past the spice level.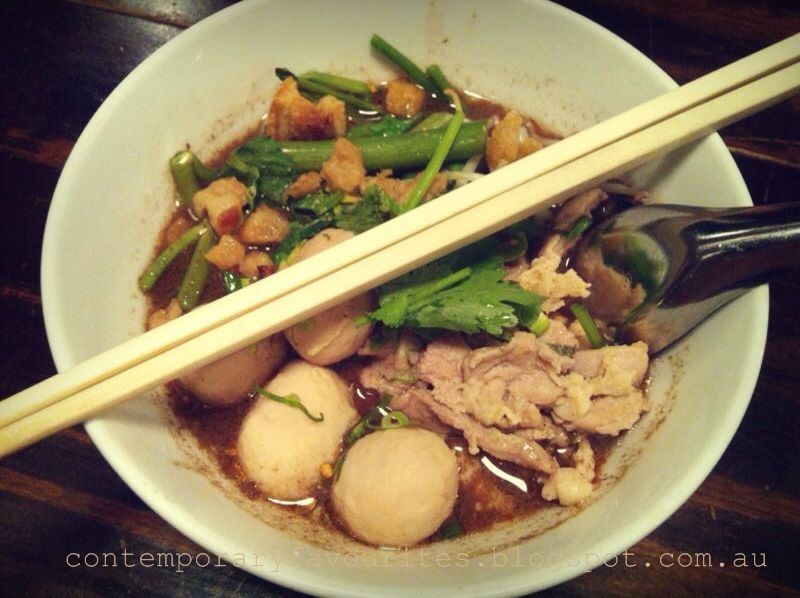 Another challenge was posed. Being huge fans of pad prik khing, we needed to try Yok Yor's version to see if this could fight against our favourite at Satang Thai. Pad prik khing ($14.50) - which was pork belly tossed in red curry paste, green bean and lime leaves. We have had PPKs in other Thai restaurants, some do it well but was served with raw green beans while some were way too spicy. This was it. Yok Yor's PPK was way too spicy that even K couldn't take more! We packed the remainder home and tried to cook it with heaps of sugar, but that didn't help at all. So, try it at your own risk! Otherwise, I remember the green beans were cooked and the pork belly was crisp. Nothing to fuss about except that I can't even rate it because I couldn't taste it at all.
We made a right decision in ordering their goong ob woonsend ($14.50), which was glass noodles tossed in soy sauce with braised king prawn in a hot pot. This was absolutely delicious, given that we had some major trauma done to our taste buds in the previous dishes. Having said that, the glass noodles were a tad too soggy and wet that they stick together, so they end up in clumps. Otherwise, the wok taste is sufficient and it was flavourful (finally something we can taste well!). The prawns were a little tough but still juicy though. Not a must-try, but I reckon it's worth trying!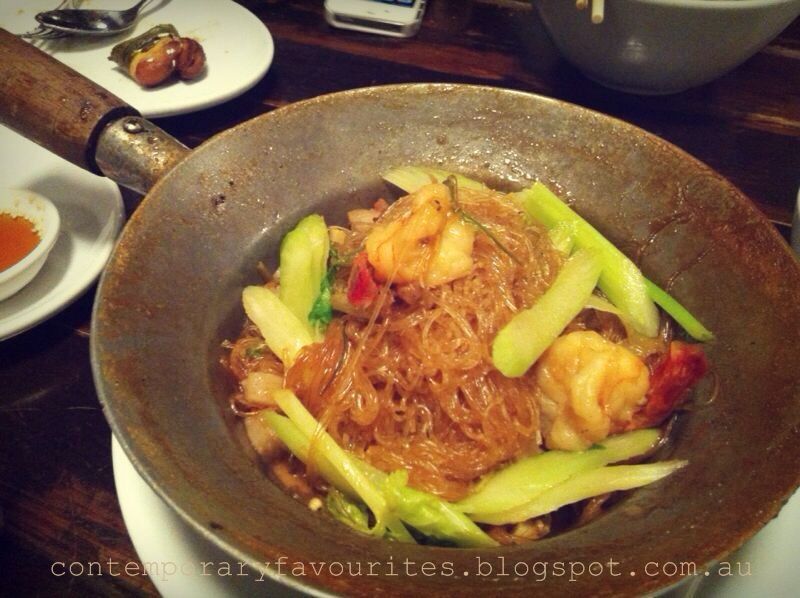 By the end of our spicy trauma, we needed a really light dessert to comfort our taste buds so we decided on their Thai tea ice cream with sweet potato ($5.90). This ice cream is made from Thai milk tea, which was truly comforting on my raging tummies. It was light, not to sweet, which was exactly like how their Thai milk tea tastes like! The addition of sweet potato was a tad weird to me, but it creates a slight crunchy texture to the ice cream which is a nice touch. It's like having bubble tea with pearls ;)