I promised to talk about my friend's birthday dinner, so here I am even though I'm super exhausted today. I have no idea why I'm super tired, I think I had a bad sleep and had to wake up so early just to catch a bus to uni. I just came back an hour ago, from the movie
Tomorrow, When The War Began
and to be honest, I think it was a pretty bad movie. If it wasn't for the free ticket, I doubt I'll actually catch the movie. I was actually pretty surprised that it was an Australian movie, and it was pretty much portraying how a couple of high school students were trying to fight a war. But, the ending is really abrupt. Or should I say, there wasn't an ending at all. *Spoiler alert* No idea if those kids won :/
But anyway, back to my friend's 21st birthday dinner!
I Chi Ban Teppan-Yaki
355 Sussex Street
Sydney NSW 2000
Australia
Was there on 09 October 2010
I had no idea where this restaurant was, but I'm pretty sure I walked past it a couple of times. Even though it's near Haymarket, Chinatown, which is near Central Station, I think Town Hall station was nearer to the restaurant! After I got a (last minute) gift for my friend, I was walking towards Town Hall to get to another friend's place to kill time. Sometimes I'm really quite thankful to know friends who live in the city, I'm starting to dream of living in the city actually. Imagine the luxury, convenience and... life. Haha, well Sydney city has slightly more nightlife than the other cities I reckon. So, I actually bumped onto the restaurant while along Sussex Street, it wasn't that difficult to find after all!
This was the box that I had to pay for for the gift, even though the salesgirl told me that it'll be free T___T I guess there was a really serious breakdown in communication, but well it was just a couple of dollars more for a small box.
Super Korean like bracelet, I totally want one for myself! I had to squeeze the bracelet into the box so that it looks nice and not that cramped. But it's cramped after all, geez. Oh, there's also a key charm to represent 21st! Well, being 21 means key to freedom? In general, everyone from Singapore gets a key when they turn 21. I didn't though, but nothing biggie.
The wine list, but no drinks for the night though. Good to stay alcohol free sometimes :P
The eggs were meant for something else, other than being cooked.
The salad wasn't too bad, I kinda like the sauce. The miso soup was healthier than other miso soups around too! It wasn't that salty, nice!
Super huge king prawns, ready to be teppanyaki-ed heehee.
The fish fillets which were really good!!
Some green sauce paste which we thought was wasabi, but thankfully not. My friend Y and I don't take spicy, phew.
Time for some gimmicks! It was mad hot that I was like, omg omg omg so hot. Hahaha, we could easily be tanned half a face man!
Soy and peanut sauce. I like jappy peanut sauce, they're nice :)
The king prawn and fish fillets, nice!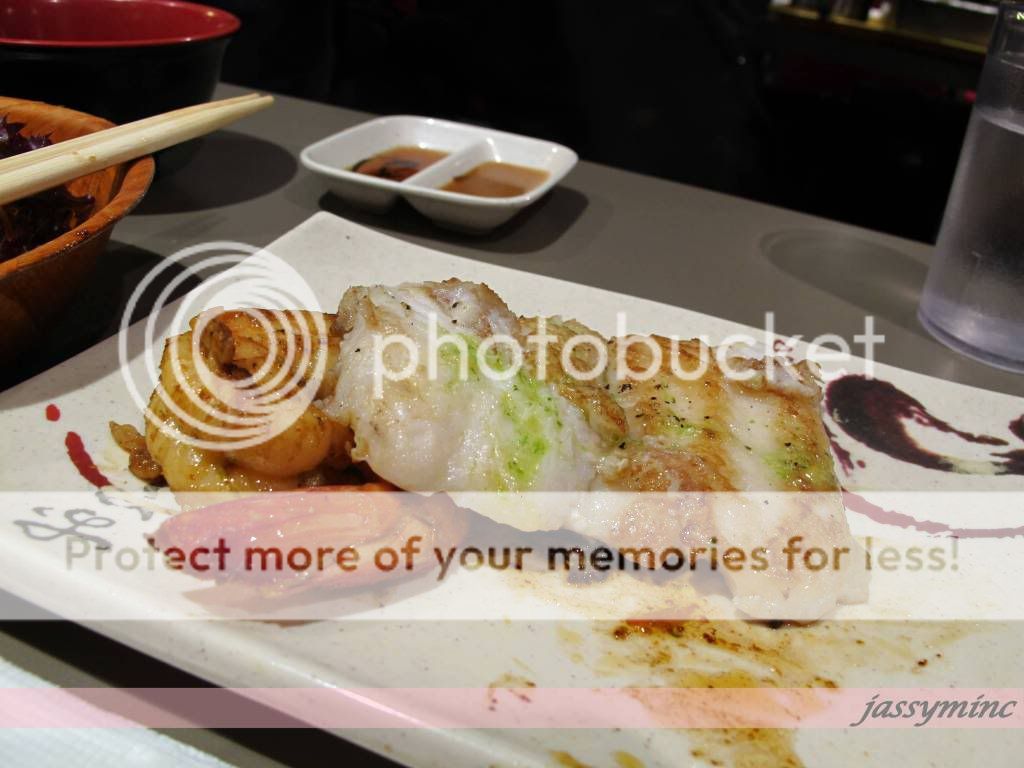 Chicken fillets, up next.
Bloody beef that was still oozing blood. I don't fancy bleeding meat :/
Heaps of greens being cooked.
Teriyaki chicken, good.
There were like celery, cabbage, carrots in the greens. Not too bad, but I don't like the celery in it. I eat celery though, just.. Maybe not together.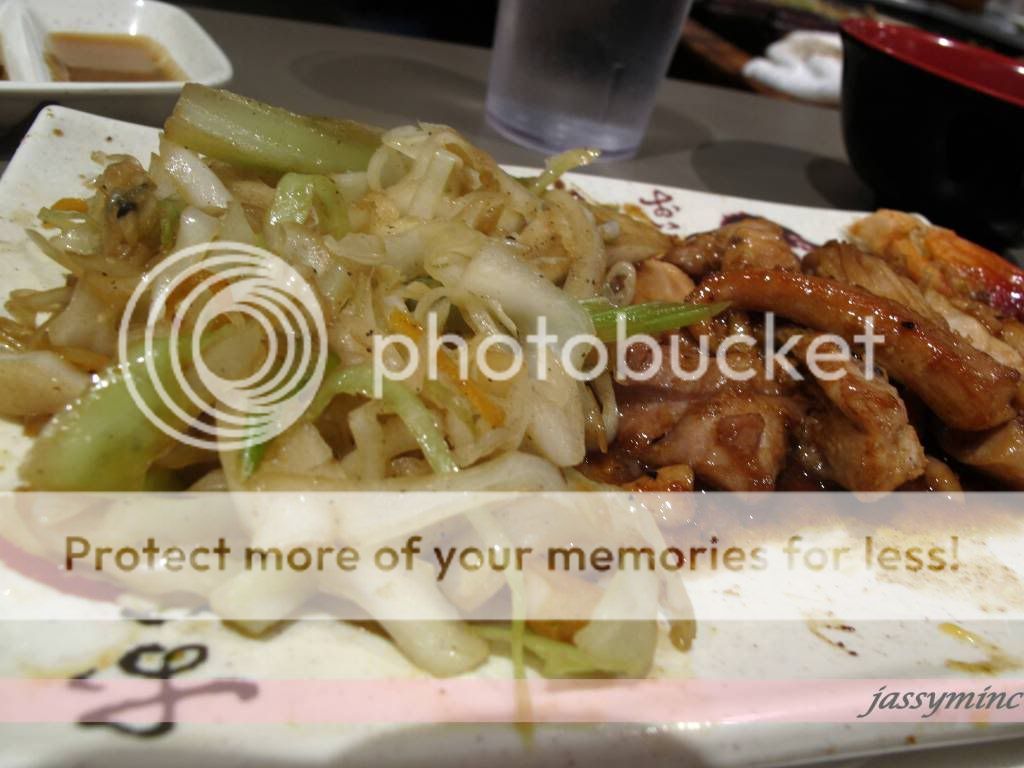 Gimmick again.
But nope, sorry I didn't take photos of us being fooled and having fun. It's one of the fun things you do when you're at Teppanyaki in Sydney, you do heaps of stuff and get really really really dirty. Eggs for the next round of "games".
The other chef preparing too.
Part of the game, guess what's he tryna do!
Heaps of rice for.. 23 of us! A lot of arm strength needed.
I love jappy fried rice, so yums!
Salt drawing! I'm super amazed because they have to do it upside down.
Can you tell what the chef drew?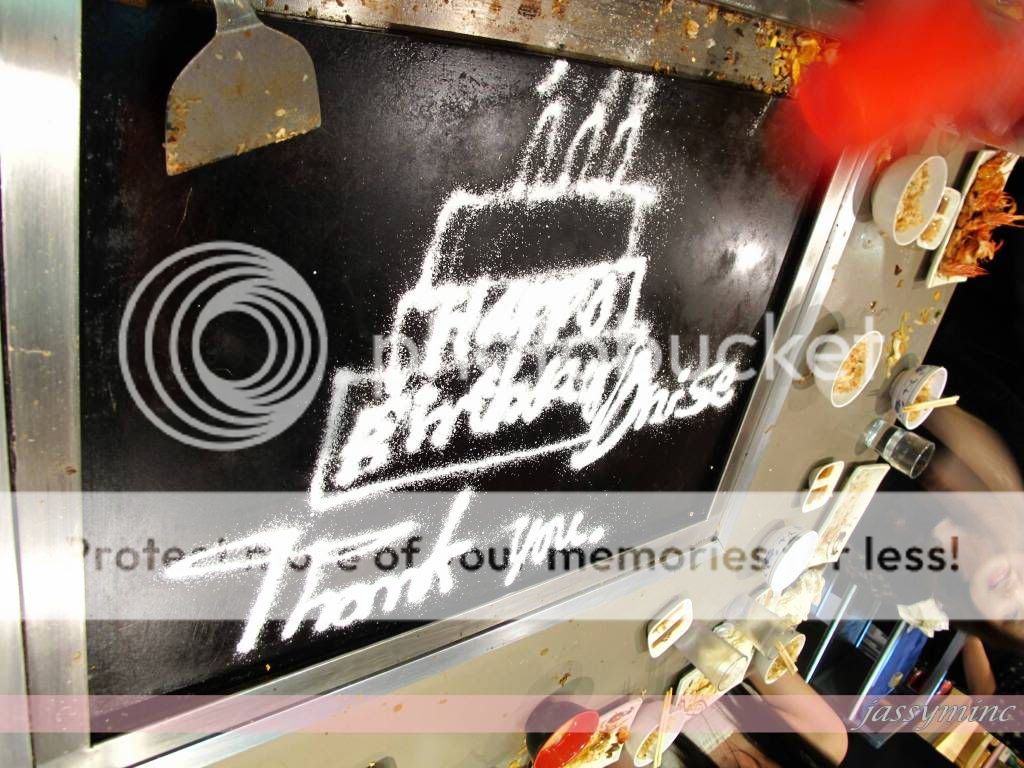 On the other stove.
Lastly, melon for desserts. Wasn't that fresh and sweet though, but.. It's just fruits so it doesn't really matter.
It's my second time at a teppanyaki restaurant in Sydney. I guess the gimmicks are all about the same, cos I've done it twice already! Seems like there's only such fun stuff at teppanyaki in Sydney, we don't get these in Singapore though! I guess then, teppanyaki isn't that popular in Singapore.
Conclusion: I guess at I Chi Ban Teppan-Yaki, it wasn't actually very worth the price for the amount of food. We paid like $30 each but you can probably tell there wasn't much food. Nonetheless, we enjoyed the gimmicks a lot and maybe the wasted food was part of the price too :P The chefs weren't like Japanese either, but I guess that don't matter at all. They were really nice, courteous and friendly! A+ for friendly chefs! I could recommend the other teppanyaki restaurant that I went to which was a lot better in terms of food, and there were Japanese chefs there! The photos aren't mine though and we went last year. Hmm, but it's pretty famous. If anyone wants to know, drop me a comment! :)
I would love to talk more, but I'm really tired I might just go to bed early tonight. Today doesn't seem like a good day for me though, I had to deal with people and nonsense. Today's exam was pretty alright, I guess I should study more for the finals now :/ Maybe, time to turn in. Till next time!!