A couple of days back, the last day of my academic semester, my housemate aka homie aka Q and I planned to have Cha Time then dinner at KFC at Burwood Westfield. It was after my online battle on webct, doing and finishing up the last bits of my group project. Group projects are monsters :/
Eventually, we didn't have Cha Time until today because we were so full on KFC, disappointing KFC. Q reckon that the store was closing and what's left are leftovers from the entire day of frying. But I was still disappointed because I was craving for KFC the longest time. Ever since a friend kept telling me he's having KFC every other day. Maybe a point to note, don't visit KFC when they're closing.
I wanted some lunch set, but they ran out of it :( So I had to pick what Q had as well, can't remember the name though.
Inside this packaging wasn't chicky, which I thought was lame.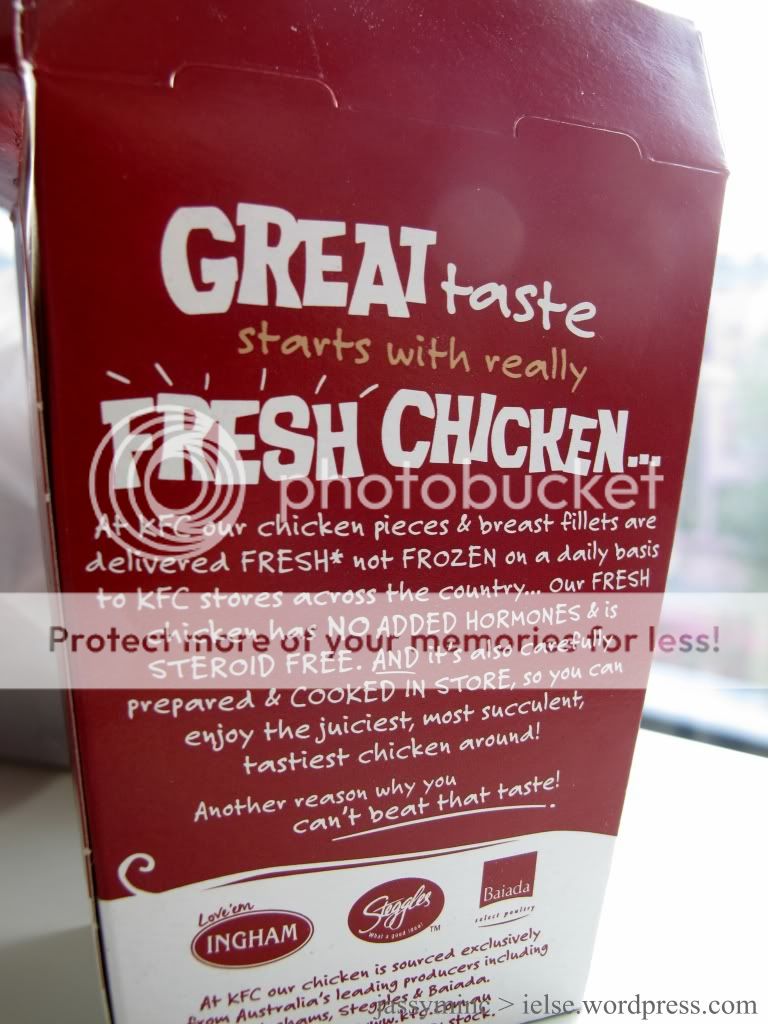 Fries or chips, anyone? Consolation was, the chips weren't that bad. Thick chips with fat potatoes, uh hmm (in the Sheldon Cooper's way XD).
The burger is miserably small and disappointing. I thought the fast food in Western countries would be larger in size than in Asian countries. Okay, maybe I'll take that back since Maccas and Hungry Jacks have small burgers too.
I don't know, the stupid chicken is sticking out of my burger :( (I seem to be getting increasingly angsty)
There was no QC (quality control) at all. My burger was rather dry and Q's was pretty wet. Gah.
So, just chatting after our sad dinner, I looked out and there I saw, what beautiful and colourful buildings! I never noticed they were particularly colourful. Hmm..
After we got home, I loitered around the living room and watched Q pack up her truckloads of clothes. I started playing around with my camera and of course, took some photos of myself (it's a girl thing :P). I think my fashion style (well if I had one) changed ever since I came to Sydney and huge changes this year. I remember everyday when I went to uni, I needa make sure I was well dressed, not just tee shirt and jeans anymore. Alright, I still do wear tee shirt and jeans whenever I wake up late and realised, shit I'm gonna miss my train, or whenever I'm lazy.
Today, we finally had our dose of Cha Time. It's a bubble tea chain, but it's not everywhere in Sydney unlike Easyway. I haven't tried Easyway yet, but I heard Cha Time is way better. So, there's a new outlet that's just 5 mins walk away from my apartment! I definitely have to drink it again, since it's one for one for this new opening period. I think my first try was last year, but it was a bad choice :( So this time, I wanted Matcha Red Bean Smoothie! Lo and behold, they ran out smoothies argh :( I ordered the same as Q then, Matcha Red Bean Milk Tea with extra aloe vera toppings. Well, one for one right?  Large cup + toppings!
I had the infamous Koi before, and I must say Cha Time own Koi! I honestly don't know what's the thing about Koi, I had it once and it wasn't great. Why is everyone raving about it? Someone in Singapore, please buy franchise from Cha Time! I don't fancy milk tea, but I would think Cha Time is better than Koi. Koi is overrated, hellooo! (I know, pointed taken). I need to have my smoothie next uh hmm (Sheldon Cooper, yay)!
Haha, if anyone noticed, I'm obsessed over BBT (aka Big Bang Theory). I cannot get over how funny the character Sheldon Cooper is, he's turning from freakish into charming! I'm definitely chasing this drama at a very fast rate, I'm on Season 3 Ep 21/23 already! Two more and I can catch up with Season 4. Maybe I'll switch back to Canto dramas for a bit, I'm missing that language a lot ;)