Having heard of Jamie's new restaurant last year but not having the time to visit before I left for my summer break, Jamie's Italian is a must-go on my list of restaurants to go this year. Finally a chance when friends were all keen on trying the not-so-new restaurant with me.
Reviews on various platforms (my favourite is eatability because it has a neat layout and categories are clear) mentioned that waiting time is extremely long. Therefore we decided on lunch so we don't have to wait too long. The restaurant opens at 11.30am.
It wasn't a long walk from the bus stop, but a friend who came from Wynyard Station got lost because of the many exits at Wynyard. Thank goodness there are google maps and mobile phones. We arrived at slightly earlier than 11.30am and there it is, already a queue at sight. It wasn't a long one, thankfully, but we couldn't be seated because of our lost friend at Wynyard.
We were seated on the upper level, and were promptly served by a waiter who wanted to take our drinks order. Not feeling like coffee, I decided to pick
Canton Green Tea ($4.50)
to be safe. You just can't go wrong with green tea. The green tea was pleasant with a slight sour tinge, but I couldn't put a food/fruit to it. When I finished my tea, as with all if not most restaurants, I asked for hot water refill but was told by the waiter that they don't refill hot water.
You could ask for another pot of tea though
, that's what he said. Disappointed.
Canton Green Tea ($4.50 for a pot). Non-refillable.
We were served with their in-house complimentary bread for a start. From the menu, "Homemade rosemary focaccia Artisan sourdough, ciabatta and tortano from our bakery Crispy carta di musica. All served with extra-virgin olive oil and aged balsamic". We thought the foccacia went pretty well with the pesto but the others were just average. All the breads were hard though, would have been much better if they were toasted before served. Also, the extra-virgin olive oil and aged balsamic was lacking on our table.


Italian bread selection (on the house).
We ordered two antipasti to share and they came really quick, compared to the mains. The
smoky scamorza arancini ($9.50)
is a dish of crispy rice balls stuffed with smoked mozarella and porcini, accompanied by a small dish of arrabiata sauce on the side. The arrabiata sauce was a little too spicy for my taste, but nonetheless did well to provide certain degree of tartness to cut through the rich flavour. However, just having the ball alone is enough, but beware of the piping hot stuffing!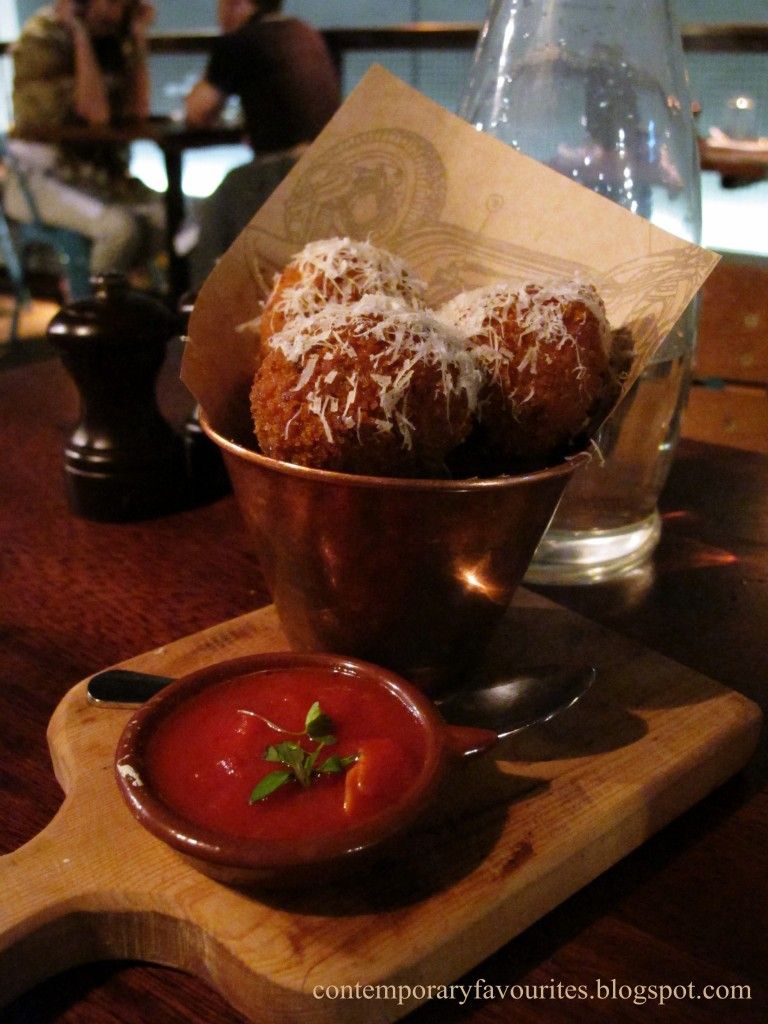 Smoky Scamorza Arancini ($9.50)
Mushroom Fritti ($9) - "Our own-grown crispy fried mushrooms with garlicky mayo". This was recommended by a friend, you must order their mushroom fritti! However, this was a little disappointing. The mushrooms seem a little dry and didn't taste exactly like mushrooms. On a separate note, I enjoyed the garlicky mayo although a stronger garlic would be perfect. It appears that both our antipasti have shaved parmasan, though unnecessary.
Mushroom Fritti ($9)
Crab and Squid Ink Risotto (Regular $15.50, Large $26.50)
- Black creamy rice with hand-picked spanner crab & crunchy herby breadcrumbs. Just the risotto alone, it had a tinge of sourness and fishyness in it. However, a spoonful of the risotto, together with the spanner crab and breadcrumbs, this was a delight and balanced. The breadcrumbs were a little too tough, so whilst eating the risotto I felt like there were biscuit crumbs in it which gave a really crunchy texture. A little unhappiness when the bill came up. I ordered the dish without making an extra note to the waiter that I wanted the regular portion, and he didn't even briefly asked if I wanted a regular or large. It was partly my fault that I forgot to tell him about the regular portion but the least he could do was to remind me about it. I couldn't even finish the large portion when I eventually ran out of the crab to balance the sourness in the risotto. If I had known, the regular portion could have made my visit slightly better.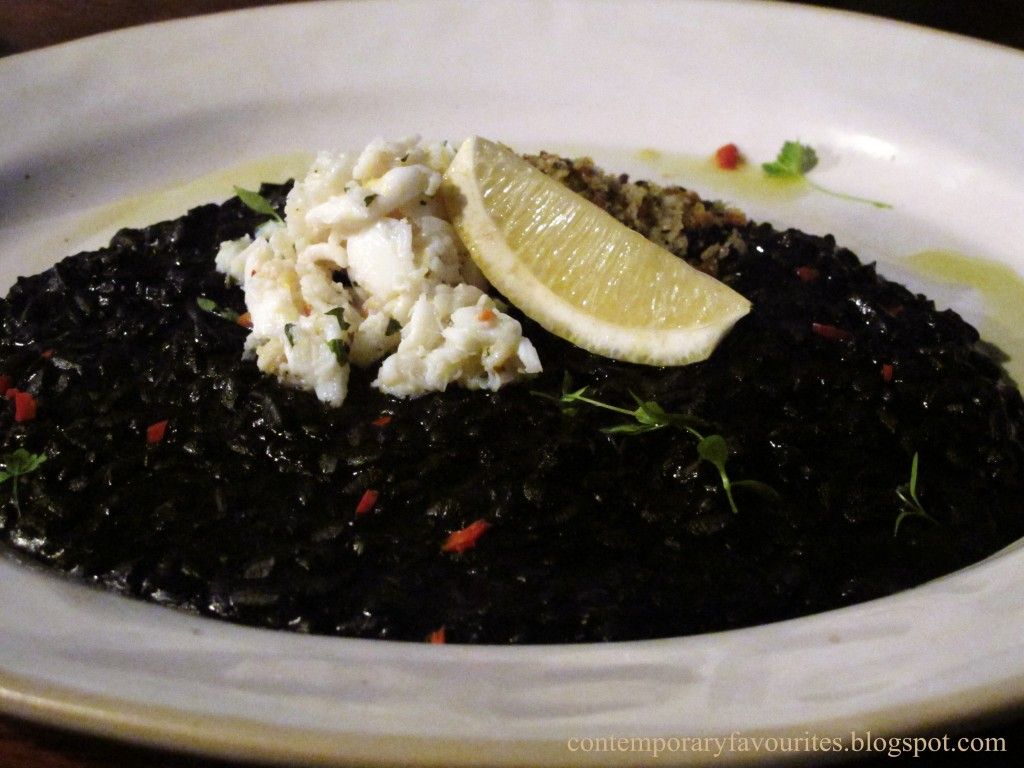 Crab and Squid Ink Risotto ($26.50)
Mushroom Panzerotti (Regular $13, Large $20.50)
- Half-moon pasta shapes filled with brown cap and porcini mushrooms, chilli, ricotta and Parmesan. Be prepared for richness if you order the large serving. The pasta were cooked al dente, and with the mushroom, ricotta, parmesan and chilli filling, it was already great to have on its own. The mushroom sauce was rich in flavour and that made the taste blend together really nicely.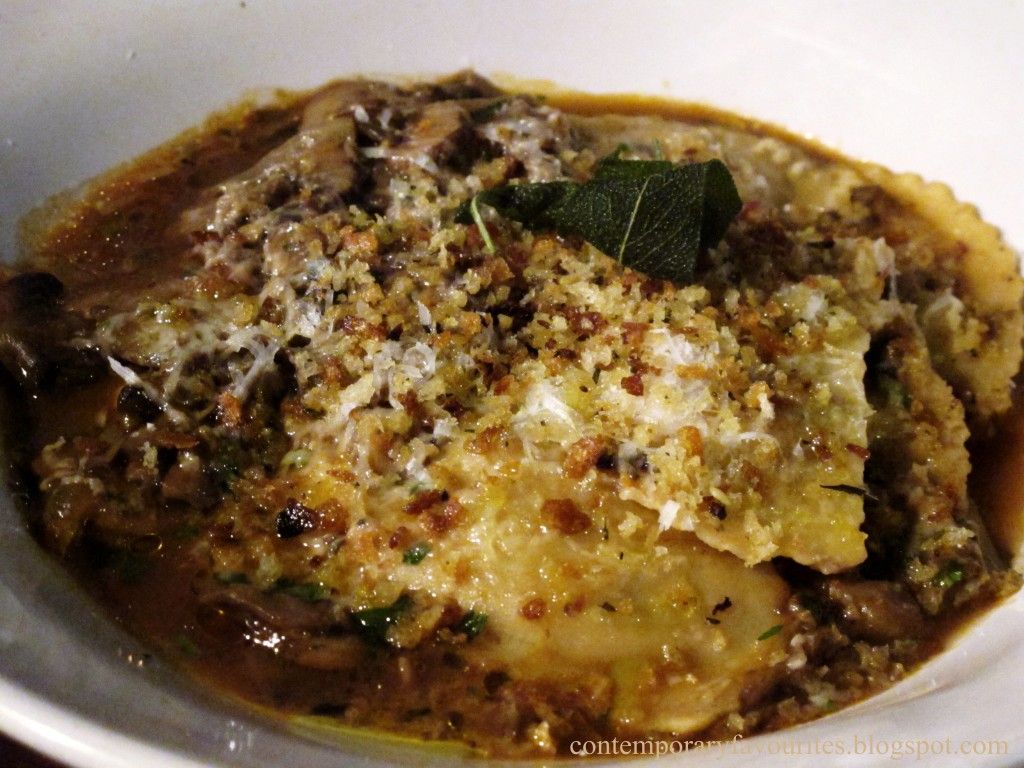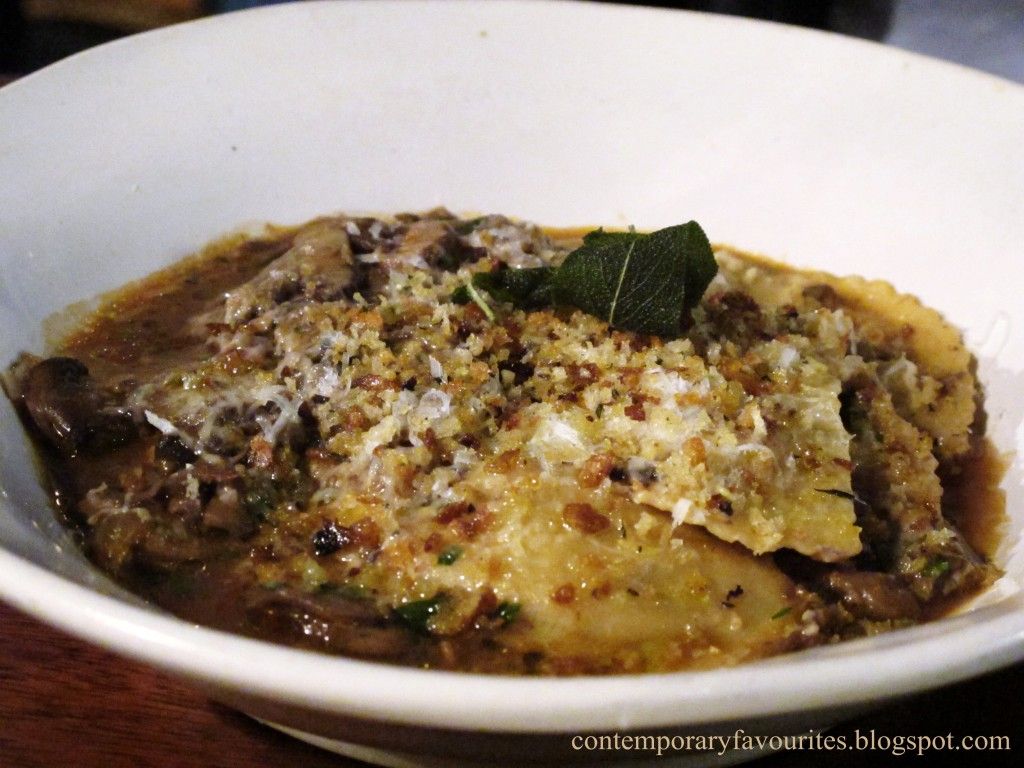 Mushroom Panzerotti ($20.50)
Bucatini Carbonara (Regular $12, Large $19) - Short tubes of pasta with slowbraised cuttlefish, parsley, white wine, capers and tomatoes. The carbonara is classic, possibly the best main we had among us. On hindsight, the carbonara would fare much better using regular spaghetti than bucatini. The bucatini were just too thick for our liking.
Bucatini Carbonara ($19)
Photos were taken using an iPhone 4S and Canon Powershot G11.
Prices and description of dishes were taken off Jamie Oliver's.