I was in Singapore for a month during my winter break, but stayed indoors most days because it was way too hot. I haven't got much to share about Singapore this time, but definitely have a couple of food places worth sharing :) Here's one to begin my entries on Singapore.
---
Unpretentious was what I read about
La Petite Cuisine
along Upp Thomson Road.
I was looking for a nearby restaurant because Mom wanted to give us all a treat and she suggested having French since we always have Asian/Chinese/Japanese. After looking up
hungrygowhere
, I found La Petite Cuisine to be the best option we had for that night. Lucky, I managed to get reservations for us (total of 9 adults + 1 baby) via the phone that very same day.
We almost couldn't find the restaurant, not that it was hidden away or was at some particular corner, but it almost didn't look like a French restaurant. It's a relatively small restaurant, the inside of it wouldn't have accommodated more than 30 people with outside seating for only approx 10 people. Unfortunately for our big group, we were seated outside the clinic that was beside the restaurant and had much awkward stares from other patrons and other passerby. But I wouldn't say this is a result of bad service, probably just isn't big group friendly.
We started with bread rolls, served with butter.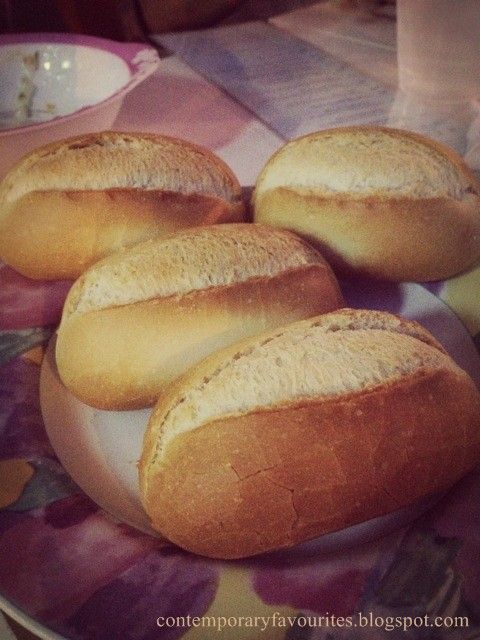 Then we ordered a couple of entrées to share. First served among those was this
fresh salmon half cook served with baby spinach in french vinaigrette dressing (S$14)
. The salmon was more than half cooked though but it was really fresh and well marinated. The accompany baby spinach were pretty crunchy along with the dressing. I would have this if I visit again.
We also had
green salad in french dressing (S$5)
. Plus point, no rotten/rotten-looking leaves in the salad.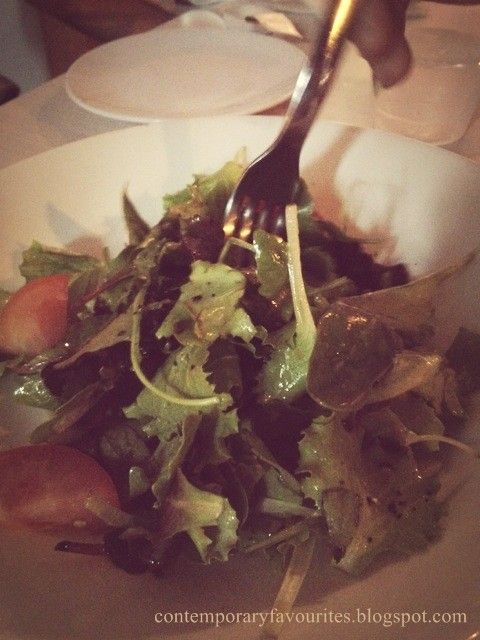 Foie gras panfried with orange confit served with salad (S$18.50), which explains itself pretty well. It was a pretty small serving, so we ordered two of it to share among all of us. We all know the expensive price tags of foie gras, so this isn't really pricey at all. Some parts of the foie gras that I had were burnt, but the other parts were really yummy. To make the dish less unimpressive, there's quite a bit of salad to finish off. Totally worth having it!
It took quite a while for our mains to come and it was also difficult to get the attention of the staff. First up was a popular dory with white wine butter and rice (S$12.50). The marinate and sauce balanced with the bland dory fish and the rice, oh my gosh, the rice was so so yummy! I would totally go back just for the rice because I'm such a rice fanatic. It could just be rice infused with herbs, but rice oh rice :)
Men being men, they love to have red meat. We had two of the sirloin steak with french fries and salad (S$16.50), one for Dad and the other for my bil. I didn't have a go at this, but the men seemed to have enjoyed it very well.
What I ordered wasn't disappointing as well - seared tuna steak with onion marmalade (S$14.50). The tuna was well marinated, but it was a little too tough and dry. Perhaps if they didn't use tuna steak, the outcome would be more enjoyable. The onion marmalade was interesting and was much needed together with the dry steak. And again, the rice is similar to the one with dory fish and it was, needless to say, extremely yummy! We had couple of other mains as well, such as assorted fresh sausages (lamb, beef and pork) served with fries and salad (S$14), saute of fresh sea prawns with spaghetti in olive oil (S$14) and fillet of chicken with cepes and butter rice (S$13), but I couldn't capture the photos in time before the famished family started on them :( But I reckon they were pretty satisfied with their meals, even though the portion seemed really small.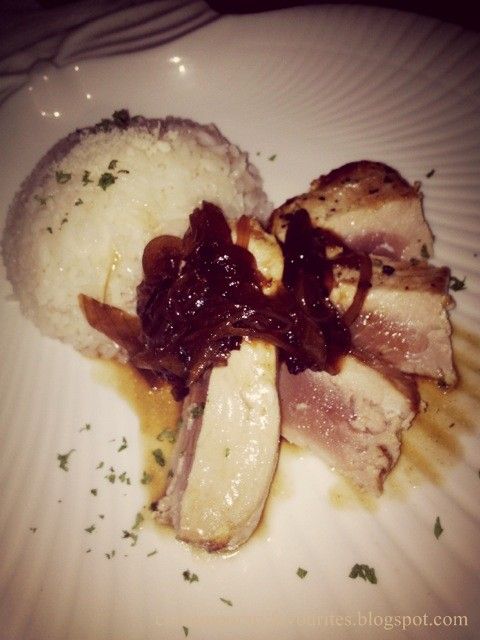 We also ordered four meals with additional top up of S$3.50. The upgrades come with either soup, desserts or tea/coffee, we picked desserts so all of us could have a go at the cakes they offer. We weren't exactly told which cakes were served, but I reckon I could guess what they were by tasting it (it was also too dark to even look at what were in the cakes :/).
Pear chocolate mousse "Belle Helene" layer cake (usual price S$4). The combination of pear and chocolate mousse was good, but it would have been better if they used sweeter or sour pears to bring out the refreshing taste in the cake.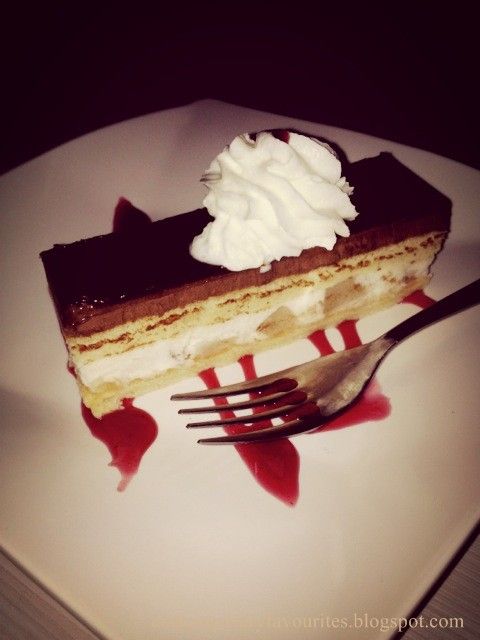 I guessed this was opera cake with chocolate sauce (usual price S$4), but of course without the chocolate sauce.
This was the hard one, neither did the fruits taste like passion fruit (which was offered on the menu) nor mango, so I don't quite know what it is. It tasted similar to black forest cake though, but it wasn't on the menu. Oh well.
Lastly, we had creme caramel (usual price S$4). I would probably have something more exotic next time, this creme caramel was pretty ordinary I reckon.
La Petite Cuisine
227 Upper Thomson Road
Singapore
Tel: +65 6459 0553