A meet up with a couple of friends brought me to
Paulaner Bräuhaus
in Millenia Walk. I haven't actually bumped into this bar/restaurant before and wasn't exactly excited about visiting Paulaner because of my recent change in diet. I didn't wanna trouble my friends to change the venue because of picky me so we went ahead anyway. German food equates to meat and lots and lots of meat, but lucky for me I found something worth going back for - good wine.
We were there on a Thursday night, surprisingly there weren't many people in the restaurant. When we left though, the bar was so so so packed. There was a live band as well, which we could hardly hear from where we were (restaurant is located on the second level), which is another excuse to be back there.
Shortly after we placed our orders, we were breads of various grains together with two spreads. Regrettable, I only remembered the pinkish looking spread was liver spread. Since I'm a wheat-free diet, I skipped the bread but I'm pretty sure the friends enjoyed it anyway because there was none left after a while.
The food took quite a while to come, but first served was the
crispy pork knuckle with sauerkraut and bread dumpling (S$29.50)
. My friend who suggested this restaurant recommended the pork knuckles to share and said he loved them. Well, I guess pork knuckles shouldn't go wrong in a German restaurant, can it? The pork skins were tough and crisp but they make eating them really tiring too. The pork meat is well marinated and it was so juicy! Yeah I caved in, away from my vegetarian diet (as least I'm still slightly wheat-free?) but I skipped the bread loaf since bread seems to be my nemesis. I had a couple of pieces, and thought this was probably the best you can get in Singapore, though I still preferred what I had at
Löwenbräu Keller
in Sydney.
Because of my special needs, we ordered a fish to share as well. What looked the most appetizing on the menu had to be the Atlantic salmon fillet on iceberg lettuce salad with lemon dressing (S$28). The salmon was fresh, the salad was tangy with the lemon dressing and there were alfafa sprouts in the salad! It's probably the only thing I remembered of what my friend said - alfafa can prevent high blood pressure. But well, I wouldn't order the salmon again, not because it wasn't nice, but a German restaurant is better off with red meat over white.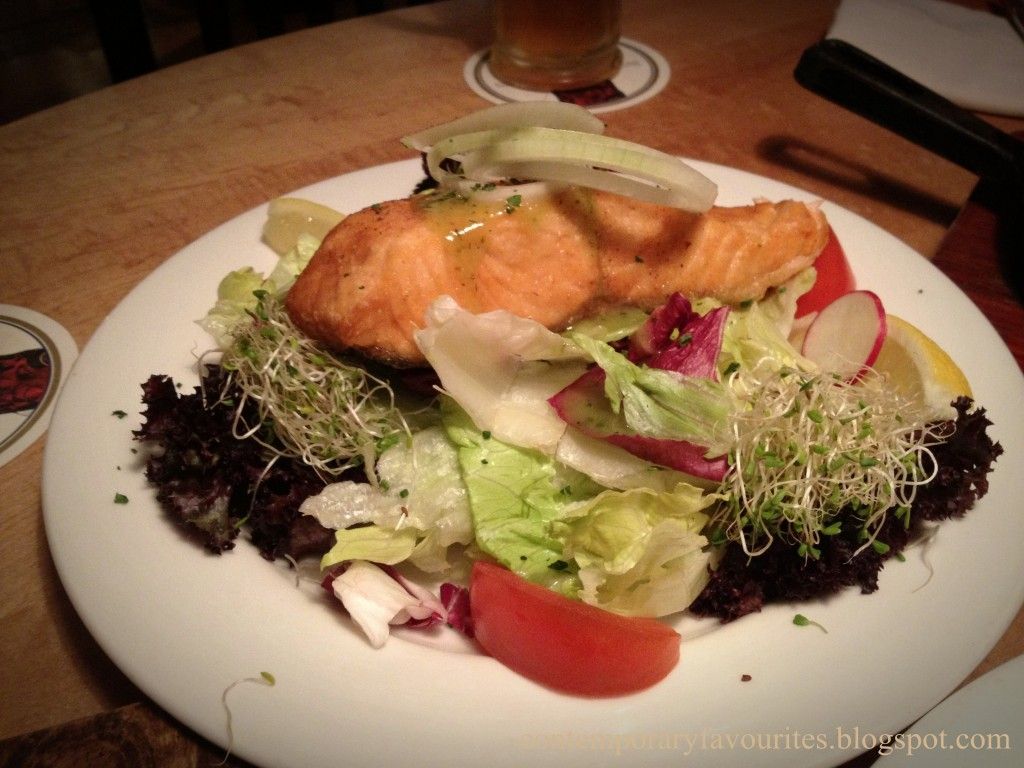 The last main we ordered to share was the
Paulaner sausage pan (S$25)
, which included 5 different sausages on sauerkraut Thüringer, cheese sausage, debreziner, pork sausage and spicy Kolbazi sausage. I had no choice but to cave in
again
, the friends rave of the sausages - yummy, juicy and omg it's German sausages! I'm a weak-minded vegetarian to be :| I tried them, they're really good. Chewy, juicy, you really don't taste any artificial processed meat in them even though they could be. I could have this again.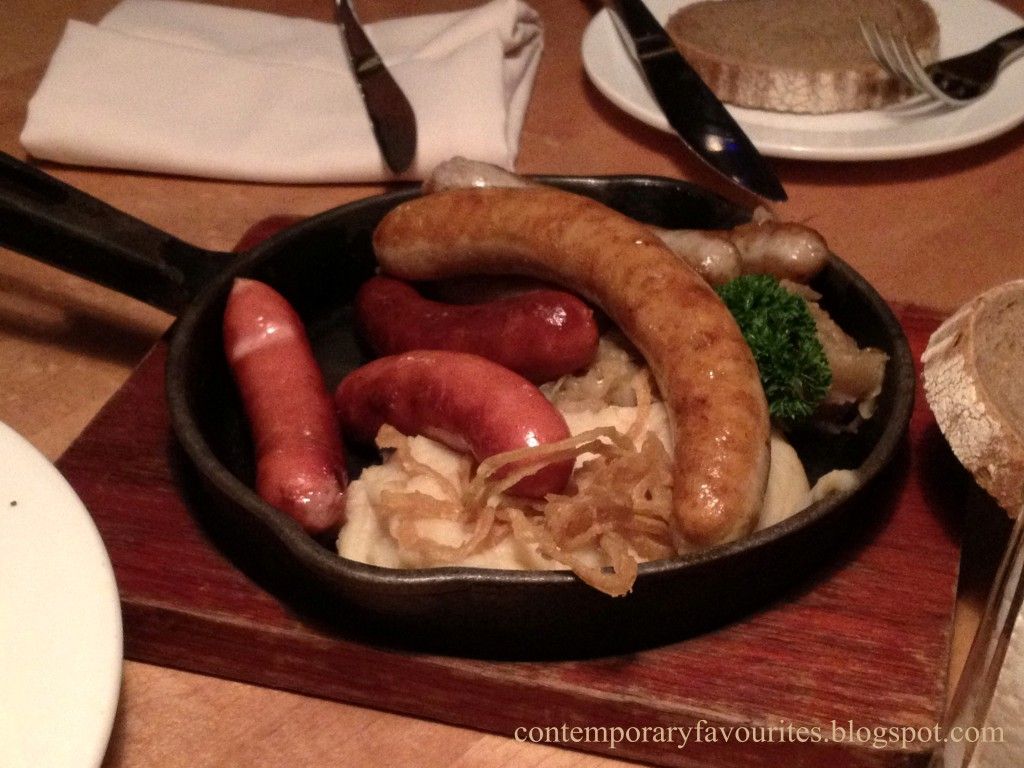 And if I ever return, I'll definitely have Pinot Noir from Germany - Medium bodied bouquet of soft raspberry and cherries glides on the palate. Pleasant if slightly chilled for a hot summer. It's a really pleasant red wine that is the easiest I ever had. My reason to return.