There is only one restaurant in my mind each time I crave for Korean food, unfortunately it is not the (in)famous Madang that everyone loves going to. I stopped visiting Madang after a while, because 1) the queue is always heaps long 2) you gotta go real early at 6pm sharp so you get a table right away 3) the service is becoming hostile and irritable sometimes 4) really, the food doesn't give me the 'wow' feeling anymore.
Thankfully, there is always Boom Bi Na on Kent Street close to Town Hall station. I've been there countless of times now, on some occasions we'll pick the same dishes (and get varying taste and renditions of them) and on experimental days we will have different stuff. Here is my mashed up review on the different days I've been to Boom Bi Na, pardon the lack of information on prices and perhaps names as well.

You can easily judge a good Korean restaurant by its banchan (side dishes), from the variety or the amount they serve to the taste of them. I'm not a great big fan of kimchi, so I won't be able to say something about their kimchi at all, but Boom Bi Na definitely has some excellent banchan with a great variety, despite the small serves (but hey, they refill it at no extra cost so no biggie about small servings). If I remember it right, my first visit at Boom Bi Na was to buy lunch takeaway. Not all restaurants do this, but Boom Bi Na packed their banchan for us too! I was definitely pleasantly surprised to see cling-wrapped banchan in my takeaway boxes even though there were only a few pieces of the variety they offer. Well, better than nothing!
There are a couple of "usual few" which are awesome. I absolutely love their honey potato and once I even asked if they sold that as a dish! I reckon the vegetable banchan like the spinach and beansprouts are pretty average, but it's definitely a lot better than really salty or really oily banchan elsewhere.
On some days they also offer seafood pancake. Little cut up pieces, not fantastic since it's served cold and ain't crisp anymore, but sometimes you just crave for korean pancakes and having that big portion is just too much. Sometimes they have this little anchovies with caramelised peanuts, ooh those are yummy too.
Another dish that we terribly love to order is this
ganpungi
(sweet and spicy chicken) or
dakgangjeong
(sweet and crispy chicken). They are essentially the same stuff, but the taste differs each time we order this. On first time, we absolutely love this. It was so crispy, not that spicy (I can't take too much spice) and it was a huge portion which costs about $30? I think different chefs cook it differently, that's why we don't always get the same taste, portion, spice and sauce. You can probably tell the difference in taste from the photos below. Sometimes it comes dry, sometimes there is accompanying sweet and caramelized sauce which is totally yum.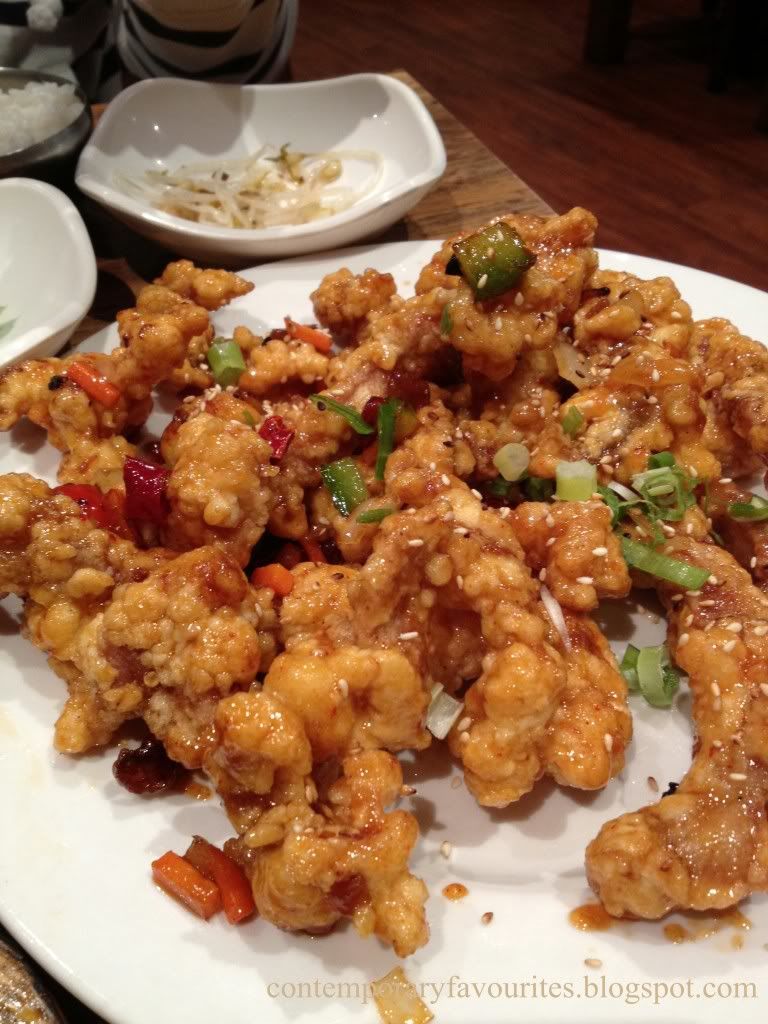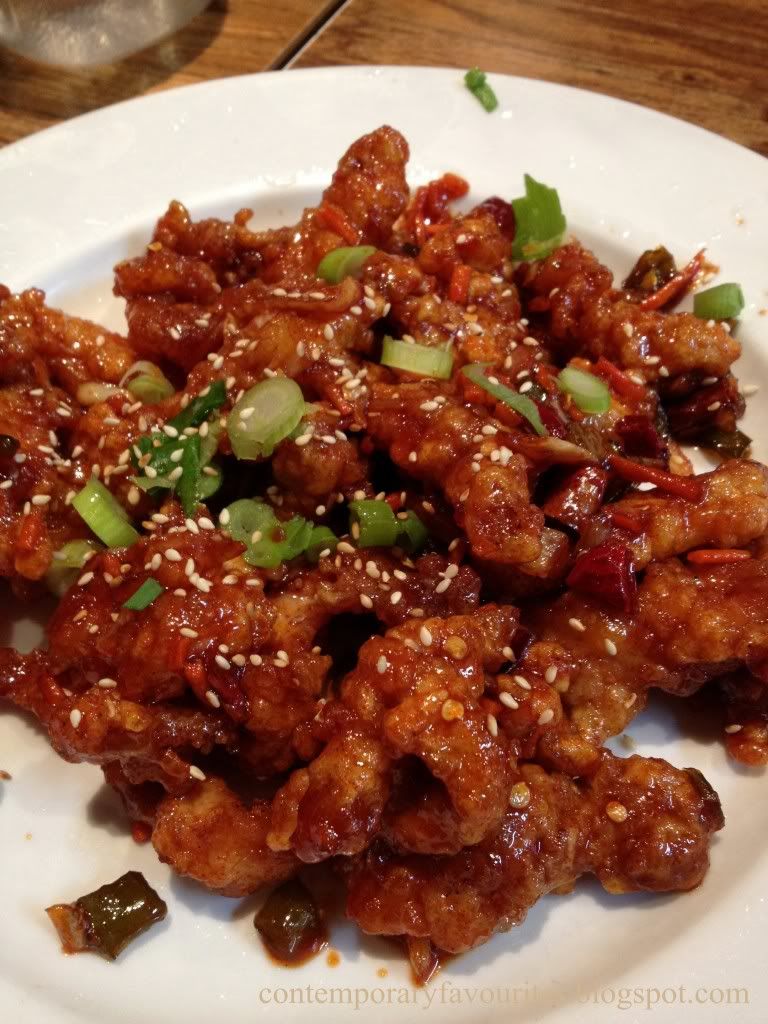 After several tries, we sorta gave up on this. Once, it was served soggy (sigh where are my crispy chicken pieces!) and it wasn't as sweet and caramelized anymore. Perhaps it was a bad day for the chef, there was added chili padi which totally killed my taste buds. We'll probably go back for this on a week night when it is less busy.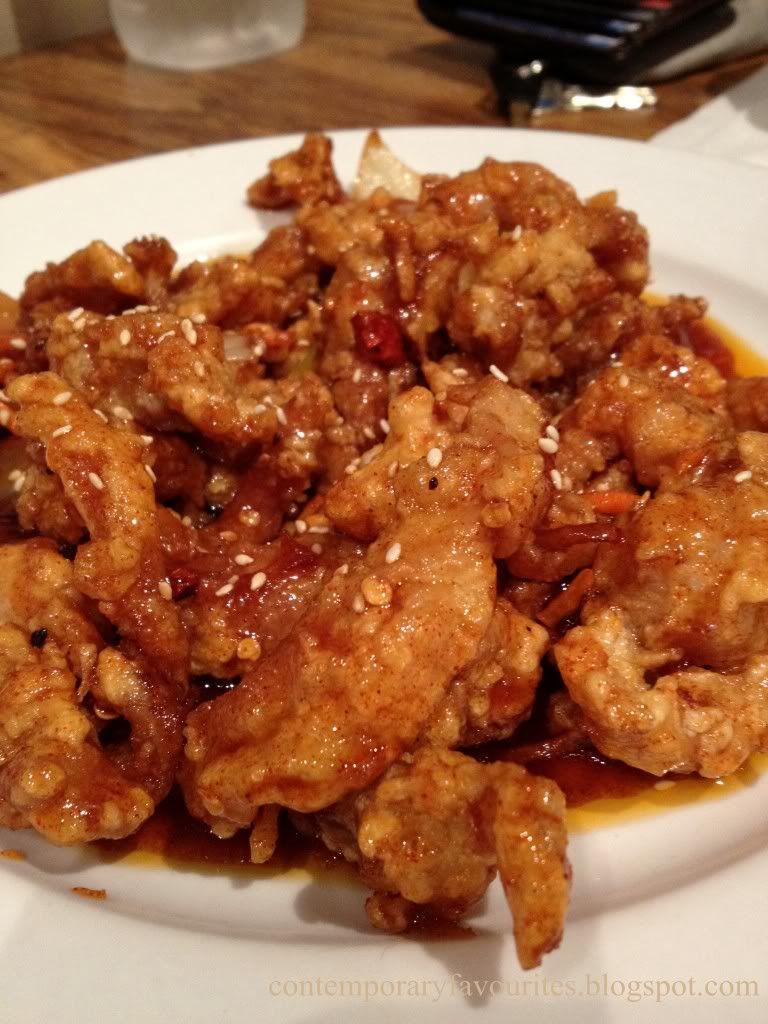 Bimbimbap is what most people would order, common and a very safe choice. There was nothing bad about their bimbimbap but nothing over the moon either. Just be wary of the hot spicy sauce - if you can't have too much spice, don't add the entire saucer of it. Lesson learnt.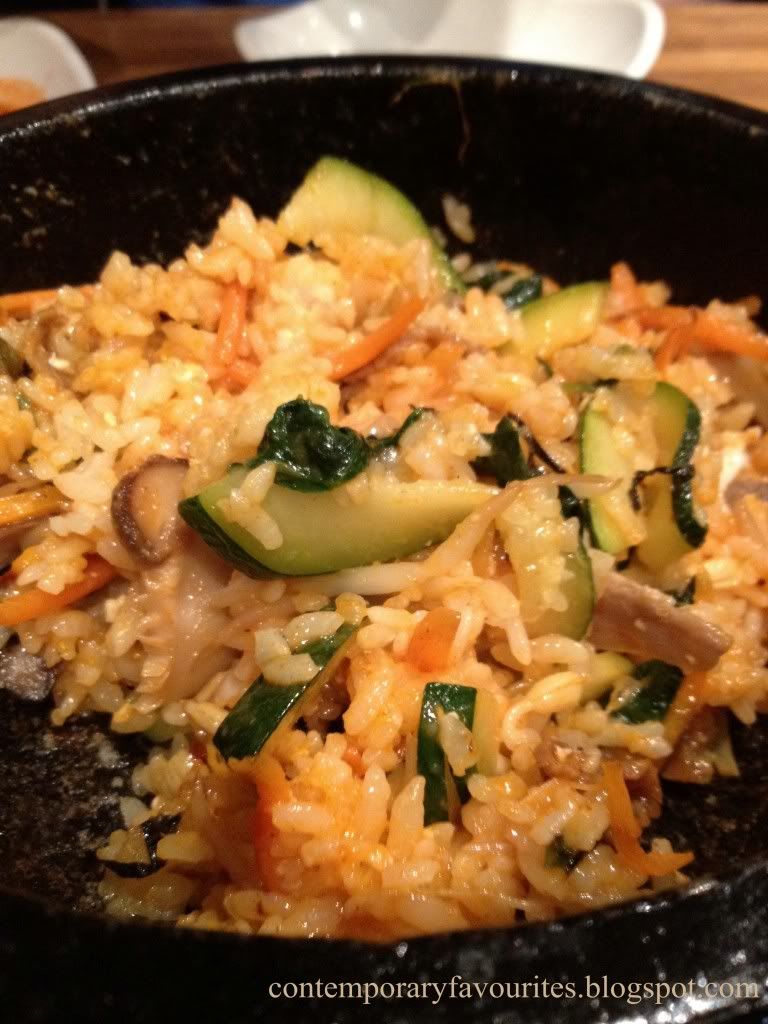 I had a friend who visited from Singapore and was awfully craving for Korean food (she's a huge fan of the country, the beautiful stars and the language). The three of us met up and I'm really glad they loved the food as much as I do. We ordered four dishes to share (I remember it was food overrrrrrrrload) and it was nothing short of splendid. My friend Y was telling us about how Korean food in Melbourne was so horrible that she felt so comforted after having a wonderful Korean meal in Sydney (hehe thanks to me :D). We ordered dukbokki (Korean spicy rice cakes) because Y wanted to compare the lousy rice cakes dipped in spicy sauce in Melbourne and spicy rice cakes (I know it sounds the same but imagine it pictorially). The first dish on the top of the photo is that - spicy rice cakes. Definitely not a regret, Y finished almost every single bits of it.
To accommodate the non-spicy food eater (aka me), we had this grilled pork with vegetables. It was pretty good, except that it wasn't salty enough and was too oily. But I wouldn't expect less oil with such a fatty meat.
If I remember it right, this was grilled spicy chicken. It was spicy, but still acceptable for me. I reckon having a little of spicy food on a cold winter night definitely scores, whether or not the taste buds died.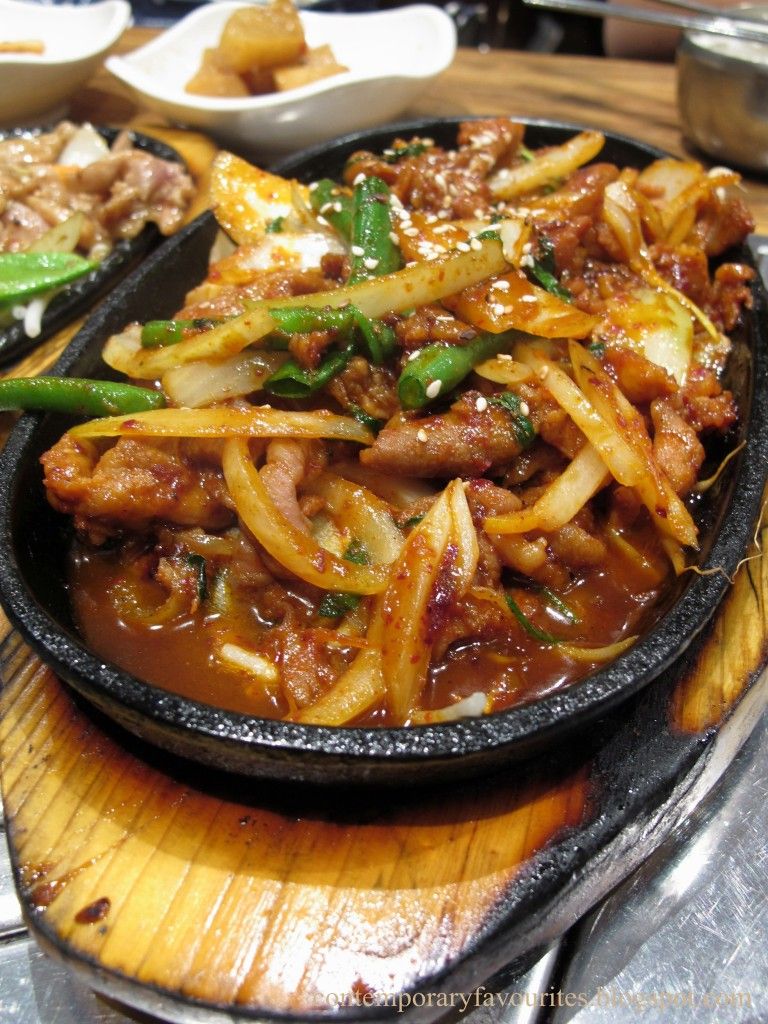 Lastly, one of the specials on Boom Bi Na's menu - ginseng chicken soup. I've had this many times as well (about $30 too) and it never fails to disappoint. Albeit the chicken meat was tasteless, the soup was ohmygoodness yummy every single time. They will serve this soup with a small saucer of salt so you can salt it to your preference (to soup or chicken). The chicken is also stuffed with glutinous rice (it definitely has to be glutinous rice!!!) which makes this dish rather filling although it's all water.
Definitely my go-to for Korean food. Writing up this post on Boom Bi Na makes me wanna eat Korean food now even though I had some for lunch yesterday (another post on that soon). Boy oh boy, can never be sick of Korean food. Week nights are the best with less crowd, but you'll still get a seat on weekend nights after a short wait. Service is a little slow (they seem to be shorthanded all the time), but they're still really friendly and don't take wrong orders (sigh, previous bad experience at Madang).