Hiiiiiii everyone! It's been a while. I've been such a lazy blogger, forever procrastinating in documenting my life etc. I have been having a lot more time on my hand now because... I'm out of uni! It's been a good four years in uni, studying and doing what I should be doing but I'm so glad I'm out of it now. It's time for a new phrase in life - work! But because I've been such a big procrastinator, I haven't landed myself in a job yet (booooo) so I thought I should keep the resume writing aside to blog for a bit, before I accumulate a whole load of backlogs to be cleared when I'm in a typing mood. Here is one entry for the day to whet the appetites :)
It wasn't until late last year that I heard about food trucks all around Sydney. It's such an interesting concept, yet also a mysterious one because you'll never know where these food trucks are gonna be unless you follow them on their facebook or twitter, or download the Food Trucks App via
here
. There was an event last year on 20 October called
Moveable Feast
, which was a collaboration by City of Sydney and these food trucks. I remember they closed up a portion of George St near Town Hall Station and all these food trucks gathered right outside of St. Andrew's Cathedral, attracting massive crowds of people. Since we're such (greedy) foodies, we turned up for
Moveable Feast
, but was slightly disappointed by all the waiting time. We queued for an hour, placed our orders and our food was only ready after another hour. We were all famished by the time we had our food that the small serving just wasn't enough. Anyway, rant aside, today I've decided to reminisce on the awesome food we had from Eat Art Truck while they were at Victoria Park.
It wasn't hard to spot such trucks because they have such funky and graffiti-alike prints on their trucks and you can definitely smell food from a distance away.
Here's the menu for the day, but I don't think they change their menus that often though.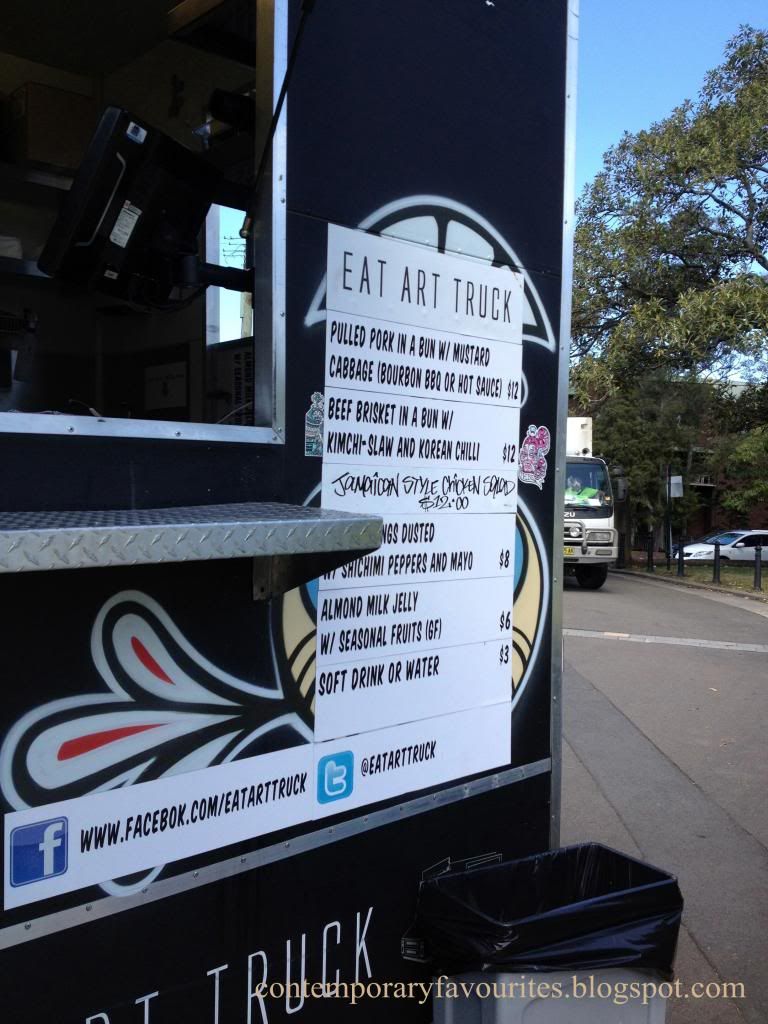 These are what we ordered!
Pulled pork in a bun with mustard cabbage (bourbon bbq) ($12) - We picked the bourbon bbq sauce because it definitely is more interesting than hot sauce :p This bun was so huge that it became a huge mess while munching on it. It may look really small, but it was definitely filling (and tiring trying to prevent the innards from falling out. The pulled pork was well marinated and so flavourful that thinking about it makes me wanna have it now.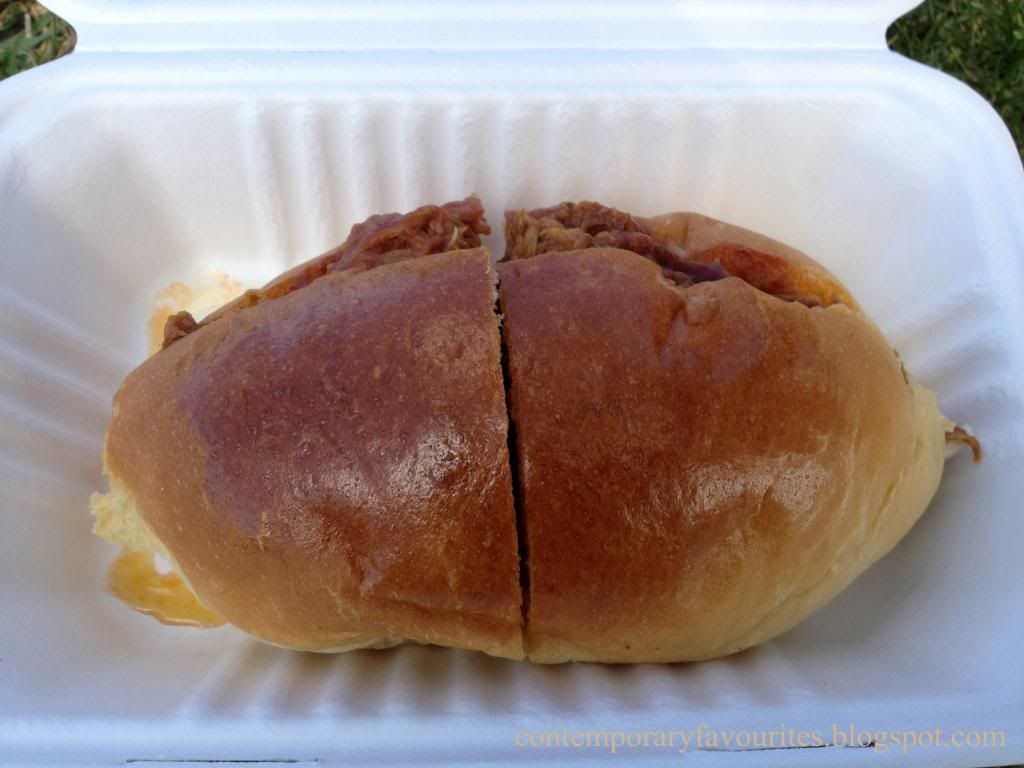 Here's how it looks cross-dimension. Full of yummy ingredients that were almost flowing out! YUM.
Another item we had was the chicken wings dusted with schimi peppers and mayo ($8). I must say, I dislike it for being slightly too spicy for my taste buds and liking. Butttttt, y'know whattttt, this was oh my heavenly delicious! Even though I can't take spice really well (they burnt my tongue and all my senses in my mouth), I couldn't stop having one more. The chicken wings weren't dried out from the deep frying and was almost perfect if not that my taste buds can't take the schimi peppers. I love this! I recommend this to anyone.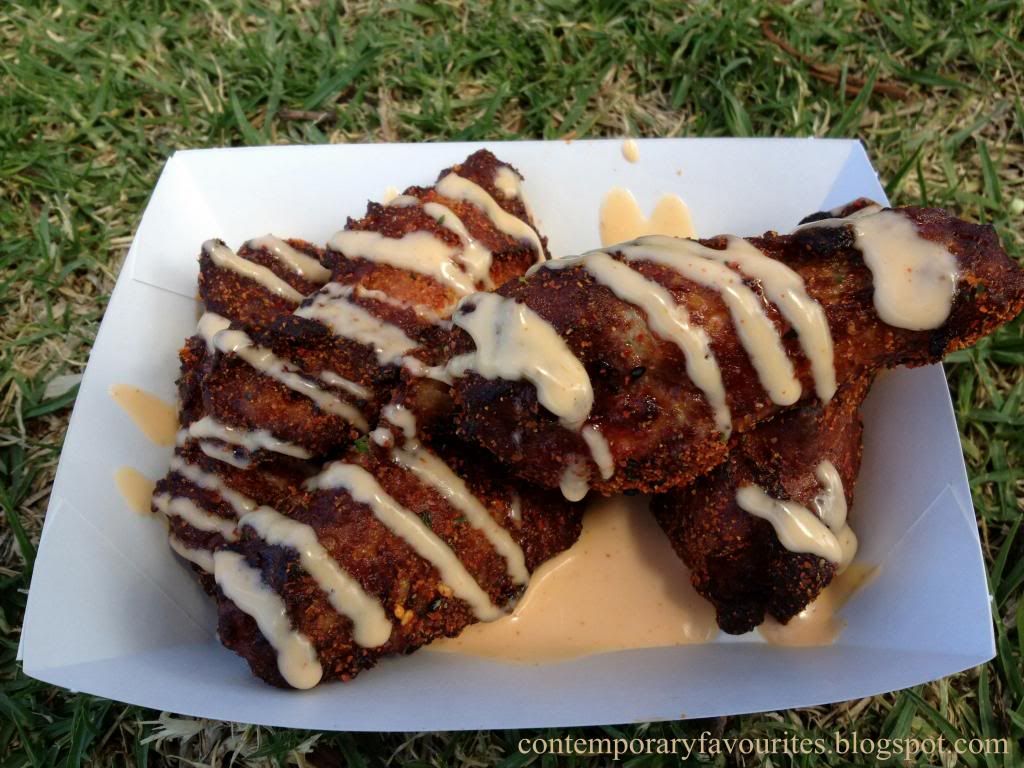 The last we had was a dessert and only one off the menu - almond milk jelly with seasonal fruits ($6). Honestly, this wasn't like fantastic or something that will blow me off the chair. We ordered it mainly because I was missing Mom's version of almond jelly (those Asian desserts that melt into your mouth, ooh yummm), but this was slightly far from that. The only thing that pulled its marks up were the crisp coconut strips, which added a different texture to the entire dessert and made me enjoyed coconut though I personally dislike it.
I recently went for another food truck experience, also by Eat Art Truck, which had a special edition on Singapore food. But I will keep that aside for now because I seem to have other more exciting food experience coming up.
PS: I just pulled out my del button off my keyboard to clean the underneath a little and now it's not working very well (argh).
PPS: Eat Art Truck has a restaurant in Bondi, which I should totes check out.
Visit Eat Art Truck
website
for more info on their trading place and hours.