We were in the area of Annandale because my real estate agent was in the vicinity. I was there to return the keys to my last apartment and we went to Black Toast for early brunch to celebrate the start of summer holidays! Hooray! Haha, but this probably would say a lot about how back-dated this post is.
Black Toast Cafe was pretty crowded on a Friday morning, but it didn't take long to get seats for two of us. We ordered some drinks to start, a
chai latte
($3.50) from Campos Coffee and
chamomile tea
($4.90) from T2. It was kinda difficult to get the attention of the waitress from where we sat, but lucky drinks came shortly after we ordered. It's a nice little touch they did to the chai latte, we usually don't get any attempt of art on it. But unfortunately, service was a tad slow and food came way too long after the drinks.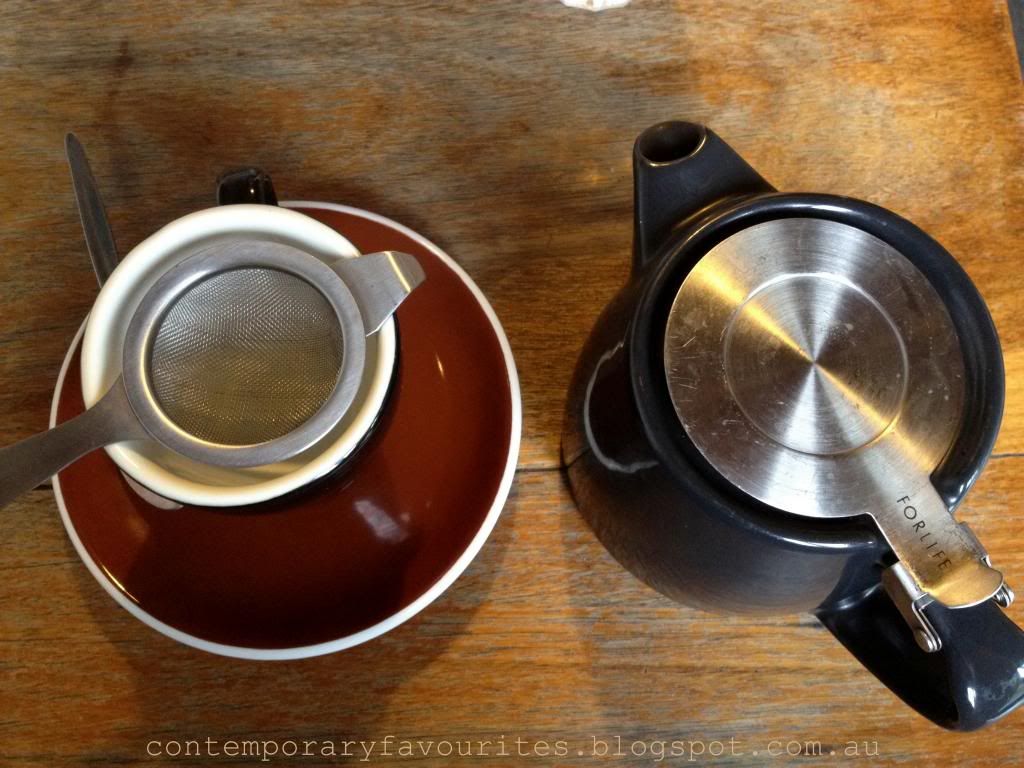 The breakfast menu was a short one. There were the regulars, like muffin, muesli, eggs.. They have gluten-free options as well as free range, so definitely allergy-friendly (not sure if that's the right term for it). I'm pretty sensitive to allergies as well, but being a glutton I am I tend not to pay extra for gluten-free options (PS the menu did not state if they charge extra for gluten-free substitutes though). Gluten-free food tastes way too healthy that I may cut myself some slack sometimes by indulging in non-gf; don't we just love going against the odds?
We ordered their
eggs benedict
($15.90) which came with two poached eggs on toast, smoked salmon, asparagus, hollandaise sauce and rockets. In K's words - they were brilliant, nicely done but can't quite remember the details..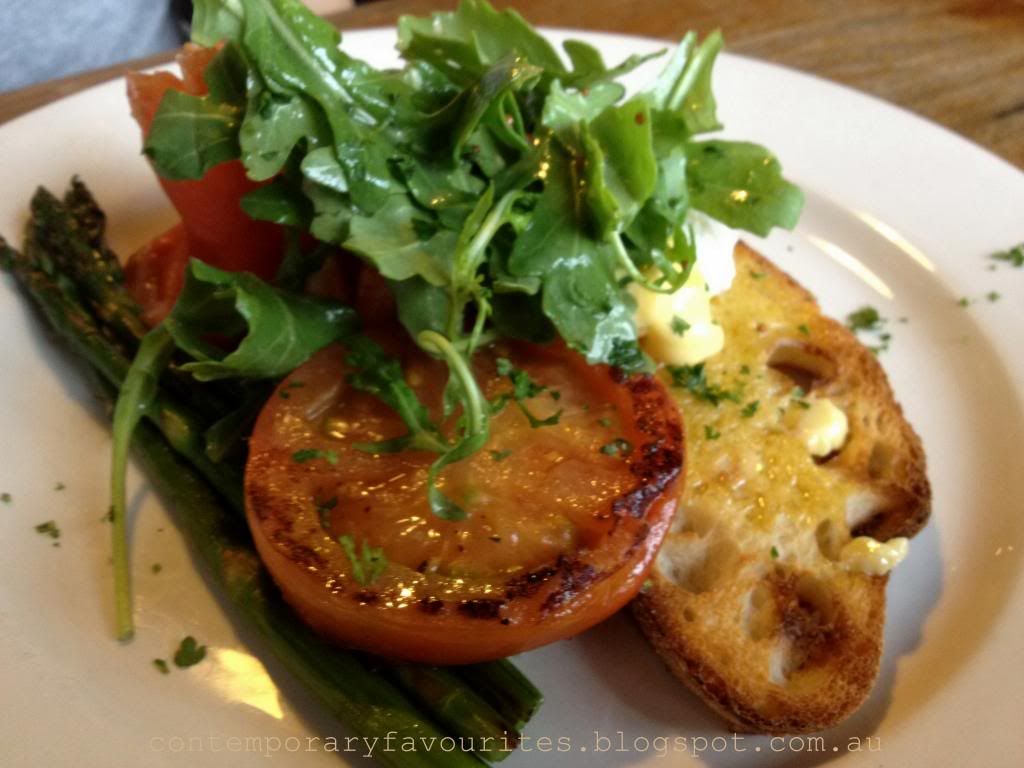 As usual, I steer towards
french toasts
($14.90) that came with bacon, banana and maple syrup. I reckon if I needed to know how the cafe is rated on my personal list, I have to compare the same dishes across their menus. French toasts though looking really easy and simple to make, they make great option for comparison. Sad to say, the toasts were a little bland. I like my toasts a little sweeter within the egg batter so I wouldn't have to drizzle heaps of maple syrup or honey, which can be really unhealthy. I guess there is a purpose for the accompanying maple syrup or honey then. For comparison sake, these toasts didn't quite make the mark.
But I did enjoy the thickness of the toasts. Some cafes do really thin toasts that you often wonder where the egg batter went. Plus point for Black Toast Cafe!
Verdict - I would probably visit other cafes around Annandale since there are so many in that area. But if I've exhausted my list and if Black Toast has a more interesting menu, then I'll definitely visit again. I would recommend Black Toast to friends since K likes their eggs benedict (which is rare because he's got such high expectations of his food).
PS: This is my first post on a cafe in Annandale! Time to venture out more, well at least out of Surry Hills - the monopoly suburb of cafe :)
Black Toast Cafe (urbanspoon)
43 Booth Street
Annandale NSW 2038