I'm surprised that I can't find anything about this restaurant on Google! I overheard the staff telling other patrons that they just opened and they were having live seafood as specials, so that explains the lack of information on Google. Y'know, I don't even think I got their name right, which means I might need to visit them again to get that information. They're on Dixon Street, just across from a few shops from N2 (N2 is at 43/1 Dixon St, Sydney NSW 2000)
We arrived at slightly after 6.30pm on a Thursday night and boy were we lucky to get a table right away. While we were still reading the menu, I turned around and there was already this massive line waiting for a table. A point to note about
Old Town
is that, they work totally like a HK cafe/restaurant - tables were packed really close to each other and you just keep getting wait staff bump into you or having their butts swipe past your back. That can be really annoying when you're about to eat a spoonful of congee. I sat real straight throughout our meal there and it was reeeeeeeeeeeeal tiring - who doesn't love a slouch sometimes!?
I like the decor of this place - rustic and comfortable despite the back rubbing :/ At the entrance, they have this drink/bar corner for drinks, alcohol, wines and desserts. Across from the drinks counter, they have this mini kitchen where they have the bun-steaming action going on.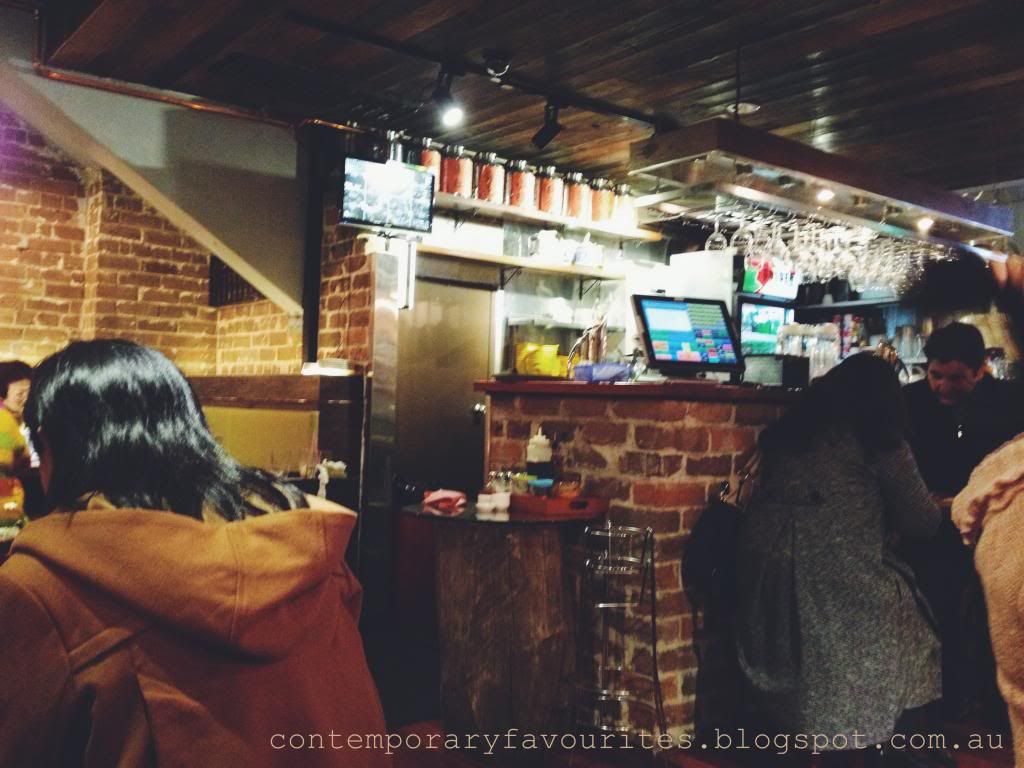 Drinks corner.
On the inside of the restaurant, there is the usual HK style where they have the glass cabinet hanging the roasts of the day. The roasts weren't appealing to me though, the colour of the outer skin just didn't seem like right one. Plus, it was pretty pricey if we wanted to order the Peking Duck (half was going for around $20, the full was about $40, but don't take my word for it). We wanted to try a whole lot of variety without the price tag, so we skipped the roasts. We looked around, tables near ours didn't have roasts either.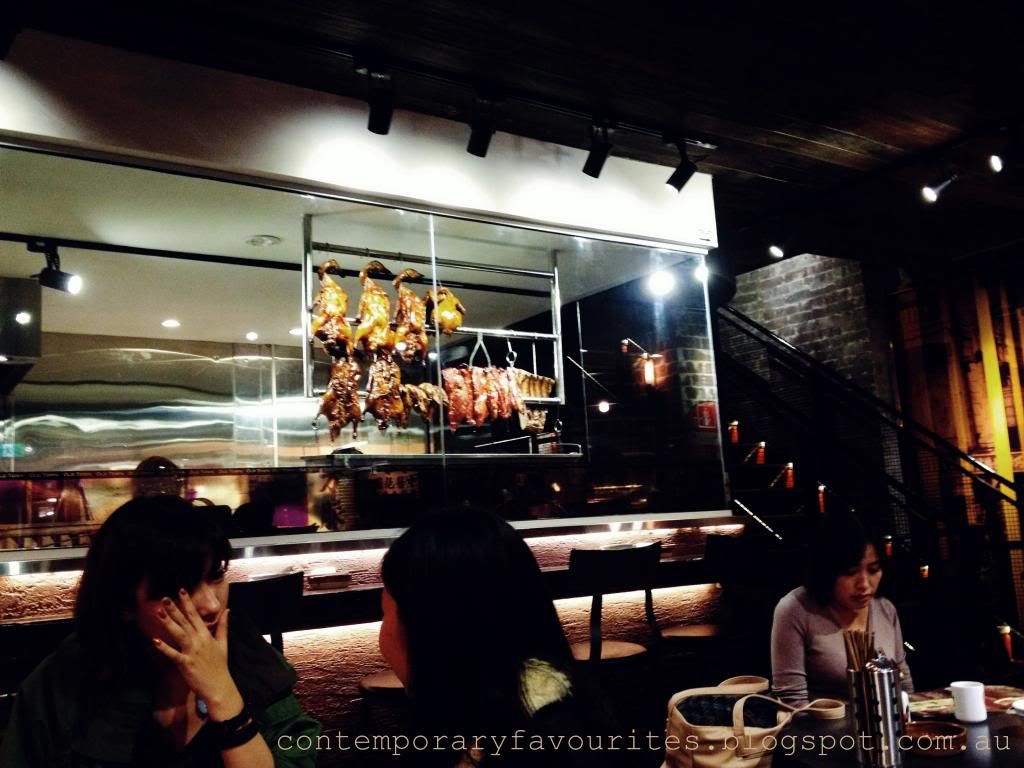 The usual HK roasts kitchen.
Like I said earlier, I enjoy the entire rustic and old concept they have in Old Town. From the super Asian bowls, porcelain soup spoons and wooden chopsticks, love it. K said the bowl containing the serviettes reminded him of those that beggars in ancient HK dramas would use, hahaha the uncanny resemblance.
The teapot they served was so cute and mini, a potful of tea can serve about five cups of tea. The service at Old Town was five stars! One of the waitresses were waiting by the side and immediately refilled our teapot when it was almost done. Attentiveness, ticked! Oh and you get a choice between water and tea.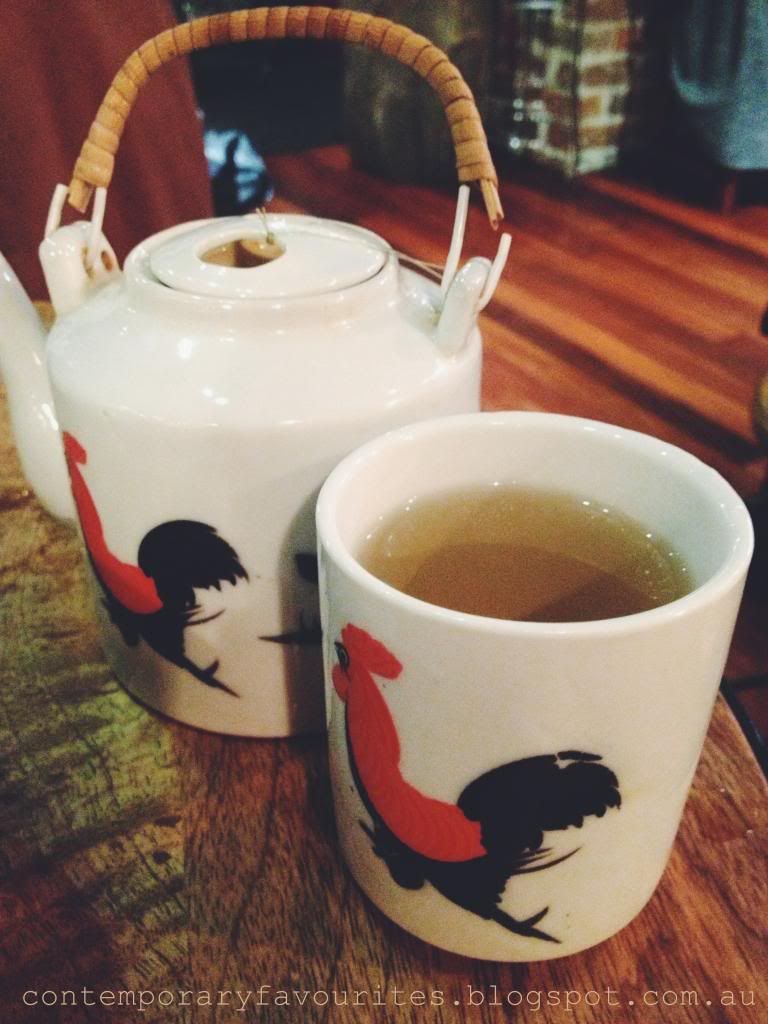 The first to arrive at our table was the Old Town Fake Shark Fin Soup 打牌檔碗仔翅 ($5.80). We only ordered one serve to share and it was pretty pleasant. It had carrots, vermicelli, some meat strips (it should be pork), and black fungus strips. It was slightly salty, but it was nice to have a hot soup in this winter weather. I probably wouldn't order this again, since it wasn't like a must-have.
The Hong Kong Sampan Soup 港式艇仔粥 ($8.50) surprised us the most. Not that it was a must-try to us, but I guess we had too much anticipation for it. It came in this massive bowl, with the congee filled to the brim, looking like it was so full with flavours. But we were wrong. It was so bland; it could be due to the flavourful shark fin soup that we had before that. So I drink a mouthful of tea to wash the palette, but nah, same bland taste. We knew from the Chinese name that it was congee, people who do not read Chinese might be shocked to see a bowl full of congee! That was a bad part of the menu too, only names of dishes and no inkling to what goes in them.
Look at how full the bowl was!
It was a full bowl that it was easily 6-8 single portions. It had heaps of ingredients in the congee, like squid rings, fish cakes (or aka fish meats), green shallots, meat pieces (could be pork as well), peanuts and fried biscuit pieces. It tastes very different from the congee that I had in Hong Kong, so I was really disappointed.
We also ordered a portion of Fried Pork Belly with Cabbage 回鍋肉 ($14.80). There was a chilli icon next to the name of the dish and I was soooo afraid it might be too spicy for me. Lucky I'm always keen to try, even if it might kill all the senses I have and it was definitely a good choice. When it was first placed on the table, we were unhappy that such a small portion costs us about $15 but don't be fooled! There were quite a fair bit of meat and vegetables in them and so it was pretty worth the money.
There were pork belly pieces, cabbage and green beans. I enjoyed this dish very very very much, albeit it a little spicy but it wasn't too difficult to manage. K was pretty wary of the pork belly pieces because some of them only had fats. Hahaha, what a unhealthy dish, but heckkk. He also said it was a little salty, but I beg to differ. I'm usually pretty sensitive to salt and MSG, but this was pretty manageable.
Pan Fried Pork Bun with Sesame 生煎包 ($6.80 for 5 pieces) was.. average. The bad parts first, the bun was tasteless or not sweet enough. I don't expect flour to taste flavourful, but comparing to those I had at Taste of Shanghai (no posts on it yet), this was slightly not worth. The plus points though, the soup base within is yummy and sweet. So, maybe, you have to fit the entire bun into your mouth and chew on them so the taste will be balanced. But, meh. It's just not possible when the buns are pipping hot or when they are cold. Cold buns are just not the best way to eat good buns.
A meal is not complete without dessert, here we had Mango Pomelo and Sago Sweet Soup 楊枝金露 ($5.50). We initially wanted to have black sesame paste, but they ran out of it and it was only fifteen minutes to eight. I'm suspecting they didn't prepare the black sesame paste at all, so we picked the next best option. In my honest opinion, this isn't worth either. I felt like there wasn't enough taste of mango and pomelo and the entire dessert was just sweet with no differential flavours. I would like to try their durian pancakes, but I guess it wouldn't be worth a hype since they looked pretty tiny, which means very little durian innards in them.
I'm craving for the pork belly right now that I may have the ingredients to cook them for dinner tonight! We have been experimenting new dishes lately since we got bored always having the same food, like just a couple of weeks ago we had salty egg yolks with seafood! But I haven't found a good recipe yet, if I do I will definitely share it here.
Old Town Restaurant (To be updated)