Oops, I did it again!
Two of my friends from secondary school were visiting Sydney, so I just had to bring them to my favourite macarons after talking so much about it. When it comes to bringing tourists/visitors around, I am pretty predictable with the places that I'd bring them to. Other than the usual must-haves, I'll also bring them to my favourites if they were keen. Lucky enough, girls will always have a sweet tooth :)
So I brought them to Café Cre Asion, we had a bit of coffee and macarons (duh).
I had my latte with a stolen macaron for photo-taking. I can't explain this soothing feeling I get by looking at this photo..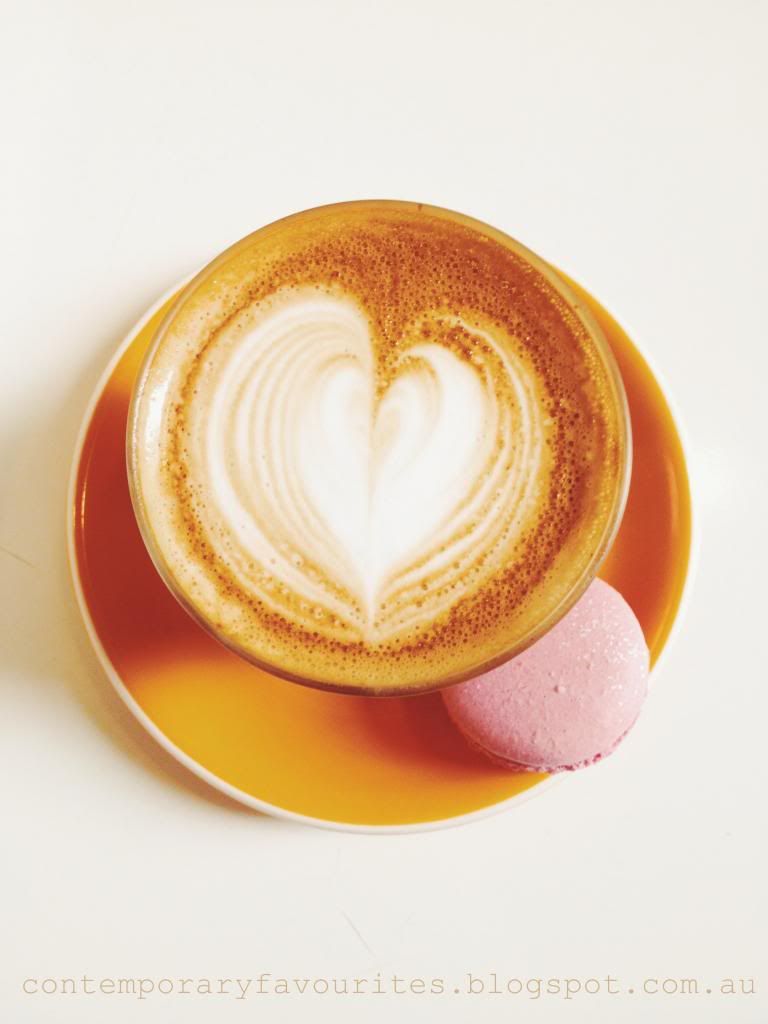 I bought a box of eight macarons for $21, a piece of them is usually $2.70 each. This time round, I remembered all the flavours and even noted down my thoughts after eating them hahaha #wellprepared.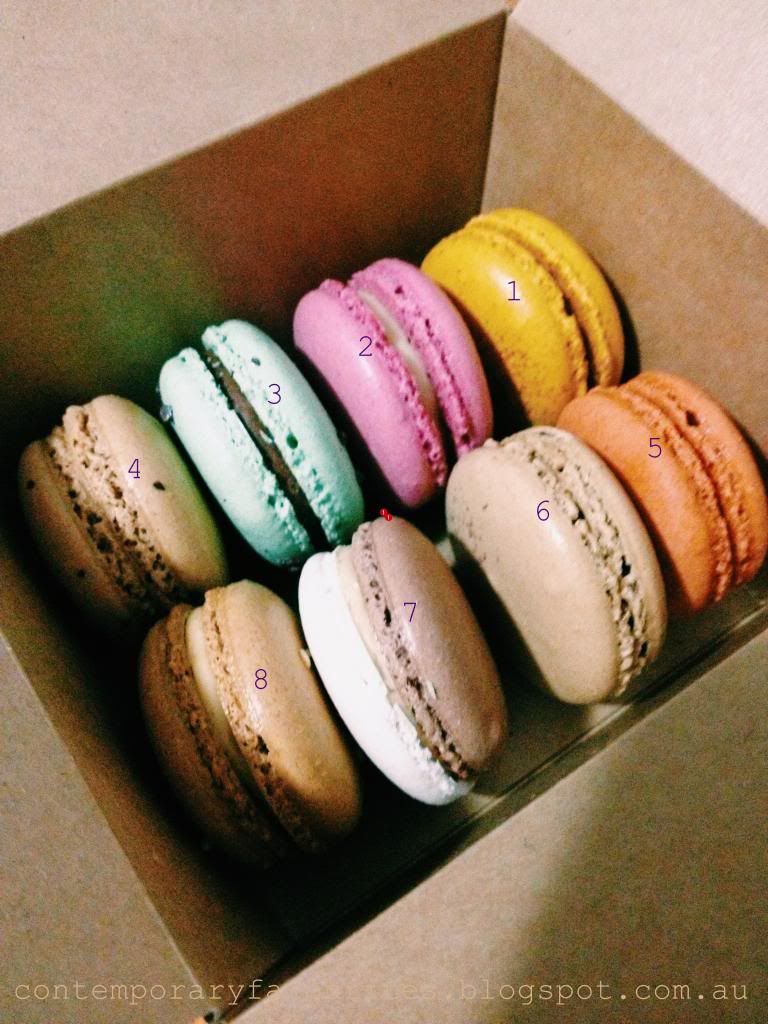 Caramel Chocolate - I prefer a caramel macaron with a burnt taste, but this one doesn't have that. It's kinda a common flavour, so I probably wouldn't pick this the next time.
Lychee Raspberry - The flavours are very light, a little too light to taste any lychee. A bonus is the raspberry jelly that is sandwiched between the shells. This macaron definitely has an interesting texture.
Spearmint (with chocolate?) - I don't particularly like mint flavours of anything for the fear of strong mint taste, but this macaron doesn't have that strong fresh mint taste (like toothpaste does). It's light, and it goes well with the chocolate filling (that's how choc mint chocolates always get sold out in supermarkets right?).
Coffee Tonka - Tonka bean is like a substitute for vanilla bean. The macaron shell was crumbly and it fell apart after eating half of it. It's also smaller in size compared to others. I don't have strong feelings for this.
Cha Non - This isn't my first time having this Thai milk tea flavoured macaron. It's my favourite amongst all the macarons in this box of eight. It has an authentic Thai milk tea taste and it's light enough that it isn't too sweet. Love it
Chocolate nougat - I'm guessing this is the chocolate nougat because of its lighter colour. Honestly, I can't differentiate all the macarons because they looked so similar in colour. I was very surprised that there wasn't much taste in this, which is quite a disappointment.
Rum and Raisin - I didn't have this because I don't like rum or raisin. I only picked this to try because it was a new flavour (I'm a total sucker for new flavours). Like all other macarons from Cre Asion, the flavour is very light and it's not too sweet. You should try it if you fancy rum or raisin or both together.
Peanut butter - Lastly, the peanut butter. It has a strong peanut taste with real bits of nuts in it and on the shell. Sometimes you can't expect peanut butter macarons to come with real peanuts because for all you know, they might be using Kraft Smooth Peanut Butter as their filling! But this one was definitely not Kraft peanut butter #peanutbutterfan.
I'm craving for macarons again..
21 Alberta Street
Sydney NSW 2000