Just the other day when I was writing up the post on Ramen Zundo (
link
), I wrote how I wasn't keen on trying out
Ippudo Sydney
since I wasn't impressed with the one in Singapore. On that same night, something weird happened (or we were just mere hungry) and that night saw us speed walking to Westfield to avoid the (unimaginable) dinner queue at
Ippudo Sydney
. We succumbed, tried, and I'm still disappointed, but not totally. If you don't already know,
Ippudo
is an international chain of ramen restaurant and they have several outlets worldwide. I've read once that the best
Ippudo
ramen that someone ever had was in Hong Kong, hmm.. I'll be sure to check them out in Hong Kong the next time I'm there!
Lucky for us, we arrived a little before quarter to six and the line wasn't that long. We waited for around twenty minutes for a table for two, which isn't so bad since it was dinner time. About 5 minutes after waiting in the line, I turned around and oh my, the queue was what I expected to see (they had to segment the line so it doesn't block people walking in and out of the restaurant). I was really relieved that we made in just before the crowd comes in, otherwise I would just skipped Ippudo and head somewhere else.
I took a couple of photos of the exterior, but somehow I can't find it in my photobucket. Oh wells.
On the outside, there is a bar with a huge variety of drinks. You can choose to sit at the bar, have a drink while waiting for seats to be ready, or just stay in the line and wait till there is table ready for you. You can't make a reservation for tables, so you have no choice but to queue anyway. The weird thing that night was that, there were so many babies and prams in that restaurant! Seems like Ippudo is a family-friendly restaurant.
On the inside, I liked that they have both communal/sharing tables (where there is a long table and you may be sitting next to people you don't know) and separate tables for just two or more people. Well, you don't get a choice to decide which you prefer though. Oh and plus point, you don't have to rub backs with other patrons or the wait staff (thumbs up for spacious restaurants!). Clearly, I still remember my experience at Old Town Restaurant (
link
).
Now, the table..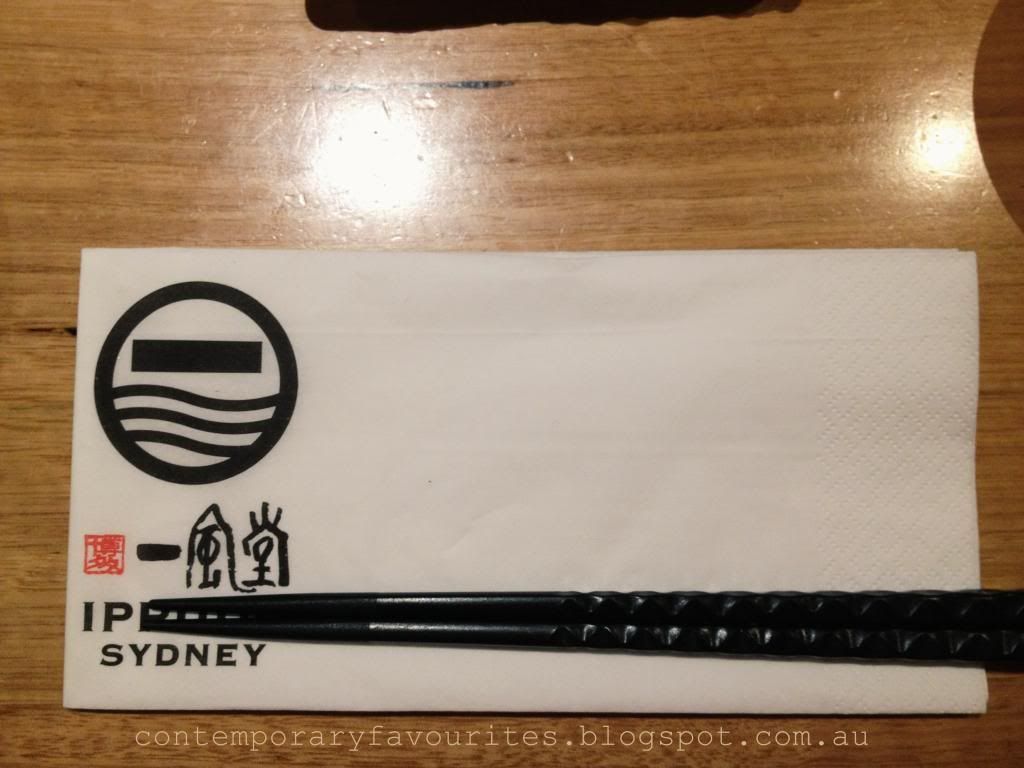 You have three small bottles of things - sesame, white peppercorn and black peppercorn. Okay, I'm totally guessing that bottle in the middle as white peppercorn but I seriously think it is :P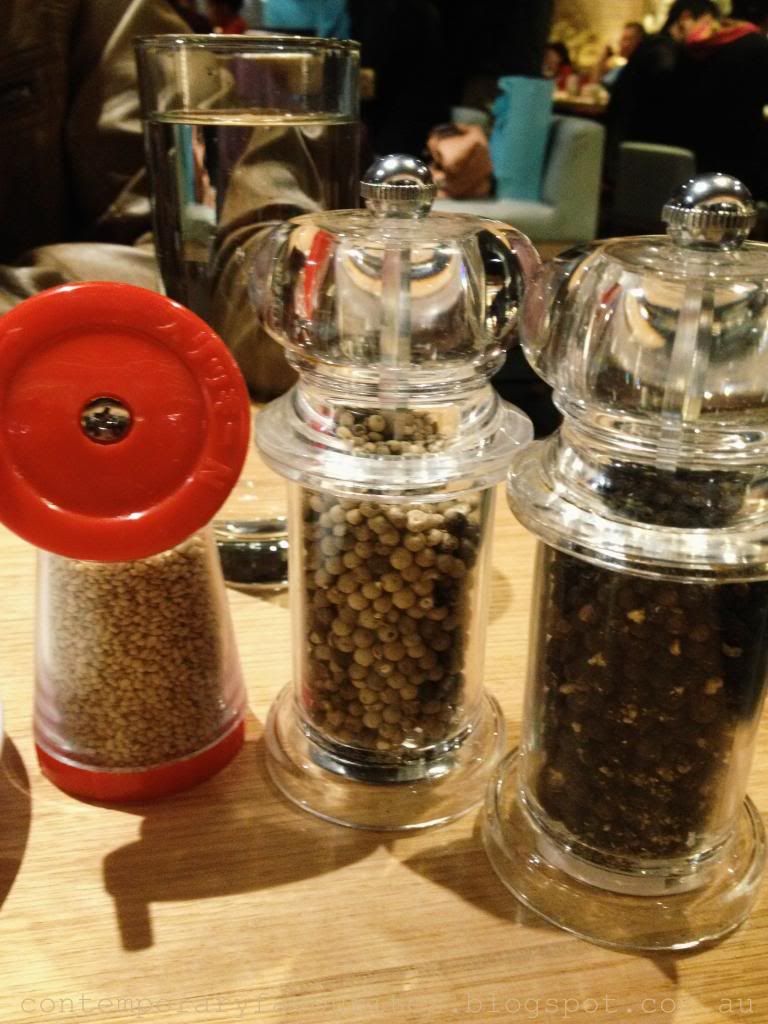 First to arrive, definitely the easiest to make, the Ippudo pork bun ($4) per bun. We were very shocked to see what the $4 brought us because the bun was really really tiny! The pork bun was cut into half on request, filled with a slice of braised pork and Ippudo original sauce. We only had one of this because we thought it'd come in a bigger size, boy were we disappointed! It also came with a slice of lettuce and mayonnaise, which wasn't stated on the menu. But I was absolutely disappointed - the mayonnaise was too sour and the it was so overwhelming that I could barely taste the Ippudo original sauce. Do I think this is a must-try? I reckon money is better spent on something else.
Next to arrive was the Italian rice croquettes ($5 for 2 pieces), which was essentially arancini. This was on their monthly specials, so we decided why not? It looked way too promising before I tasted it. It is their special parmigiano rice ball deep fried until the mozzarella melts out with each bite, served with homemade tomato sauce and seasoned with parsley.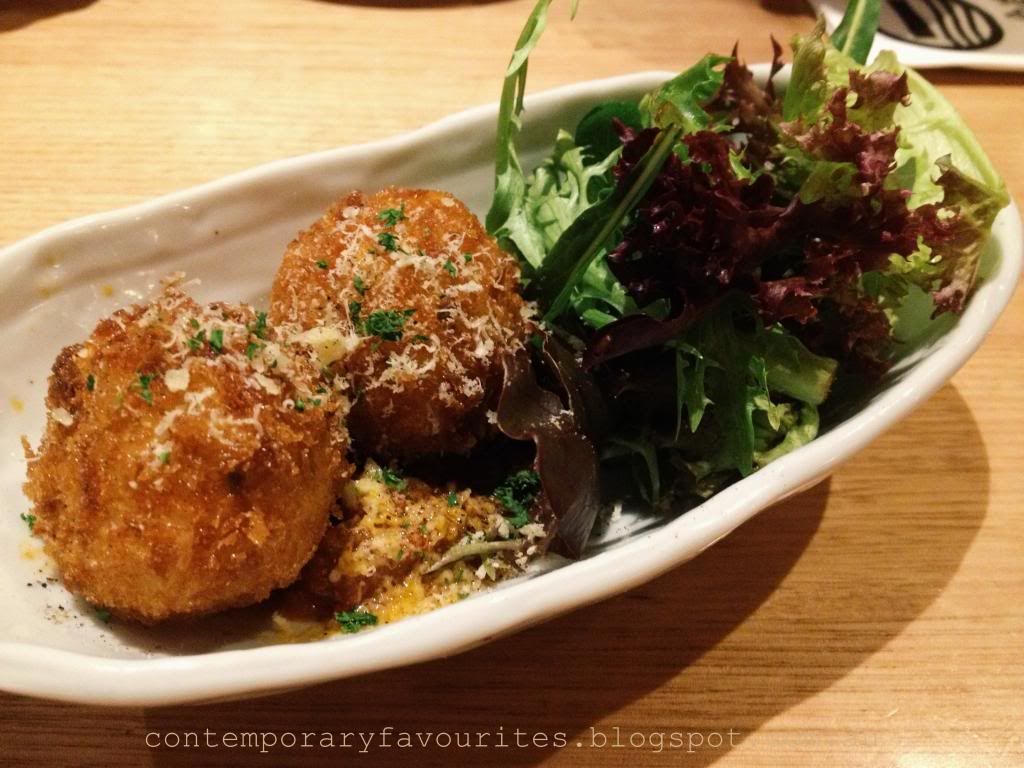 So here's why not. From my memory (haven't had arancini in a long while), arancini has wet innards filled with tomato sauce and rice mixed together. If you can tell from the picture below, this wasn't exactly the case. The mozzarella cheese was barely melting and it solidified quicker than I could finish it, even though it was bite size. On the menu, it even says, "one bite of our croquettes will definitely leave you wanting more". Really!!? The tomato sauce that came with it was barely enough to make the croquettes less dry. Bad choice of the night.
I don't know what got into K, but he decided he wanted to have more sides. So we also had their Ippudo Teba ($8), which was fried chicken wings glazed with Ippudo special black pepper sauce. You would seriously not have this special sauce anywhere else. The sauce is sweet, but it had hell load of black pepper in it. For three pieces, this dish is pretty decent.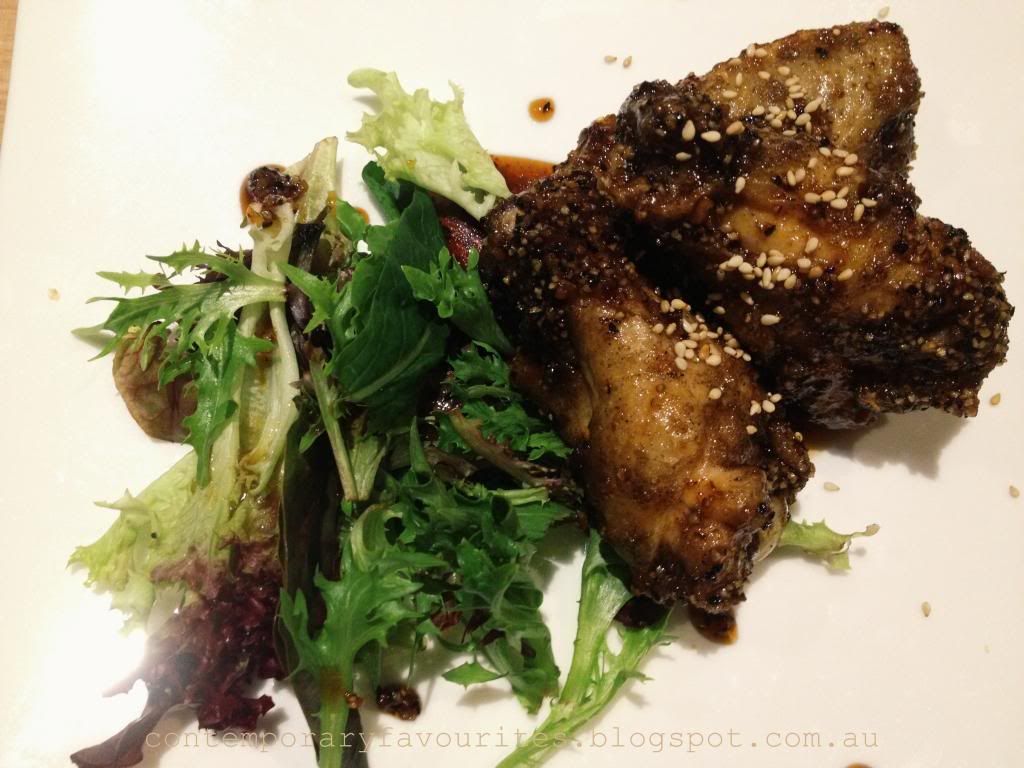 However, if you're someone who can't take too much spice, this might not be for you. There was so much black pepper that I was almost crying. Also, it's very difficult to get someone to fill up the cup with water again. The chicken wings were not dry on the inside, and we really liked the sweet sauce minus the black pepper. The salad goes really well with the sweet sauce too!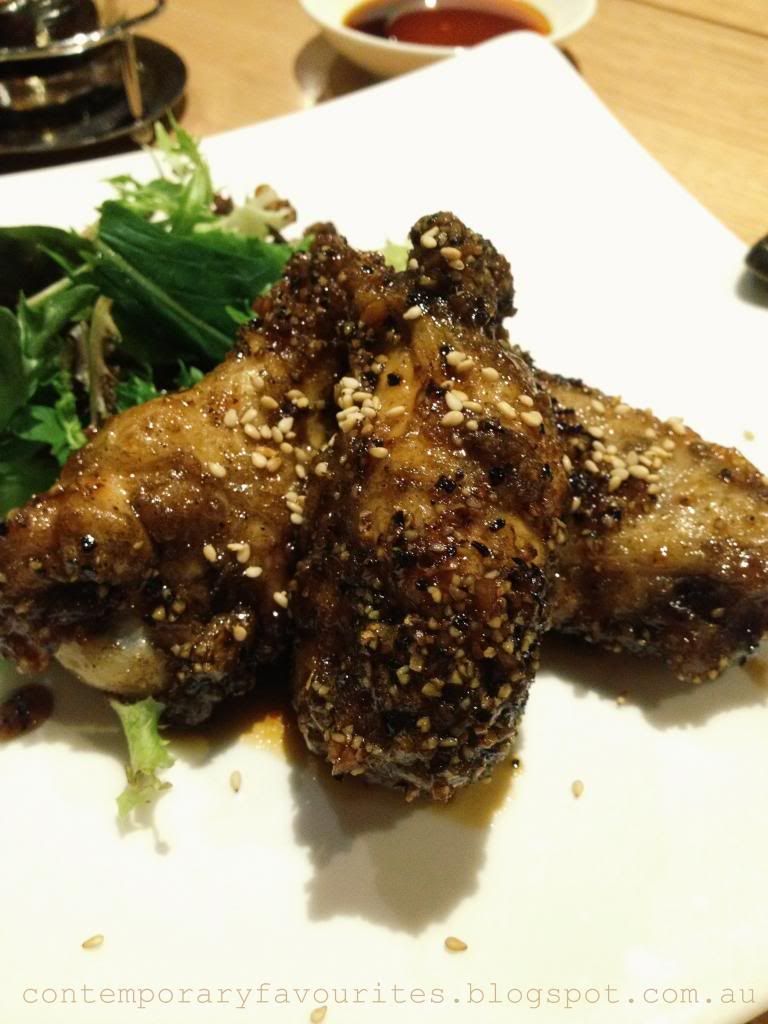 Their Ippudo gyoza ($6 for 5 pieces) is what I would recommend, although they're the best that I've ever had (the best ones are at Daikichi Ramen, which is closed). The gyozas are bite-sized, which are smaller than usual gyoza, but they are really juicy on the inside. They are kinda expensive for small gyoza, but they are worth having since the other dishes seem... Unworthy.
Now, onto the main dishes - RAMEN!
We picked two of their ramens to try - I know right, 4 side dishes and 2 ramen!? Insane, but we just had to try them to persuade ourselves. First, we had Shiromaru Motoaji ($15) - original tonkotsu broth served with thin noodles, pork loin, cabbage, black mushrooms and shallots. Their ramen is of Hakata-style, which has special characteristics of a rich pork-based soup and noodles with firm texture. I'm disappointed in this ramen because the pork wasn't the melt-in-your-mouth kind and the broth was a little too thin/light.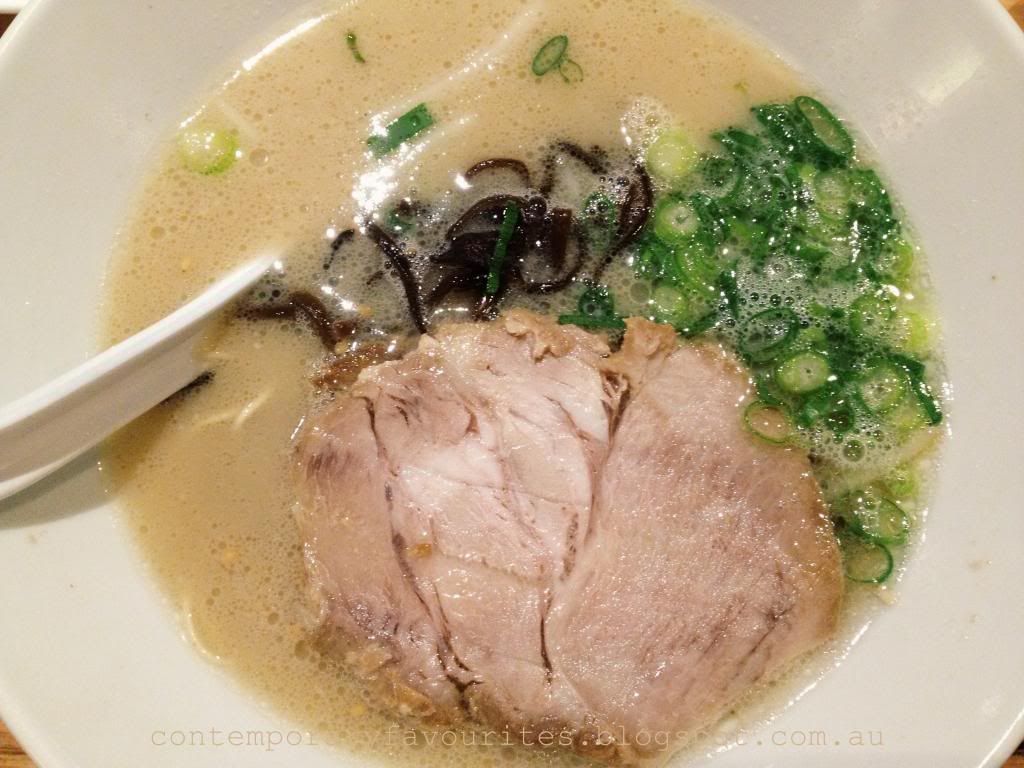 I've never tried Hakata-style ramen before (or if I did I never knew there was a name to that), but I liked the firm noodles. It doesn't feel like you're eating tough rubber bands, more like chewy rubber bands but not rubber bands, hahaha I don't even know if that makes sense.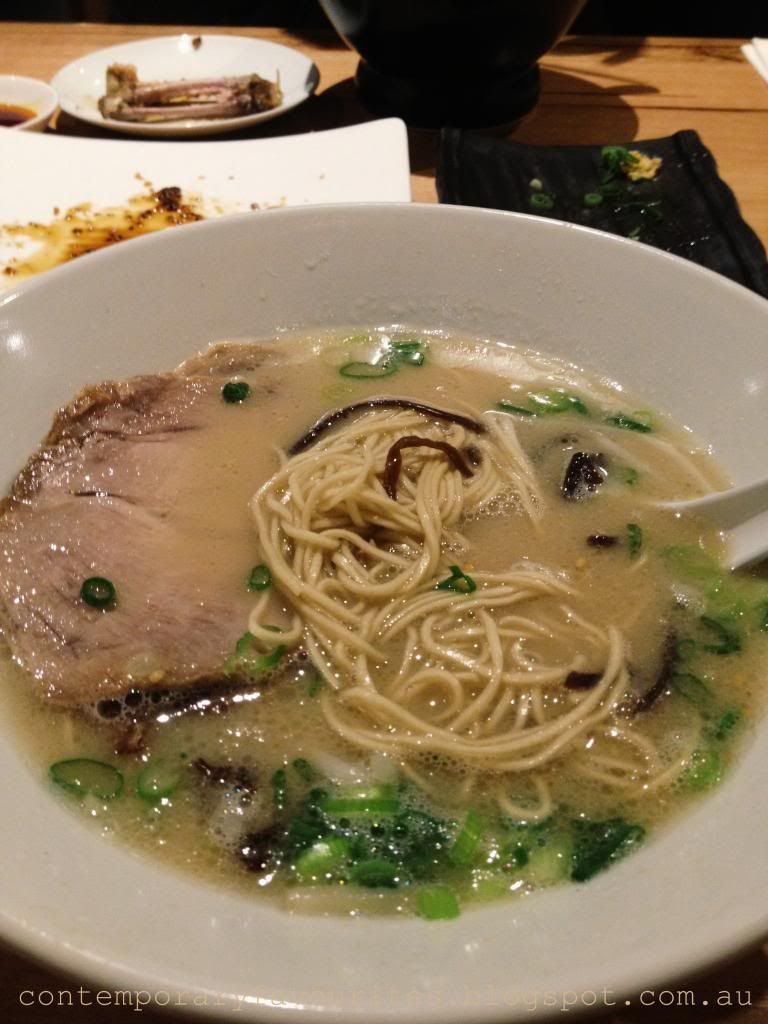 The other ramen we had was Karaka Men ($17) - original tonkotsu broth with special spicy miso and ground pork. I had a little of the broth and it totally hit me in the throat, I guess I just couldn't take the spiciness of it.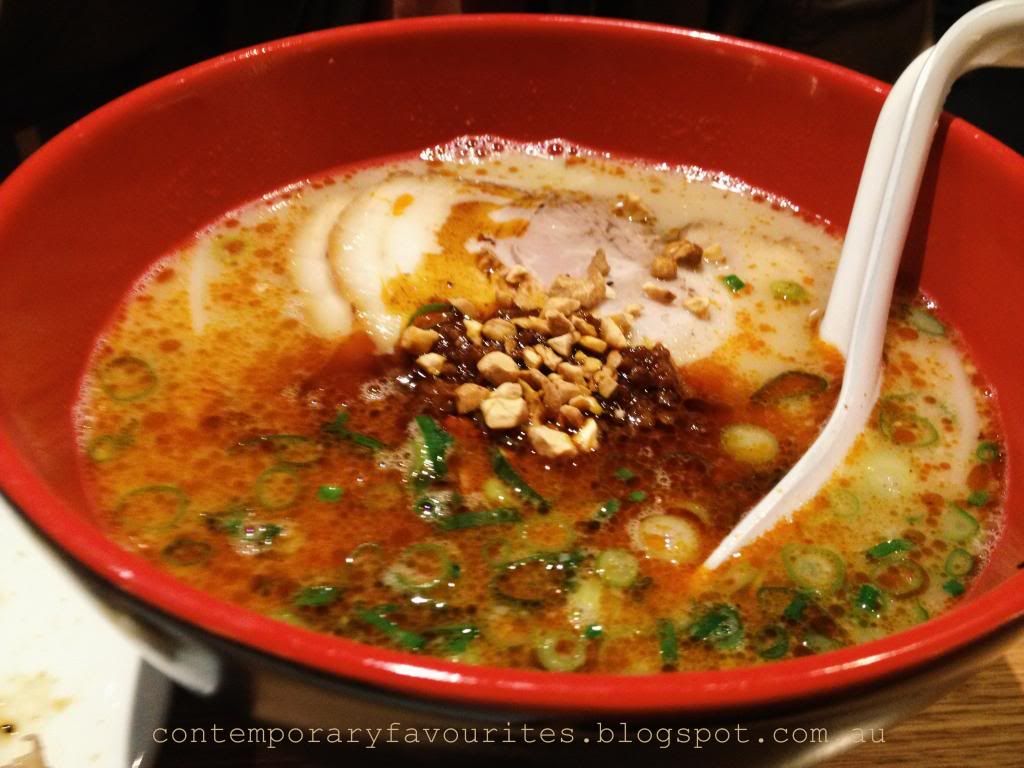 How could we have finished a meal without desserts? Well, we could because we were just too full. But, we wouldn't allow that either. So we picked a dessert to share, also with the intention to try, and chose to have their Kurogoma Panna Cotta ($7) - black sesame custard with creamy sauce. Looking at how it's black sesame and it's also panna cotta, we thought we can't go wrong with it. But.. We should have gone somewhere else for desserts. The good points - the creamy sauce has so much black sesame taste in it! We were expecting probably condensed milk as their creamy sauce so it was a surprise that they infused black sesame in it. Also, the sauce wasn't too sweet and it was really light. The bad parts - the creamy sauce had more sesame taste than the panna cotta. We would barely taste any black sesame in it, which was soooooo disappointing since we're such fans of black sesame (I'm a huge lover of them!). The texture of the panna cotta is pretty good, but it's not gonna earn a brownie point from me.
I would prefer to head to somewhere else for ramen if I ever need, rather than paying for over-priced ramen that isn't worth the hype.
188 Pitt Street
Westfield Sydney Level 5 (Shop 5021)
Sydney NSW 2000