We were in the vicinity while house hunting and were suddenly feeling hungry because we haven't had breakfast. Waking up real early and rushing from inspections to inspections back to back, we really needed some real food to last the day. Lucky we had a slot in between two inspections and decided to walk into
Two Good Eggs
despite only having a tight fourty minutes break. We made it!
Two Good Eggs
is a cafe just around the corner of a building, overlooking Harmony Park. It was so crowded on a Saturday morning, but lucky we managed to get a table just tucked in at the corner near the coffee machine.
The three of us ordered a drink each, a skimmed cappuccino, a latte and a hot chocolate. The hot chocolate isn't the best that I've had ever (the best ones are definitely at Ralph's Cafe in Sydney Uni), but it was good enough.
The obligatory drink shot
. My cuppa latte even came with a loacker wafer, nice touch.
Food came rather quick, allowing us to finish them within our 40 minutes break. We had on our table a
smoked salmon and spinach scrambled eggs
(with dill, sour cream and quinoa and soya sourdough) ($16.90). The toast was dry, a little over-toasted, but the salmon was fantastic!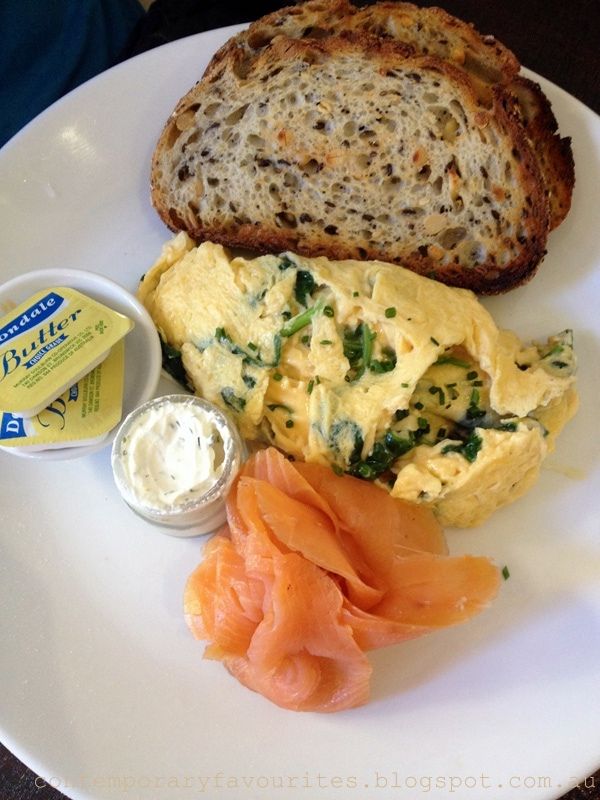 We also a serve of their
two good eggs breakfast
($17.90), which had eggs, bacon, hash, mushrooms, tomate and sourdough toast. I requested for scrambled eggs, instead of the poached eggs that was stated on the menu and it was denied - thumbs up for service! I really liked the hash, it was well-salted although a little oily. Well, hey, oil always come with deep frying so we can't expect less of it. The mushrooms aren't very juicy, but well pan-fried, and I especially love their tomate! I'm not sure if it's homemade, but it was so good. I don't usually like tomato, tomate or anything tomato (except pasta sauces if I can't choose olive oil base) but this was gooooood!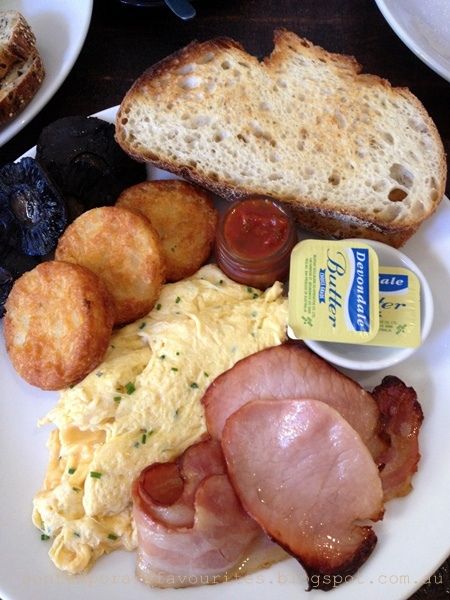 The last we had was
buttermilk pancakes
($14.90) and B chose it with bacon and maple, just because he doesn't take anything exotic, fruity or anything-not-bacon-and-maple. This little brother of mine has a very picky preference so sometimes he always chooses the same ol' stuff. We didn't expect the pancakes to be this thin, because they're usually not (duh). It looks like a real tiny portion for a big boy like him, and indeed he wasn't feeling filled from that. Lucky I had the breakfast which was a massive portion, so he cleared up most of what I couldn't finish. Good stuff about brothers ;) But this isn't quite a must-try for me, since we can easily get pancakes with bacons elsewhere.
It isn't like Two Good Guys are very out of the way. It's closer to the city (where we live right now) than the usual Surry Hills cafes, so it's a good option if you're in the vicinity. I wouldn't say for sure that I will visit again, but I definitely like it and will recommend!
Two Good Eggs (website/urbanspoon)
148 Goulburn Street
Surry Hills, NSW 2010