I think I found another
favourite
restaurant. I reckon there should be no limit to
favourite
because you simply just can't have only one favourite!
We passed
Yummy Eight
countless of times and on first impression, I thought they were some kind of restaurant that do Asian desserts (I loooooove Asian desserts and I crave for them all the time). Looking at their menu from the outside, it really doesn't look impressive at all. Finally, we decided to give
Yummy Eight
a try, looking at the massive crowd in there. For sure, we weren't disappointed!
I can't decide if they are a Chinese restaurant because they fulfill so many elements of Taiwanese cuisine, so I might just tag them as both. It's really close to Chinatown/Haymarket but also close to Town Hall, talking about convenience.. They are located almost next to Ko Foo Korean Restaurant (post to come soon!), so people might miss it totally because Ko Foo is just simply intimidating with their range of food (I fell for it too). Anyhoo, eating at
Yummy Eight
makes me feel really healthy because they steam most of the food and we really enjoyed it that we'll be back!
I have been crazy over this photo-editing app that makes my photo looking really similar - blur and filtered. And also, I've been really lazy to bring out my proper camera. Who enjoys bringing a bulky DSLR or even a digital camera when there is phone camera and awesome phone apps now?! Now, for the review..
Their
steamed meat balls
were my favourite of the lot that we ordered. The minced meatballs were well marinated and rolled with generous amounts of glutinous rice, yummy! The mixture of saltiness in the meatballs and the sweetness in the glutinous rice was balanced, I just can't say no to more of this!
You probably can't tell from the photo, but the meatballs were extremely juicy. Yum!
There is something about preserved vegetables that doesn't catch my eye, I reckon it's the extreme saltiness and sour smell of it. But their steamed braised pork with preserved vegetables totally changed my opinions of it, though I still don't fancy the idea of preserved vegetables. This dish was a little too salty and not as healthy even though steamed. Each piece of meat had thick layers of fat, it was oh so sinful yet satisfying at the same time. I may order this the next time, but it isn't a must-try to me.
We also ordered a serve of spare rib noodles (small $9.80). We didn't want to be too full from dinner, so we ordered a small serve but hey, it was totally enough for the both of us. You can order the spare ribs as a separate dish because it was definitely on the menu as spare ribs with black bean sauce (something we always cook in our kitchen), so it isn't quite our favourite. Also, the noodles were rather bland. I guess this isn't in our must-try list too.
I just noticed that every dish has parsley in them! Good garnishing but a little too much?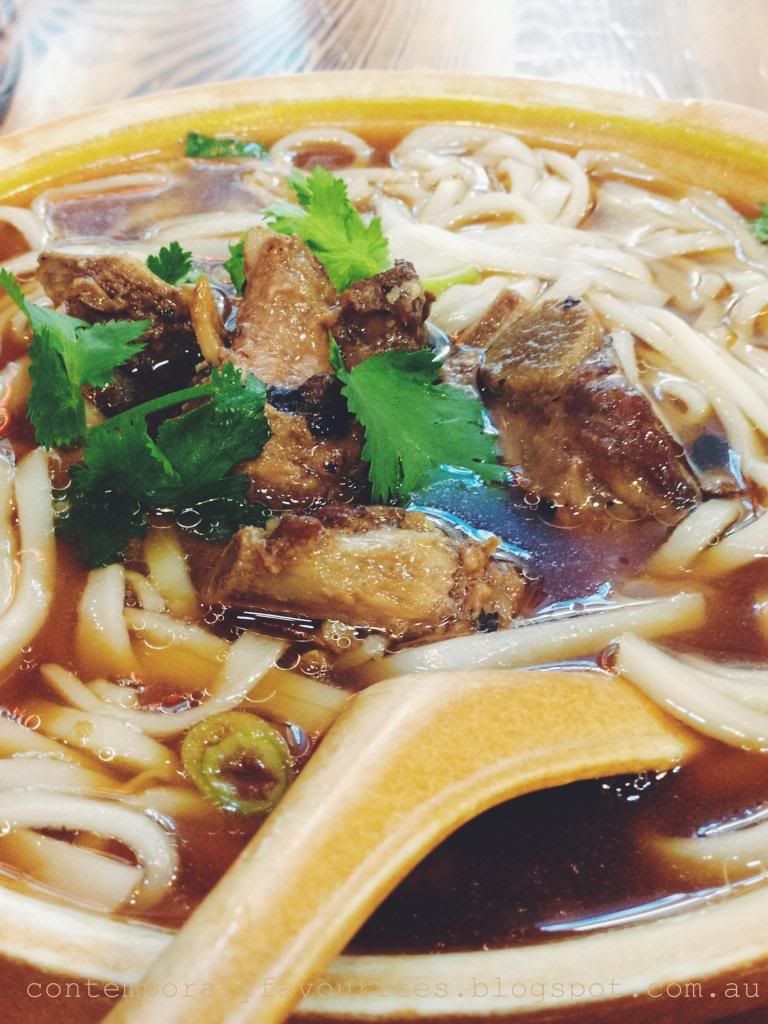 Missing the soy milk we have back home, K needed to order their soy milk ($2.80). It isn't as sweet as the ones we buy off drink stalls in hawker centres, but it's good enough. Also, at $2.80 for a hot soy milk in this winter weather, it definitely is a healthier option to bubble milk tea.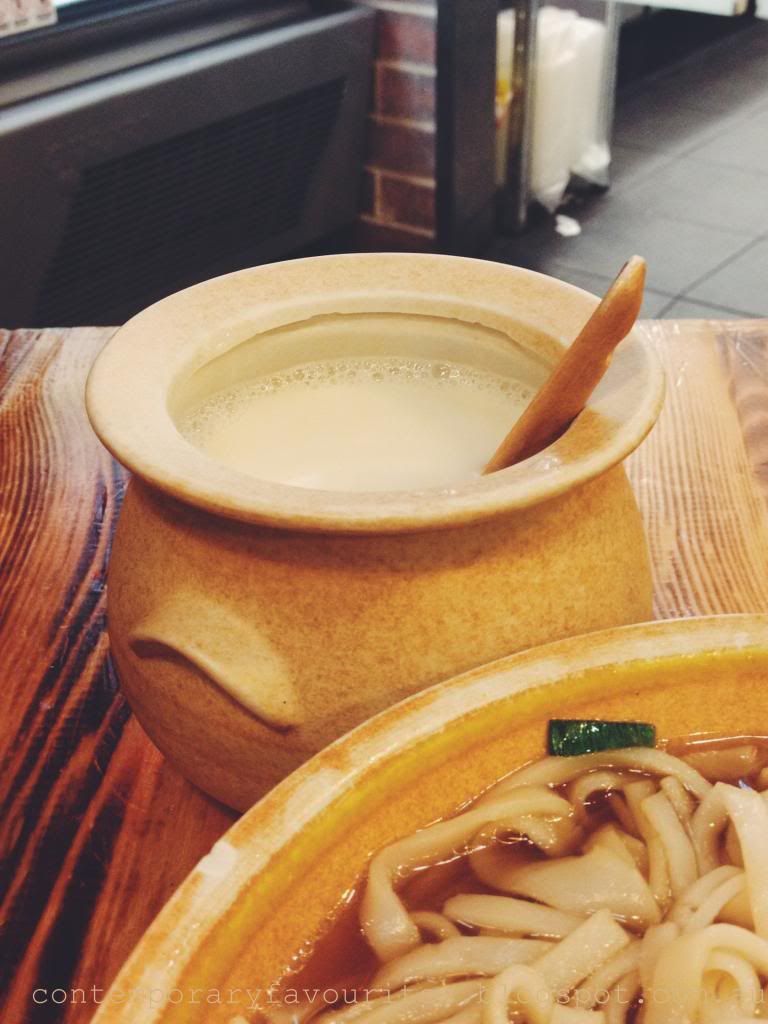 I can't think of reasons why I shouldn't visit
Yummy Eight
again. Our meal was only about $30, service is good and the food doesn't disappoint. I need to take note of their prices again, since I don't remember paying $15 for the meat balls (got this price off their website), but then again, meat balls from
Yummy Eight
- anytime!
Yummy Eight (website)
G4/345b Sussex Street
Sydney, NSW 2000
Opening Hours - Mon-Fri: 1.30pm-10pm / Sat-Sun: 12pm-10pm